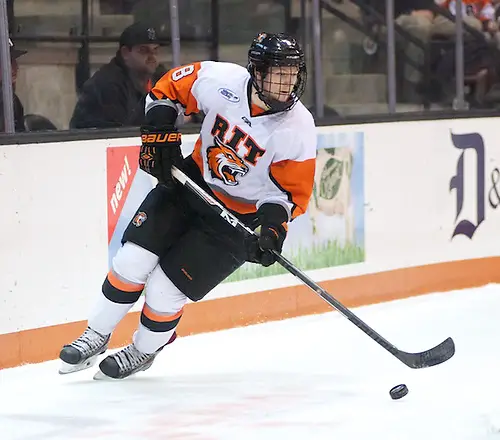 Atlantic Hockey suspended three Sacred Heart players and one Rochester Institute of Technology players for Saturday's regular season finales.
The one-game supplemental discipline to the Pioneers' Jeff Carroll, Josh Phillips and Justin Danforth and to the Tigers' Chase Norrish was announced hours before the teams' games Saturday.
Danforth, the Pioneers' leading scorer will miss Saturday's game against Holy Cross because of a hit on Crusaders forward TJ Moore in the second period on Friday. The hit was unpunished during the game, but the league said that the clip was sent to administrators for review.
The league said that commissioner Bob DeGregorio and supervisor of officials Eugene Binda agreed the play was worthy of a suspension.
Carroll, a forward, and Phillips, a defenseman, were called for major penalties and game misconducts in the Pioneers' 5-2 home loss to Holy Cross. Carroll's penalty was for hitting from behind; Phillips' was for slashing.
Norrish, a defenseman, was ejected from the Tigers' 4-3 home loss to Mercyhurst on Friday for contact to the head. He'll miss RIT's game at Mercyhurst, which will decide which team gets home ice for the quarterfinal round of the playoffs.