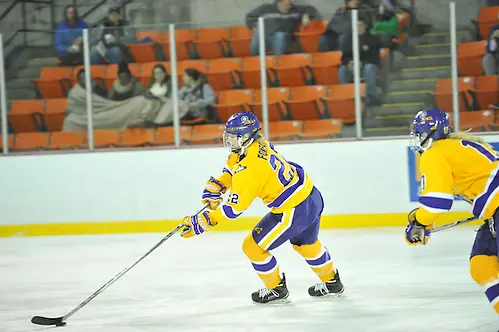 It's championship weekend for the seven women's Division III conferences, and on paper (or on USCHO.com), all seven conferences look to be decided in close games.
The Colonial Hockey semifinals pit Becker at top-seeded Stevenson and Morrisville traveling to Endicott.
Gina Beth Manganiello has scored 13 goals to lead Becker and Madison Rigsby and Julia Johnson have shared time in net for the Hawks, who upset Canton 1-0 in the quarterfinals.
Stevenson has a ton of firepower up front, starting with Chelsea Blackburn's 17 goals and Jessie Capanelli's dozen. In goal, Sarah Modzelewski is 17-2-1 with a 1.20 goals-against average and a .948 save percentage.
Morrisville, a team with just 15 players on the roster, downed Johnson and Wales in the quarterfinals. Stephanie Strymecki, Kelley Graham, and Megan Kirk combined to score 38 of the team's 71 goals this season. Goaltender Renee Schmaltz won eight games on the year.
Second-seed Endicott, a first-year program, is led by a balanced offensive attack and Vendela Jonsson between the pipes. Jonsson went 11-5-4 this season with a 1.43 GAA and a .942 save percentage.
Over in the ECAC West, Nos. 1 and 2 Plattsburgh and Elmira, respectively, had quarterfinal byes, but play semifinals this weekend as Plattsburgh plays Oswego and Utica plays Elmira, also at Plattsburgh.
The defending NCAA champion Cardinals have seven players with 11 or more goals, including Melissa Sheeran with 23 and Kayla Meneghin with 20. Camille Leonard posted 12 shutouts this season and fashioned a 22-1-0 record with a 0.66 GAA and a .963 save percentage. In her 23 games, she only allowed 12 goals.
Oswego doesn't have one player averaging a point per game, but instead spreads its offense out throughout the lineup. The Lakers bounced Buffalo State in the quarterfinals on a Tori Trovato 32-save shutout.
Olivia Nystrom racked up 15 goals for Elmira and Maddie Evangelous and Meghan Fonfara compiled 10 each. Kelcey Crawford and Kyle Nelson form a potent combo in net for the Soaring Eagles.
Utica downed Cortland in the quarterfinals on the strength of a Keira Goin 28-save shutout. The Pioneers are also the '1' in Plattsburgh's 22-1-0 regular season.
The MIAC championship is down to Bethel and St. Thomas, both of whom won semifinal matchups with plenty of drama — UST beat Concordia (Minn.) 2-1 and then Hadley Cookson was the overtime hero as Bethel beat Augsburg 1-0.
This game looks to be a battle of the goalies, Mackenzie Torpy for St. Thomas and Michelle Klimstra for the Royals. Offensively, the Tommies have Kathryn Larson (13 goals) and Kaylee Druk (10 goals) up front and Bethel has a balanced group.
The NCHA's Slaats Cup will be taken home by either Adrian or St. Norbert. The Bulldogs swept St. Scholastica last weekend and SNC took care of Lake Forest.
Adrian has Kristin Lewicki and her 32 goals leading the way and the Green Knights counter with Lauren Roethlisberger and Reaghan Chadwick, who combined for 21 goals this season. Jade Walsh and Brooke Gibson hold down the fort in the Adrian crease, while Leigh Grall is steady for St. Norbert.
In the NEHC semifinals, Massachusetts-Boston hosts Castleton and University of New England is off to Norwich.
Last weekend, all four teams advanced in shutouts as UMass Boston blanked Manhattanville, Castleton shut out Plymouth State, UNE beat Salve Regina, and Norwich downed New England College.
The Beacons have Jenny Currie with 16 goals and then no player with more than nine, so their offense isn't deep. Rachel Myette was an 11-game winner for UMB in goal this season.
Taylor Steadman was the top goal-getter for Castleton with 15 and Jess Cameron took the reins in net, winning 15 games and putting together a 1.88 GAA and a .946 save percentage.
UNE is another deep team offensively, but goalie Sydney Helmbrecht is the real deal with a 14-7-2 mark, 1.84 GAA, and .936 save percentage.
Norwich's goalie tandem of Laurie King and Celeste Robert is potent, as is the Cadets' offense, which has Bryn Labbe, Adelle Murphy, and Sarah Schwenzfeier combining for 34 goals this season.
Middlebury hosts the NESCAC semifinals and finals, starting with Trinity-Middlebury and Connecticut College-Amherst in the semis.
Maddie Winslow is the offensive spark for Middlebury, which beat Colby last weekend, and she is also the NESCAC Player of the Year after totaling 15 goals and 34 points this season. Julia Neuburger is the starter in goal for the Panthers and went 10-3-2 with a 1.35 GAA and a .935 save percentage.
Trinity, which bounced Williams in overtime last weekend, can lean on Shannon Farrell and her 14 goals, but the offense is also very deep after Farrell. Cheeky Herr led the Bantams with 22 points this season and Sydney Belinskas won 13 games with a 1.76 GAA and a .935 save percentage.
Connecticut College defeated Hamilton last weekend on a Katherine Chester shutout and is led up front by Stephanie Izzi, Jordan Cross, and Elena Gualtieri, all of whom combined for 34 goals this year.
Amherst boasts an overtime win over Bowdoin last weekend and carries that momentum into this weekend. The top forwards are Erin Martin (22 goals), Alex Toupal (21), and Eileen Harris (12). Goaltender Sabrina Dobbins is 15-1-3 this year, along with a 1.30 GAA and a .951 save percentage.
Two teams remain in the hunt for the WIAC title — Wisconsin-River Falls and Wisconsin-Stevens Point.
River Falls eliminated Wisconsin-Eau Claire in the semifinals and Stevens Point dropped Wisconsin-Superior.
Chloe Kinsel, Dani Sibley, and Carly Moran combined to record 60 of the Falcons' 102 goals this year, so the offense is relevant for UWRF. Angie Hall went 20-5-2 in goal with a 1.66 GAA and a .918 save percentage.
The Pointers have another high-scoring offense with Emily Lester (15 goals), Cara Lemirande (12), and Ali Biagini (10). Sydney Conley and Lisa Fowle both played like No. 1 goalies this season. Conley won 10 games and Fowle registered five wins.