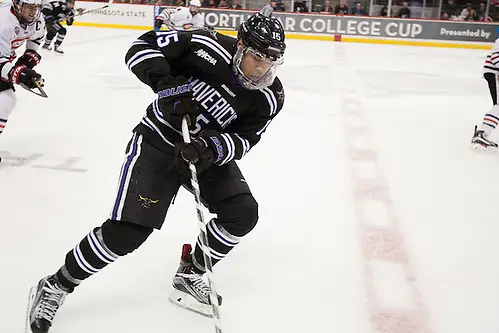 It's the final week of the regular season and the MacNaughton Cup has yet to be decided.
Did anyone expect anything different?
For the third year in a row, Minnesota State is right in the mix for the WCHA's regular season championship. The Mavericks lead the league by two points over Michigan Tech and Bowling Green.
By late Saturday night, one, two or all three of those teams could be holding the claim on the cup.
"It's an exciting time in college hockey right now, playing at this time of the year," Minnesota State coach Mike Hastings said. "It's the final weekend of the season, and we have an opportunity to win a championship. That's a goal we had at the beginning of the year. It's an exciting opportunity."
It's familiar ground for the 16th-ranked Mavericks.
Two years ago, a tie at home to Michigan Tech on the final night of the regular season kept them one point shy of a share of the championship, which went to Ferris State.
Last year, after losing the series opener at Bemidji State, the Mavericks won on the final day of the season to earn their first league title.
This year, the Mavericks again control their own destiny. Without getting help around the league, they need three or more points to keep the MacNaughton in Mankato. Two points could mean a share but, potentially, the loss of a top seed for the conference tournament.
"It's typical WCHA," Hastings said. "And it's not just three teams. It's the next group [for home ice] and then the next group [for the final playoff spot]. It's tight from top to bottom. We've come to expect it to be that close."
The only thing that's known for sure is that Alabama-Huntsville will be watching the playoffs from home.
Minnesota State, meanwhile, is coming off two wins at Alaska-Anchorage. It was its first road sweep since winning twice at Bemidji on Oct. 23-24. Friday's 3-0 victory snapped an eight-game road winless streak in conference play.
"We needed to play better, and I thought we did," Hastings said. "I'm happy with the way we played this weekend. If there's one negative, it's that our power play [0-for-9 against the Seawolves] needs to be better. And we're going to play a team [Bemidji State] that's as good of a penalty-killing team as there is."
Meanwhile, No. 13 Michigan Tech is clamoring to get the MacNaughton Cup back to its hometown of Houghton for the first time since 1976. The Huskies will play a home-and-home series against rival Northern Michigan, starting Friday in Houghton. The teams split their previous series in October, with each one winning at home.
And Bowling Green, which travels to Alabama-Huntsville, is looking to win its first WCHA title.
"There's a regular season championship or at least a share of it still in the conversation for us," Falcons coach Chris Bergeron said in an interview posted on the team's website. "We want to look back and say we did everything we could do."
The Huskies and Falcons are certain to be big Bemidji State fans this weekend.
"If it's our time, then it will be our time," Bergeron said. "We'll get the help that we need around the league, and we'll be WCHA regular season champions or co-champions."
Who's No. 4?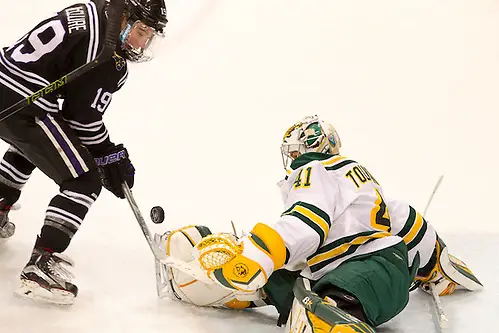 The race for the fourth and final home playoff spot comes down to Northern Michigan and Ferris State.
The Wildcats hold the spot by one point and face that home-and-home series against Tech, while the Bulldogs are at home for two games against Lake Superior State.
Ferris State suffered its first sweep of the season last week when it lost twice at Bowling Green and has lost four games in a row, including a single nonconference game a week earlier. Before the slump, the Bulldogs were on an eight-game unbeaten streak.
Bemidji State could tie Northern Michigan in the standings with two wins at Minnesota State but would lose the tiebreakers for home ice.
Governor's Cup playoff
Alaska and Alaska-Anchorage rarely play nice when the Governor's Cup is on the line, even under normal circumstances.
Expect the Seawolves and the Nanooks to get even less cordial this weekend in Fairbanks.
With Anchorage in eighth place in the WCHA standings — two points ahead of ninth-place Fairbanks — this weekend's series will serve as a playoff for the league's eighth and final playoff spot.
Although the Nanooks took three points when the teams met in Anchorage in November, they've won just once at home this calendar year.
Still, the Governor's Cup has remained in Fairbanks for six straight seasons, a fact that's not lost on either team.
"Since I've been here, we've managed to get all of [the seniors] their four [cups], so it would be nice to be able to do that for us this year," Nanooks senior Josh Atkinson told the Fairbanks Daily News-Miner.
Even if they don't get the Governor's Cup, the Seawolves could get the bigger prize of keeping their season alive. Two points will get them in.
"If you had a choice to have it in your hands or somebody else's, you'd like it in your hands, head-to-head," Seawolves forward Blake Tatchell told the Alaska Dispatch News.
Individual races
Michigan Tech senior forward Alex Petan has 26 points, including 15 goals, in conference play this season and leads the race for the WCHA's scoring title.
He is one point ahead of Northern Michigan's Dominik Shine (12 goals and 13 assists) and Minnesota State's Teddy Blueger (6, 19). They're followed by Darren Nowick with 24 points (11, 13) and Ferris State's Gerald Mayhew with 23 (8, 15).
In overall games, Nowick and Blueger lead the league with 30 points. Shine and Mayhew both have 29, and Petan has 27.
The WCHA's goaltending champion goes to the player with the lowest GAA in conference play. That spot is held by Minnesota State's Cole Huggins at 1.54. A Mavericks player has won the last three goaltending titles, with Huggins taking it as a freshman two seasons ago. Stephon Williams won it last year and two years before that.
Next on this year's list is Huggins' teammate Jason Pawloski at 1.70, followed by Bowling Green's Chris Nell at 1.82.
Ice chips
• Bemidji State senior defensemen Graeme McCormack's four-assist game on Saturday against Alabama-Huntsville was the most by a Beavers defenseman in the team's Division I history. It was also the first time since Dec. 3, 2005, that any Bemidji State player did it. McCormack has 20 points on the season, including a WCHA-leading 14 power-play points.
• Lake Superior State took three of four points from Upper Peninsula rival Northern Michigan last weekend, helping the Lakers win their first Cappo Cup series victory over the Wildcats since the 2012-13 season. The Lakers went 2-1-1 against Northern Michigan this year. And, thanks to Lake Superior State's 3-1 win on Friday, they secured their second consecutive WCHA playoff berth. The Lakers will finish either sixth or seventh, depending on the outcome of this weekend's games.
• Michigan Tech goes into its home-and-home season finale against Northern Michigan with a solid 19-6-3 record against teams from Michigan in its last 28 games.
• WCHA players of the week were Bowling Green sophomore forward Mitch McLain (offensive), Bemidji State senior defenseman McCormack (defensive) and Bowling Green freshman forward Stephen Baylis (rookie).
• February's WCHA player of the month was Northern Michigan junior forward Shine. The rookie of the month was Lake Superior State freshman forward Gage Torrel.