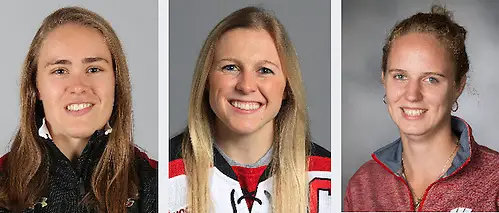 The top three finalists for the 2016 Patty Kazmaier Memorial Award were announced Thursday.
Boston College senior forward Alex Carpenter, Northeastern senior forward Kendall Coyne and Wisconsin junior goaltender Ann-Renee Desbiens have made the final cut.
Carpenter, BC's captain, is looking to become the first back-to-back recipient of the award, and only the second player to win the award twice. She is in the top two of nearly every NCAA statistical scoring category and currently leads the nation in assists (39), power-play assists (16) and power-play points (24). Carpenter also volunteers with Boston College's Campus School, HEAR Program, BC Connell School of Nursing and IMPACT program.
Currently the national leader in goals (49), points (82), goals per game (2.34), points per game (2.34), short-handed goals (5), hat tricks (5) and plus/minus (+64), Coyne is also the Huskies' captain this year. Off the ice, she volunteers her time with Make-A-Wish Foundation, Ronald McDonald House, Cradles to Crayons, Bonnie's Foundation, Julie Foundation, YMCA, Chicago Blackhawks Youth Hockey camps and Chicago area schools.
Desbiens is the current national leader in goals-against average (0.77), save percentage (.958) and shutouts (18). She is ranked second in the NCAA in wins (20) and win percentage (.897), while her 18 shutouts this season set a new NCAA record. Also set an NCAA record with a scoreless streak of 543:33 over a span of 10 games, which included eight shutouts. Desbiens has volunteered with Make Bo Pay and the American Family Children's Hospital.
The award will be presented at a brunch ceremony at Wentworth By The Sea in New Castle, N.H., on Saturday, March 19, as part of the NCAA Women's Frozen Four weekend hosted by the University of New Hampshire.
The three finalists, including the recipient of the 2016 award, were chosen by a 13-person selection committee made up of NCAA Division I women's hockey coaches, representatives of print and broadcast media, an at-large member and a representative of USA Hockey, the national governing body for the sport of ice hockey in the United States. The independent accounting firm PricewaterhouseCoopers, LLP, tabulated the ballots.