The Hockey East playoffs begin this Thursday when Merrimack hosts New Hampshire in a best-of-three first-round series, one of four that will determine the field for next weekend's quarterfinals.
The four series all have somewhat unique stories to tell and the four teams that earned home ice all did so in various ways: from a solid season-long effort (Boston University) to a great second half (Northeastern) to two final-night victories with backs against the wall (Connecticut and Merrimack).
Here's a look at each of the four series:
No. 5 Boston University vs. No. 12 Massachusetts
at Agganis Arena, Boston
7:30 p.m. EST Friday; 7 p.m. Saturday and Sunday
Season series: Boston University won 7-2, 6-3
David Quinn's team finished in fifth place in Hockey East but, listening to him talk, you would think this season is mostly a disappointment.
"We dug ourselves a hole early in the year that we couldn't recover from," said Quinn.
The fact of the matter is that the Terriers were in position to earn a first-round bye last Saturday night, needing a tie or win at Notre Dame, but were shut out 1-0.
But the Terriers are still on solid footing. They'll face a UMass team that they mostly dominated this season and are very close to locking up an at-large bid in the NCAA tournament, sitting tied for ninth in the PairWise Rankings entering the weekend.
UMass coach John Micheletto probably should be lamenting considerably more than Quinn. His Minutemen haven't won a league game since the first week of November and didn't come overly close to victory many times in the second half, being outscored 69-21 in league games since the calendar turned to 2016.
He had optimism for the postseason, however, almost as if his team was waiting to get to this point to rip up the last three months and start fresh.
"The playoffs are always the ultimate reset button. You have to live in the moment," said Micheletto. "We have to give our best effort Friday night without hanging on to the baggage from the second half of the season."
Quinn said he is well aware that UMass presents its biggest threat if the team can execute offensively. Forward Shane Walsh finished the season with a team-best 17 goals in 34 games, while Dennis Kravchenko battled injuries to improve on his 10-goal freshman campaign with 11 this year.
"They can really hurt you from an offensive standpoint," Quinn said of the Minutemen. "They have a great transition game and they really can kill you."
For Quinn, the solution to moving on is simple: have the will to dictate the game and not let the underdog Minutemen earn confidence early.
"From the get-go, we have to set the tone and the pace," Quinn said. "We've done a better job of that throughout the second half of the season and we're going to have to do that in the playoffs starting on Friday night."
On the other side, however, sits a UMass team that a season ago was in an identical position and pushed Notre Dame to three games after winning the series opener — the longest game in college hockey history — in five overtimes.
"Embracing the underdog role is part of the solution when you're in a place like we are in right now," said Micheletto. "There's no other way to attack it when you're playing a team like BU."
No. 6 Northeastern vs. No. 11 Maine
at Matthews Arena, Boston
7 p.m. Friday-Sunday
Season series: Northeastern won 5-3, 7-1
Micheletto wasn't the only coach to sound the "turning the page" sentiment. Maine's Red Gendron, whose team won just a single game in February, is very much ready for the playoffs.
"We're not satisfied with how many wins we've earned," said Gendron, "but at the same time it's a new season and everyone is 0-0."
The challenge that faces Maine, however, is finding the confidence that it can beat its opponent, Northeastern, which just last weekend swept the Black Bears by scores of 5-3 and 7-1.
Add to that the fact that Northeastern enters the playoffs arguably the hottest team in Hockey East, riding a seven-game winning streak and having not lost a Hockey East game since a 4-3 loss to Boston College on Dec. 6.
Still, Gendron is trying to see the positives to returning to Matthews Arena for the second straight weekend.
"It's beneficial, in a way, to [play Northeastern]," said Gendron. "We know the rink, we know the routines around the rink. We're pretty familiar with everything so that's helpful. We're also familiar with Northeastern."
That familiarity, however, shows a Huskies team that is clicking offensively. Despite having to battle through much of the season without key players like Kevin Roy (who has since returned to the lineup) and Dalen Hedges (out for the season), Northeastern has found offense from multiple places, none bigger than its current first line of Zach Aston-Reese, John Stevens and his brother Nolan.
The trio has combined for 36 goals and 93 points despite, as Northeastern coach Jim Madigan described, hardly being a prototypical flashy first line.
"All three of them are heavy on the pucks," Madigan said. "You wouldn't call them a finesse line; you'd call them a power line. They're all hard workers down low. John knows how to move the puck and the other two know how to shoot the puck."
It's shutting down that line, and possibly the Huskies in general, that Maine will have to do if it is to survive the weekend. The Black Bears, who average 2.77 goals per game offensively, held opponents to three goals or fewer in just three of their final 12 games. When Maine has been successful this season, the defense and goaltending have been the key.
"Clearly, we have to be able to defend successfully because we don't score so much," said Gendron. "Part of that is being disciplined and keeping Northeastern off the power play, because they're pretty good at that."
Northeastern's biggest key on the weekend might be goaltender Ryan Ruck.
The rookie will be playing his first college playoff games, but that shouldn't be a problem, according to Madigan.
He said that when Ruck took over as the starter in November and the team was seriously struggling, too many more losses could have destroyed the season before the holiday break.
"Those early games [for Ruck] were like playoff games for us just trying to get back into it," Madigan said.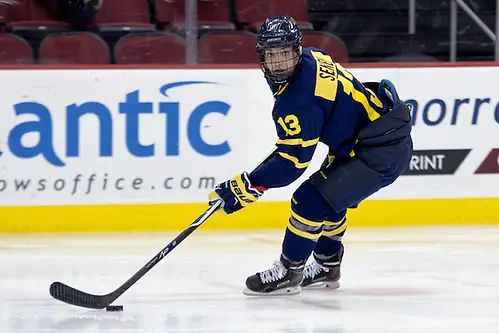 No. 7 Merrimack vs. No. 10 New Hampshire
at Lawler Arena, North Andover, Mass.
7 p.m. Thursday-Sunday
Season series: New Hampshire won 4-2, tied 3-3
It's no surprise that Merrimack coach Mark Dennehy is happy to be home for the first round of the playoffs. His Warriors overcame a tough middle of the season and needed a sweep of Vermont last weekend to jump up to seventh in the standings.
But Dennehy is also realistic that his team needs to remain focused because it was the lack of focus in the middle of the season that dropped his team off its pedestal after a 6-1-4 start.
"We may have gotten a little bit caught up in the good start we had. It's all a distraction," said Dennehy. "We talked for the last six weeks about process. Shame on me. It's something we might have gotten away from.
"You can't worry about the score. You can't worry about the standings. So even if we're trailing by a goal, you don't worry about that until the final buzzer sounds."
Fortunately for the Warriors last weekend, trailing was never a part of the equation against Vermont. Merrimack surrendered just a single goal in the two games and got a 2-0 shutout win from goaltender Drew Vogler on Saturday.
Vogler is possibly the most interesting story heading into this weekend's series against New Hampshire. He spent most of the time backing up starter Collin Delia and took over for a short time while Delia was injured. It wasn't until the final three games of the regular season that Vogler was given the chance as a more permanent starter, and last weekend made the most of it in earning two victories.
"I've seen more development from him from October 'til now than any goaltender I've ever coached," Dennehy said of Vogler. "He improved leaps and bounds. It was always there. It was just a matter of refining."
Now Dennehy is faced with a decision: play Delia, who had more experience but was beaten by and tied New Hampshire this season, or turn to Vogler and roll the dice with the hot hand.
For New Hampshire, which goaltender it faces might not matter if the team doesn't play a more complete game, something coach Dick Umile said has plagued his team for much of the season.
Never was that more apparent then last Saturday, when the Wildcats led 4-1 at home in the third period, only to surrender the lead to Connecticut and lose in overtime. Doing so cost UNH home ice in this series.
"Our inability and consistency [has hurt]," said Umile. "Falling behind, which we've done too many times this season, then coming back and tying it only to lose.
"We have to play with consistency. You can't play a bad 10 minutes early in the game or play a bad 10 minutes in the third period."
Umile said he can lean on senior leadership, which, despite struggles this season, has never wavered in its ability to keep this team positive.
"The seniors have been a great group as far as leadership," said Umile. "We need the secondary group, the younger players. They've got to start to figure it out.
"The leadership has been there; we've just found ways to lose games."
No. 8 Connecticut vs. No. 9 Vermont
at the XL Center, Hartford, Conn.
7 p.m. Friday and Saturday; 5 p.m. Sunday
Season series: Vermont won 2-1, 4-2
UConn coach Mike Cavanaugh called earning home ice in the first round of the playoffs a "big step forward" for his program.
That's no surprise given that this is UConn's second season in the league and home ice at the XL Center in Hartford in those two seasons has generated some of the biggest crowds in Hockey East.
"We're certainly excited with the way the season finished for us," Cavanaugh said about his team's come-from-behind 5-4 overtime win at New Hampshire on Saturday that clinched home ice. "We, as a team, are happy to be playing in front of our home fans this weekend."
Its opponent, Vermont, entered last Saturday in a similar position: win and stay home for the first round. But a 2-0 loss to Merrimack in the final game summed up one of the Catamounts biggest struggles this season.
"We're just fighting for that consistency from an offensive standpoint," said coach Kevin Sneddon. "Our focus this week will be on ways to manufacture offense."
If Vermont can draw on anything, it is the experience in the locker room. The Catamounts sport just four freshmen on a night-in, night-out basis (although one is goaltender Packy Munson), meaning the remainder of the players can draw on last season, when Vermont beat Maine in the first round and then upset Boston College in the quarterfinals to advance to the TD Garden.
"We're a new team, for sure, but we do need to rely on guys who have been there before," said Sneddon. "Having gone through that experience that it can be done, you can draw on that confidence."
In the simplest way, Cavanaugh, whose UConn team dropped both regular season games to Vermont, noted that the challenge ahead is a big one.
"[Vermont's] always a tough, tried-and-true playoff team," said Cavanaugh. "We're going to have our work cut out for us."