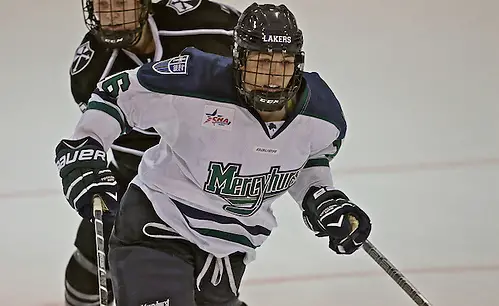 People often struggle to correctly apply facts that seem to be saying conflicting things.
Take global warming. How can we take global warming seriously when we encounter days where the temperature doesn't even reach zero degrees Fahrenheit? The polar ice caps are disappearing, but there are weeks where it seems like new glaciers are ready to form in my backyard. Deep down, I realize that the scientists are right, but I tend to be swayed by what my face tells me after a visit from the North wind.
Mercyhurst women's hockey is a little like global warming. We have years of data saying one thing, but if we glance at the current readings found in the team's record and statistics, we may incorrectly conclude that the Lakers are colder than they really are.
If anyone other than Syracuse wins the College Hockey America tournament and gains the league's automatic bid to the NCAA tournament, it will be sent west to minimize the number of flights required. The perception is that this would be a bad break for top-seeded Boston College; with a perfect record, the Eagles deserve the easiest path to Frozen Four.
However, if Mercyhurst (17-10-5, 14-3-3 CHA) turns its top seed in the CHA tourney into the conference's championship, would advancing through the Lakers be all that easy? In the last five years, road teams have won just two of the 20 NCAA quarterfinal games played. Mercyhurst won both of those. The Lakers' senior class has just as much Frozen Four experience as its counterparts at Wisconsin or BC, at least outside of Alex Carpenter. They've played in more Frozen Fours than the seniors of highly ranked teams like Quinnipiac, Clarkson, and Northeastern combined.
In the opening weeks of the USCHO poll, Mercyhurst was unranked, but receiving votes. The Lakers began their season with three nonconference series, posted a record of 0-5-1, and the voters were done with Mercyhurst. Even then, they weren't as bad as it appeared.
"We were close," Mercyhurst coach Michael Sisti said. "Obviously, we had a lot of new pieces. We had three goalies that collectively had played 18 minutes of college hockey. If you look at those games, I think all but one was a one-goal game. We did a lot of good things, it's just some of our mistakes were big mistakes and it cost us."
The Lakers' season began on the road at Quinnipiac. In the opener, captain Emily Janiga scored twice to tie the game in the second period, and after the hosts regained the lead, freshman Sarah Hine scored an extra-attacker goal with 24 seconds left for a 3-3 tie. The next day, Mercyhurst outshot the Bobcats but came up a goal short, falling 2-1. Quinnipiac went on to win the ECAC Hockey season title and is currently ranked fourth.
Mercyhurst's next series found it on the road again, this time at Northeastern. The Lakers raced out to a 4-0 lead with only 12:08 elapsed, but ill-timed penalties, a stagnant power play, and shaky goaltending contributed to the Huskies scoring the game's final five goals. The next day, Mercyhurst started quickly once more, taking 2-0 and 3-2 leads before the same problems resurfaced and the Huskies completed the sweep, 7-3. Northeastern ranks sixth.
The winless start wrapped up with two one-goal defeats at the hands of Princeton. The Tigers are ninth in the poll, but are seventh in the PairWise Rankings.
What at the time looked like a lousy start in hindsight appears to be more a case of a brutal schedule.
"As tough as that stretch was, I think it made us a more resilient and a better team in the long run," Sisti said.
In November, the Lakers took on two more ECAC opponents, splitting series with both Cornell and No. 7 Colgate, before winning a series from Rensselaer in January. While the 3-7-2 mark in games against teams outside the CHA isn't what we've come to expect from Sisti's crew, those were five playoff teams from the ECAC and the second-best team in Hockey East, four of whom are still alive on the eve of the conference semifinals.
"Obviously, early on, we had a lot of inconsistency, really in all areas of our game: our power play, our penalty kill, our D zone, goaltending," Sisti said. "It all led in different ways to some of those losses. As the season went on, we were able to shore up each of those areas. We were playing more consistent hockey, and obviously, that's allowed us to get a lot more wins down the stretch."
Those wins added up to another CHA season title, as the Lakers edged Syracuse by one point. Mercyhurst has finished on top in each of the league's 14 seasons.
"We obviously take a lot of pride in continuing the program's success," Janiga said. "Especially being a senior and being able to achieve our first goal that we've set in getting first place in regular season. Definitely something I wanted to achieve my senior year."
That string looked to be in jeopardy in the opening month when the Lakers had seemingly forgotten how to win.
"We started off a little slow, but we also had a lot of new pieces," Janiga said. "We just had to get that experience to the younger people. I think goaltending was a huge part of it. We were able to let our freshman goalie get that experience behind her. Defensively, we were able to support her and let her gain the confidence."
Early on, belief was hard to come by, as sophomore Jessica Convery and freshmen Sarah McDonnell and Kerri St. Denis all got their chances in net, but it was a rare day when 90 percent of the shots were saved.
"It's definitely easier when you've got someone who is stopping a lot of pucks," Sisti said. "Someone always emerges for us."
Once the conference season started, McDonnell emerged as the starter. Her goals-against average fell as her save percentage increased and now sits at .925.
"From the first team we ever had, we were able to get great goaltending here," Sisti said. "We've had some awesome goalies. Hillary Pattenden had 100 wins, which was [an NCAA] record until it was broken. Desi Clark was our first All-American, I think. We've definitely had some great goalies here over the years."
After the rocky start, it looks as though that trend will continue.
"These guys are young, but they've really worked hard to get better and consistent throughout the season, and they've done that," Sisti said. "[Convery] played awesome in the Robert Morris series, and obviously, Sarah is playing great now. We feel really good with all our goalies, and it's a nice situation to be in."
Most importantly, as the goaltending stabilized, the wins that were absent in the first month came at the pace people have come to expect in Erie. The Lakers went undefeated in their first eight CHA contests, and the overall record rose above .500 and kept climbing.
Other areas that were weaknesses early have gotten stronger, such as Mercyhurst's power play.
"We've been working on it all year, and we've been close," Sisti said. "At times, it has been awesome, and we just haven't been able to put pucks in the net. It could be great saves by the opposition goaltender or just missing. I thought at Robert Morris, it was really good for us, and it is getting better."
Numerically, the power play doesn't look that strong, as it converts 13.2 percent of the time and ranks 28th in the country, but many of those supposedly better power plays are now on the sidelines.
"Really at this point, you throw the stats out the window," Sisti said. "We're doing a lot of good things. Early on, we had a lot of new people, and at times, it was losing momentum for us, but it has gotten a lot better the second half of the season. The stats might not show it, but at this point, it's what happens next. We feel real good about our players on the power play, and we think we're definitely going in the right direction."
Some of those players have demonstrated their capabilities in past seasons. Through her first three seasons, Janiga had 22 power-play goals, and classmate Jenna Dingeldein had 16. As seniors, they have only three power-play goals combined.
"I think what was interesting this year that people may not realize, we've probably had three, four years worth of injuries," Sisti said. "We've had more injuries this season than ever before. They've been big players for us and out anywhere from four, 10, 12, 14 games. Because of that, at different times we've had to win with a lot of different lineups. We've had players' roles changing because of who is in and who is out."
Janiga missed three games. Sarah Robello, who was second on the team with 28 points last year as a rookie, missed 11. Junior Megan Whiddon was out of five games.
The Lakers only had five skaters who were in uniform for all 32 games.
"It's been an interesting year because of that, but at the same time, now as we head into playoffs, we have a lot of players with experience" Sisti said. "Our stats, it could be a player's points, it could be our special teams, they may not tell the real story."
Beyond the power play, injuries show their impact in players' overall numbers. Through three seasons, Janiga piled up 127 points, and Dingeldein had 113. This year, they've been limited to 20 and 22, respectively.
The blue line was hit as well, as injuries cost junior Jillian Skinner 10 games, junior Paige Horton nine games, and freshman Molly Blasen five contests.
"There, we shuffled the deck a lot during the season," Sisti said.
Things are on the upswing.
"Right now with the one-and-done games coming up, all that really matters is who the better team is that day, and then the next day, and so on," Sisti said. "We like where we're at. We're getting healthy at the right time. We've improved in a lot of areas. We're an interesting team, because when we're firing on all cylinders, I think we can play with anybody. All our stats, they may not show that, but we've got a lot of players on our roster than have been in big games and have put up numbers in the past and have been in big moments before. I'm hoping that's really going to help us down the stretch here."
As a freshman, Dingeldein scored in overtime to defeat Cornell and advance the Lakers to the Frozen Four, with Janiga earning an assist. Now, they are two of the seven seniors entering their final postseason.
"With such a big class, we do have a big role in our team's success, and we do have the experience on our team," Janiga said. "We have to use the experience that we have to help lead the freshmen into playoffs and show them the confidence that we have in the big games and kind of lead by example. Even the junior class — they have a lot of experience under them, and I think that's huge when it comes down to games like this."
Penn State, their semifinal opponent, is already in playoff mode after sweeping RIT in a quarterfinal, while the Lakers had a bye in the first round. Janiga said the week off is a benefit to the players whose bodies can use the break at this point.
"It gives us two hard weeks to really focus on the little things, and break down just the little things that we need to fix out there," Janiga said. "Gives us time to rest on the weekends that the other teams really don't have, because they're playing. We can use that to our advantage and get a step ahead."
While this is her last NCAA opportunity, it doesn't mark the end of a hockey career.
"I absolutely plan to play, most likely in Buffalo," Janiga said. "With family there, it's a huge opportunity for me, and to be able to play in a town where I grew up has been my dream."
Until then, she has one more chance to live out her dreams as a Laker.
"We've just got to continue to work hard and focus on the little things," Janiga said. "It comes down to power play, penalty kill. Most games are going to be one-goal games, and it's one little play that going to win it."
Two wins this weekend, and Mercyhurst would be making its 11th trip to the NCAA tournament after a one-year absence.
"We had a pretty impressive run there of 10 in a row, and all 10 of those were without the auto bid, and the ironic thing is the year we got it, we didn't get in, which was a good credit to RIT," Sisti said.
The Tigers, winners of the last two CHA tourneys, were knocked out last weekend by Penn State, so there will be a new champion crowned this year. That team will carry the league's banner into the national tournament, something Mercyhurst has done well in the past.
"I really like our team," Sisti said. "You've got the seniors, who have accomplished a lot here. I think they're going to be key to us down the stretch. Especially with the injuries at the start we had, I'm really proud of this group. They may have been more resilient than any team we've had. We've had to just keep grinding, and they've been able to do that. Coming off the week off here, it'll be a big challenge for us to be sharp Friday. Because we have so many veterans, I like where we're at and I'm excited to see us play."