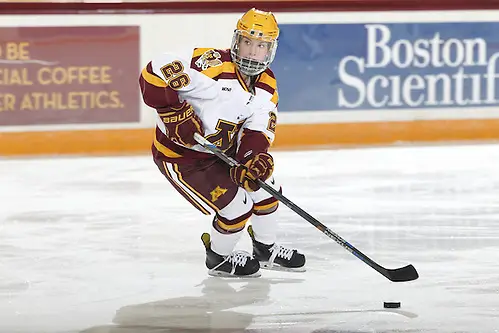 Seven individual awards, three All-WCHA Teams and an All-Rookie Team were announced on Thursday by the WCHA women's conference.
Wisconsin junior goalie Ann-Renee Desbiens is the Player of the Year and Goaltending Champion after posting 18 shutouts, the all-time NCAA single-season record (women or men) and leading the nation with a .958 save percentage and a 0.77 GAA. A Patty Kazmaier Memorial Award finalist, Desbiens has also won 30 games and is 23-3-1 in WCHA contests.
Bemidji State senior defender Ivana Bilic is the league's Defensive Player of the Year. She was the backbone and veteran leader for a Bemidji State team that reached the 20-win plateau during the regular season for the first time ever, has set a program record with 22 wins and recorded its highest WCHA finish ever with a third-place showing. Bilic also led the WCHA with 89 blocked shots during league play and ranks second in the nation with 98 overall.
Sarah Potomak from Minnesota took home the Rookie of the Year award. Potomak has enjoyed a stellar freshman campaign, leading all NCAA rookies with 37 assists (tied for third overall), 49 points (ninth), 1.12 assists per game (first), 1.48 points per game (ninth), nine power-play assists (tied for 11th) and a plus-48 rating (tied for seventh).
North Dakota senior goalie Shelby Amsley-Benzie picked up the honor for Outstanding Student-Athlete of the Year for the second consecutive season. She is in a combined degree program within UND's College of Engineering and Mines, which will allow her to obtain a Bachelor of Science in Chemical Engineering and a Master of Science with a major in chemical engineering over the course of five years. A four-time recipient of the WCHA Scholar-Athlete Award (one of only 12 individuals to achieve that feat in the award's 11-year history), Amsley-Benzie has also been named to the University of North Dakota's President's Honor Roll for six-consecutive semesters and to the Athletic Director's Honor Roll for five-straight years.
Mark Johnson returned Wisconsin to the top of the WCHA mountain, leading the Badgers to their fifth regular-season title (and first since 2011-12) en route to being named Coach of the Year. The Badgers' 24 conference wins are tied for the most in school history, while the program's sixth 30-win season included an 18-0-0 start. Johnson was also named WCHA Coach of the Year in 2003 (Co-Coach), 2006, 2007, 2009 (Co-Coach), 2011 and 2012.
Minnesota junior Dani Cameranesi is the WCHA Scoring Champion with 53 points in league games, including a conference-high 24 goals in 28 games, while her 13 power-play goals leads the nation and her 67 overall points (32 goals, 35 assists) rank fourth.
2015-16 First Team All-WCHA
| Player's Name | Position | Class | School |
| --- | --- | --- | --- |
| Hannah Brandt | F | Sr. | Minnesota |
| Annie Pankowski | F | So. | Wisconsin |
| Dani Cameranesi | F | Jr. | Minnesota |
| Lee Stecklein | D | Jr. | Minnesota |
| Courtney Burke | D | Sr. | Wisconsin |
| Ann-Renee Desbiens | G | Jr. | Wisconsin |
2015-16 Second Team All-WCHA
| Player's Name | Position | Class | School |
| --- | --- | --- | --- |
| Emily Clark | F | So. | Wisconsin |
| Ashleigh Brykaliuk | F | Jr. | Minnesota-Duluth |
| Amy Menke | F | Jr. | North Dakota |
| Jenny Ryan | D | Jr. | Wisconsin |
| Milica McMillen | D | Sr. | Minnesota |
| Brittni Mowat | G | Jr. | Bemidji State |
2015-16 Third Team All-WCHA
| Player's Name | Position | Class | School |
| --- | --- | --- | --- |
| Sarah Nurse | F | Jr. | Wisconsin |
| Sarah Potomak | F | Fr. | Minnesota |
| Molly Illikainen | F | Sr. | St. Cloud State |
| Ivana Bilic | D | Sr. | Bemidji State |
| Halli Krzyzaniak | D | Jr. | North Dakota |
| Shelby Amsley-Benzie | G | Sr. | North Dakota |
2015-16 WCHA All-Rookie Team
| Player's Name | Position | School |
| --- | --- | --- |
| Sarah Potomak | F | Minnesota |
| Sam Cogan | F | Wisconsin |
| Julie Tylke | F | St. Cloud State |
| Lauren Boyle | D | Ohio State |
| Anna Kilponen | D | North Dakota |
| Melissa Hunt | D | Bemidji State |
| Maddie Rooney | G | Minnesota-Duluth |