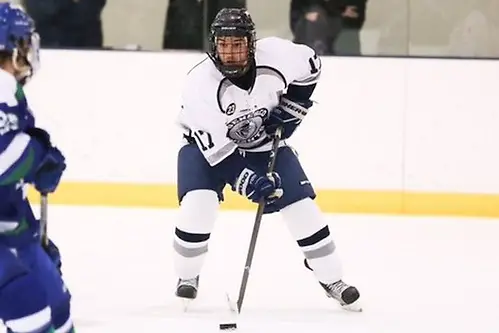 Happy St. Patrick's Day to all and especially to the eight D-III teams looking for a "little extra puck luck of the Irish" to help advance them to next weekend's Frozen Four and the final weekend of play to determine the national champion.
There are four great games on tap this weekend.
Here are the previews:
Geneseo vs. Williams
The quarterfinal sees a rematch of a nonconference game played at Williams back on Nov. 28 and won by the Knights 3-0. The venue is different, stakes are higher and neither team is putting much stock in the prior meeting as an indicator for the game on Saturday night. Both teams recorded identical 7-1 wins in the first round of the national tournament and while the offenses were explosive, the defense never let their respective opponents get on track.
For the Knights, who are 11-1-3 on home ice this season and 6-0-1 against nonconference opponents, the key has been to "turn good defense into offense" and that offense has been led by a pair of 40-point scorers in junior Stephen Collins (22-25-47) and junior Trevor Hills (22-18-40). Add in Anthony Marra (9-27-36), who scored six points in last week's win, and senior David Ripple (10-24-34) and the Knights to score in bunches and quickly. Freshman Devin McDonald has continued to be steady and consistent in goal for the Knights with a .923 save percentage and 2.41 GAA in his 23 games this season.
For Williams, freshman goalie Michael Pinios has emerged as the No. 1 goalie and earned Rookie of the Year honors in NESCAC for the regular-season champs. Pinios did not play in the November game against Geneseo, so that will be a different look for the Ephs. Conference Player of the Year Zander Masucci leads the Ephs from his blue line position, but is second on the team in scoring (7-13-20) for a deep and balanced team that has 10 players with five goals or more this season. George Hunkele, Colby Cretella and David Italiano have combined for 25 goals this season for the Ephs and will be expected to lead the offense.
Hobart vs. Massachusetts-Boston
The Beacons continue their road trip this week against the No. 1 seed in the East after eliminating Trinity last weekend by a 4-0 score in Hartford. Hobart had a bye to the quarterfinals based on being the top seed and have not played since their ECAC West conference championship win over Utica on March 5. The Statesmen are a perfect 13-0 on home ice this season, including 6-0 against nonconference opponents, so the Beacons will again have their work cut out for them.
Seniors Brad Robbins (19-13-32), Mac Olson (13-14-27) and Ben Gamache (7-19-26) lead the team in offensive stats and provide critical leadership to Hobart. Goalies Lino Chimienti and Frank Oplinger have effectively been the No. 1 guy whenever they have been called to play this season, giving coach Mark Taylor depth and a balanced workload to the key position between the pipes. The power play has been good, but the penalty kill has been terrific all year for Hobart and that could be a big key to Saturday's contest with the Beacons.
For Massachusetts-Boston, the big line of Matt Lemire (14-29-43), Colin Larkin (10-25-35) and Frankie DeAugustine (15-18-33) was shut down in the first-round game at Trinity, but as has been the case all season, depth and balance have stepped up for the Beacons when they have needed it most. Defenseman Tyler Bishop (10-12-22) has been a key ingredient in the offense at even-strength and on the power play. In goal, senior Billy Faust has played the bulk of the minutes this season and looks to add to his 15 wins this season for the Beacons.
Four teams from the West region are in the NCAA tournament, including top-ranked Adrian, which opens the postseason Saturday in a showdown against two-time national runner-up Wisconsin-Stevens Point.
St. Norbert takes on MIAC champion Augsburg in a quarterfinal game on Saturday as well.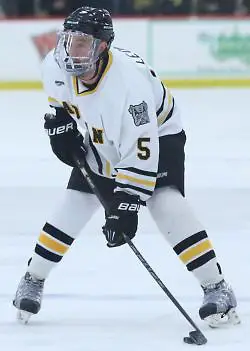 Stevens Point vs. Adrian
The Pointers are in the NCAA tournament for the third consecutive season and the 12th time in program history. They are coming off a win over Wisconsin-River Falls in the WIAC tournament title game and are familiar with the Bulldogs, having split with them in the regular season. Stevens Point lost 3-2 at Adrian and earned a 6-4 win at home.
Stevens Point has won nine of its last 11 and has scored 135 goals on the year. Lawrence Cornellier leads the way in goals scored, punching in 20. He is one of five players who has scored at least 10 goals on the season.
The Pointers have been solid defensively as well, allowing three or more goals only three times over the course of the last 11 games. Max Milosek has had a lot to do with that success, fashioning a 2.08 GAA. He has allowed 46 goals and is 16-4-2 on the year, with two of those wins coming in shutout fashion.
Adrian is in the NCAA tournament for the sixth time and is coming off its second consecutive Harris Cup championship. The Bulldogs, winners of seven consecutive games, are seeking a repeat trip to the final four.
Like Stevens Point, Adrian features a high-powered offense, having scored 154 goals.
The Bulldogs are led by Connor Armour, who has come through with eight goals and 30 assists. A total of eight players have scored 10 or more goals, with Mathew Thompson and Trevor Boyd striking for 16 goals apiece. Adrian has scored at least four goals in each of their last 10 games.
Kevin Entmaa will look to carry his regular-season success into the postseason. Entmaa, only a freshman, is the only unbeaten goaltender in college hockey, sporting a 14-0-0 record. He has allowed only 30 goals. The Bulldogs have allowed two goals or less in their last four games.
St. Norbert vs. Augsburg
St. Norbert had its dream of an NCHA title dashed by Adrian, but it will aim to make a run at the national title as it begins postseason play against the Auggies. It will be the first meeting between the two teams since November of 2012, when St. Norbert skated to a 3-2 overtime win.
The Green Knights are making their 16th appearance in the NCAA tournament and own a 25-11-1 record in tournament play.
St. Norbert has lost only once in its last 12 games and is led by the play of Erik Cooper, who has racked up 12 goals and 20 assists to lead the team in points. Four other players have scored at least 11 goals, including Michael Hill, who has scored 15 goals to go along with 10 assists.
Tony Kujava has played in 17 games this year at goaltender and owns a 1.28 GAA. He is 14-1-1 on the season.
The Auggies are in the tourney for the first time since the 1997-98 campaign and this will be only their third NCAA trip in program history.
Augsburg won a thriller against St. John's in the MIAC tournament championship game, edging the Johnnies 5-4 in triple overtime. The Auggies have won 10 of their last 12 games and are led by Nate Flynn, who has come through with 16 goals and 14 assists. Corbin Chapman has been a key contributor as well, scoring 11 goals to go along with 10 assists.
Jordyn Kaufer has led the way in goal, sporting a 16-5-1 record on the year. He owns a 2.01 GAA and has recorded three shutouts this season.
Just two weekends remaining in the season and only four teams advance to the championship round next week in Lake Placid.
High stakes and high rewards – drop the puck!