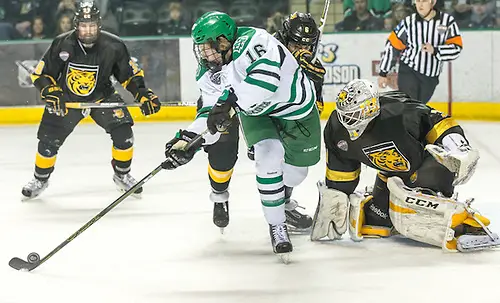 As the NCHC readies to put on the third Frozen Faceoff at the Target Center in Minneapolis, several things stand out from this year's field of four.
For the first time, Minnesota-Duluth advanced to the Frozen Faceoff, getting there by way of a convincing sweep of Miami at home.
NCHC playoffs
See the tournament bracket and get links to schedules and stories at NCHC Playoff Central.
It's also the first time that the top four seeds advanced to the Frozen Faceoff, with the NCHC's top three teams — North Dakota, St. Cloud State and Denver — all sweeping as well. Both St. Cloud State and Denver were taken to overtime in one of their games, but emerged triumphant.
It is also the first time that all four quarterfinal series were sweeps. In the previous two years of the NCHC tournament, at least one team need to win a third game to advance.
On Friday, No. 1 North Dakota will face No. 16 Minnesota-Duluth in the early game, while No. 4 St. Cloud State will face No. 6 Denver in the late game. There are several things facing each team going into Friday.
One question is whether the NCHC can have three No. 1 seeds in the regionals for the NCAA tournament. In the PairWise Rankings, North Dakota is No. 1 and St. Cloud State is No. 3, while Denver would be a two seed in a regional, as it is No. 6 in the PairWise. Denver will need some help to get a No. 1 regional seed, but it isn't outside the realm of possibility.
On the line for Minnesota-Duluth is a place in the NCAA tournament. The Bulldogs are ranked 13th in the PairWise, so their position is good, but they will need a few things to break their way. Their recent six-game win streak has put them in position, but a win over North Dakota on Friday would greatly help their peace of mind.
Here are previews of the two semifinals (all games except the third-place game are on CBS Sports Network):
No. 1 North Dakota vs. No. 16 Minnesota-Duluth, 4:08 p.m. CDT
About North Dakota
If Minnesota-Duluth is looking for some positives ahead of its series with North Dakota, which swept the four-game season series between the two, it can consider this: the Target Center has not been a good venue for North Dakota, which has yet to win a Friday game in the Frozen Faceoff.
Last year, the Fighting Hawks lost both games, losing to St. Cloud State 3-1 in the semifinals and 5-1 to Denver in the third-place game. The first year, North Dakota lost in the semifinal game to Miami 3-0, then beat Western Michigan in the consolation game 5-0.
That poor record is something on the minds of North Dakota players, and something they want to improve on this weekend.
"Yeah, it definitely does," North Dakota captain Gage Ausmus said when asked if the team's record the last two years gives players extra motivation. "It doesn't sit well with us that we went into that tournament and went 1-3 with the teams we've had the past two years. I think this year it's a big goal of ours to have a little more success."
North Dakota also knows that even though it swept the season series against the Bulldogs, those games were very close, with one going to overtime, and Minnesota-Duluth is a tough matchup.
"They were classic games between North Dakota and Duluth in the fact that it was tight checking," said North Dakota coach Brad Berry. "Both teams are deep in the forward, defense and goaltending positions, and they were very competitive games. This is the time of year where it's a game of inches, and it will be again when we face off on Friday."
North Dakota has the No. 1 seed in the PairWise on the line going into this weekend. Win the Frozen Faceoff, and it's guaranteed. While the team knows about that possibility, it isn't the main focus right now.
"I think first and foremost, it's something that we look at, but it's not the ultimate thing we look at," said Berry. "The biggest thing, again, it sounds repetitive, is playing the right way. And if you play the right way, you have a chance for success. Our biggest focus is our game Friday. We aren't looking at anything past that Friday game, and like I said, things take care of themselves if you do that."
About Minnesota-Duluth
Going into the home stretch of its season, and facing a St. Cloud State team that was in first in the NCHC, Minnesota-Duluth had reason for concern. The Bulldogs had been struggling in the second half of the season (going 4-7-2), had just been swept by North Dakota and were facing an explosive offense on the road.
Bulldogs goaltender Kasimir Kaskisuo was certainly tested in the first game of the St. Cloud series, coming up big with 49 saves in a 4-1 win. They used that win to build confidence and since that game have won five more, including sweeping Miami on back-to-back weekends to advance to the program's first Frozen Faceoff.
"He's been pretty solid for us all year, but we weren't able to score enough to get some wins," Bulldogs coach Scott Sandelin said of Kaskisuo. "He played outstanding in St. Cloud. He's had some tremendous games for us. I think defensively as a team if you look at our numbers we've been pretty consistently decent over the course of the year, it's just our offense has sputtered a bit.
"He's had a great year, he's playing well, and we kind of bailed him out Friday night against Miami. He gave up four but we scored five; that wasn't happening a lot during the year."
According to Sandelin, even before that St. Cloud series, his players drew some confidence from the North Dakota series and the results there.
"No. 1, getting some bodies back and some lines solidified," said Sandelin. "Going into even the North Dakota series, where we lost two games, I think some things changed there. Even though we lost two games, our guys played a very competitive series and lost 2-1 both games, but we felt good about how we played. We've kind of felt good about how we've played all year; we just haven't had the offense and the finishing of chances that we would have liked to have had."
This is the first time the Bulldogs have made the Frozen Faceoff, and while the goals in the long run are bigger, he and his team are excited to be playing at the Target Center.
"I think it means a lot," said Sandelin. "I think certainly if you look at our year there's been some frustrating times. The opportunity after we went into North Dakota and lost two to still be able to get home ice was important, was a goal, is a goal for every team. The first is to win the league. Being at home was important, so we felt we still could achieve that goal."
Now that the Bulldogs are in the Frozen Faceoff, the larger goal is to return to the NCAA tournament. They lost in the regional finals last year to Boston University in a close game. Even one win this weekend gives the Bulldogs a decent shot at a berth.
"I think at that time we felt we needed to get to our tournament to be able to have a chance to continue playing beyond that, and I think we are still in that same situation," said Sandelin, reflecting on the push to get home ice.
St. Cloud State vs. Denver, 7:30 p.m. CDT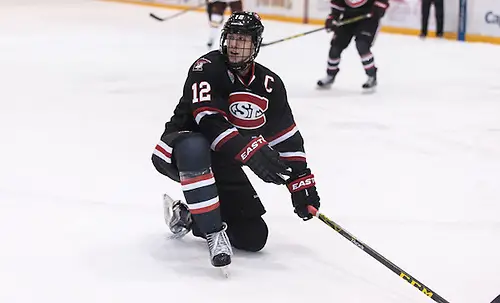 About St. Cloud State
In December, for its last series of the first half, St. Cloud State traveled to Denver and inflicted two crushing losses on the Pioneers in a series most people thought would be close.
However, don't tell St. Cloud coach Bob Motzko or senior defenseman Ethan Prow that those results mean anything heading into their semifinal against the Pioneers on Friday.
"That was before Christmas, so pretty much I think any team is going to take what you did before Christmas and you've long put that film and those stats in the garbage can," said Motzko. "Denver is a different team now, so it's really identifying what are their strengths right now, what they are on top of, and that's what we are identifying right now, special teams, their top line.
"They're playing with tremendous confidence right now. You hear their comments, you hear their buy-in, guys know their roles, and I think they've only lost one game since Christmas. Those are things we can read and look at and have an awareness of, and we're probably not going to look at what happened before Christmas."
For Prow, the lesson is more about playing to his team's potential.
"I think we came with the right mentality of how we had to compete and play throughout the weekend on the road in Denver," said Prow. "I think we played some of our best hockey at that time, and we have to bring it again."
One thing St. Cloud State will have to do to have success this weekend is contain Denver's Pacific Rim Line: Trevor Moore, Danton Heinen and Dylan Gambrell have arguably been the best line in the country in the second half, and have put up points in bunches.
"I think there's a ton of skill on their whole team, especially that top line," said Prow. "Just their presence in the offensive zone and their ability to make plays all over the rink is why they are one of the top lines out there and we have to make sure we are keeping an eye on them."
Asked whether his team needs to match lines when Denver's top line is out or roll all four lines, Motzko acknowledged that both are important.
"We're still putting our game plan in and we haven't seen Denver since before Christmas," said Motzko. "We need a good 48 hours to put in our game plan, but the biggest thing is we can't change who we are. We've had some success ourselves, and we have to stick to our formula. Playing our depth, playing four lines, playing the way we want to play is paramount for us, but you'd be foolish to think you don't need to know when that line is out there and not turn pucks over against them. You don't do anything special, you just have to have great awareness when that line is out there of how dangerous they can be and play playoff-type hockey."
About Denver
At the end of the first half of the season, Denver hosted St. Cloud and was dealt two bad losses, falling 5-2 and 6-2. Based on those results and the previous weekend's two losses to North Dakota, it seemed there was a steep dropoff between Denver and the top echelon of the NCHC.
Instead, the Pioneers regrouped for a dominant second half, going 14-1-3 and then sweeping Omaha last weekend at home to advance to their third straight Frozen Faceoff. They're one of only two teams to play in every Frozen Faceoff, the other being North Dakota.
According to Denver captain Grant Arnold, that experience at the Target Center is something he and his teammates can lean on ahead of their semifinal against St. Cloud.
"Yeah, it's nice that we have some experience from winning my sophomore year and then last year being there again," said Arnold. "It's such a great event that the Target Center puts on and the NCHC puts on. It's awesome that we've been there before and we'll definitely use that on our team with the veterans to help the freshmen out. It will be a little bit easier transition for us."
Facing the team that put Denver at the nadir of its season doesn't have the Pioneers thinking of revenge, but lessons that can be learned from the last time and using it as a measuring stick.
"No, we aren't thinking about revenge, we're thinking about how do we contain St. Cloud defensively because of their great offensive attack, and we're thinking this a great test for us because we can see how far we've come since then," said Denver coach Jim Montgomery. "I think it's too late in the year to be thinking about revenge."
Asked about the difference between the Pioneers of now and of December, Montgomery acknowledged he sees differences, but said that every team will have differences.
"It's light years; I don't think you can compare the two teams," said Montgomery. "We're a completely different team now, as anybody that is still playing is. You're not playing at this time of the year if you haven't improved."
Although Denver swept Omaha, including an emotional two-overtime win last Saturday, Montgomery singled out his power play as something that needed improvement.
"It's more about our attitude and playing with patience in attacking the net," he said. "I think our play was very lethargic. We didn't work hard enough on the power play to create opportunities."