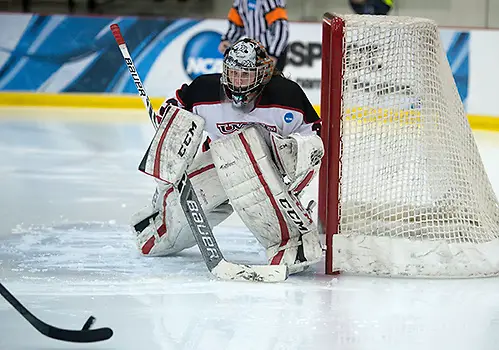 Just three games remain in the Division III women's season.
When the third game is compete, the 2016 national champion will be crowned.
So who will hoist the hardware Saturday night in Plattsburgh?
We're down to the host team, Plattsburgh, and Elmira, Middlebury, and Wisconsin-River Falls. The weekend gets underway Friday with the Middlebury-Plattsburgh semifinal at 3:30 p.m. EDT and then River Falls-Elmira at 7 p.m.
Saturday's championship game at Stafford Arena gets underway at 7 p.m. after the third-place game at 3:30 p.m.
This season, Plattsburgh and Middlebury faced one time, with the Cardinals and Camille Leonard taking a 3-0 win on Jan. 12.
Leonard and her gaudy numbers in goal are just one potent part of the Cardinals' attack that Middlebury will need to contend with. Kayla Meneghin and Melissa Sheeran are the offensive catalysts and Erin Brand is as solid a defenseman as there is in all of D-III women's hockey.
Middlebury has NESCAC Player of the Year Maddie Winslow and her 43 points, but the offense drops off somewhat after her and Jessica Young (11 goals, 27 points). Julia Neuburger is solid in goal with a 13-3-2 mark and a sparkling 1.39 GAA and .934 save percentage.
The second semifinal has Elmira, which upset Adrian in the quarterfinals, playing UWRF.
Kyle Nelson was in goal for the Adrian win and will probably see the net again on Friday. She went 9-1-1 on the year in a platoon with Kelcey Crawford, who put together a 13-3-0 record. Olivia Nystrom has 15 goals this season and Louisa Lippiatt Durnell is the lone player to average better than a point per game with 24 points in 23 games.
The Falcons have their well-documented trio of forwards in Chloe Kinsel, Dani Sibley, and Carly Moran that has accounted for 65 of the team's 110 goals this season.
Angie Hall is a workhorse in goal, fashioning a 22-5-2 record with a 1.61 GAA and .922 save percentage.