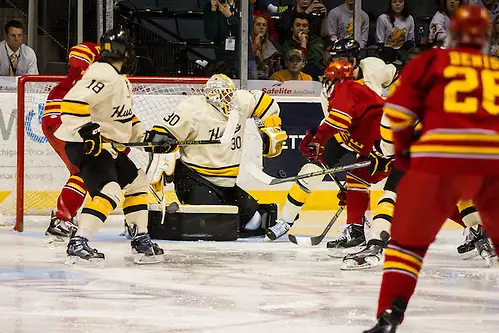 GRAND RAPIDS, Mich. — While the No. 12 Michigan Tech Huskies' season came to an end with a 1-0 loss to the Ferris State Bulldogs on Friday, the Huskies killed off five penalties, including 1:29 of a two-man advantage, keeping the Bulldogs' offense at bay for most of the night.
The Huskies' players are quick to acknowledge that everything starts with their senior goaltender, Jamie Phillips.
WCHA playoffs
See the tournament bracket and get links to schedules and stories at WCHA Playoff Central.
"I think it all starts with Jamie," said co-captain Cliff Watson. "Jamie commands it back there. He's seeing pucks and he's doing well."
Huskies coach Mel Pearson said that Phillips was in top form all night long.
"He was outstanding," said Pearson. "I thought that might have been the best game he played all year for us. He gave us a chance to win, he really did. He stopped a couple of breakaways in the second period.
"He was on his game tonight. He did not give up many second chances. He's probably won more games than any other goalie the last two years. He will be hard to replace."
From there, the Huskies' defensive corps, led by Watson and juniors Chris Leibinger and assistant captain Shane Hanna, make up the next level of what has become a team strength the last few seasons.
"It goes up to the defense," said Watson. "They do a good job of boxing out and seeing pucks."
Phillips works closely with the defense to make sure everyone is on the same page.
"Jamie has worked on that his whole career," said Watson. "When I first got here and he was back there, you didn't hear much back there. This year is completely different. He's always talking to the guys.
"[If you] block a shot in front, he's up for you back there. If he's out to get a puck, we are able to communicate that way and we are able to make some good plays. I don't know if you could see it tonight, but we made some good puck plays around the walls."
Finally, the Huskies have several forwards who became key components of the penalty kill this season thanks to their efforts. Senior C.J. Eick and assistant captain Mike Neville have killed penalties together for three seasons. As leaders this year, they helped bring along junior Reid Sturos, junior Brent Baltus, sophomore Alex Gillies and sophomore Dylan Steman.
"Our forwards get in front of shots," said Watson. "They do a great job of shot blocking and are in passing lanes a lot. I think that is key to our success."
The Huskies tried Friday night to use the penalty kill almost as a springboard for offensive success, but were ultimately unable to.
"It was a tough game for momentum," said Watson. "There was a lot of special teams going on. We would take a penalty, there would be a power play and we would get a penalty again. When you do that, it is tough to keep the lines rolling."
Pearson has maintained that a team's best penalty killer has to be its goaltender. The reality Friday night was that his goaltender was a cog in a larger machine that worked very well.