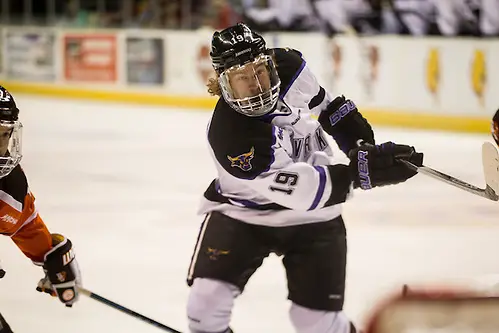 GRAND RAPIDS, Mich. — In his sophomore season, Minnesota State's Brad McClure hasn't exactly been a scoring machine. The forward from Stratford, Ontario, has five goals this season after having finished his 2014-15 campaign with 15.
But McClure is a player who knows when to score, and that's what counts the most. Quite simply, McClure is a playoff player.
WCHA playoffs
See the tournament bracket and get links to schedules and stories at WCHA Playoff Central.
Five of Minnesota State's seven game-winning goals in playoff games dating to March 13, 2015, were scored by McClure. In 2014-15, McClure had nine of his 16 goals before entering the WCHA playoffs, where he scored six goals in three games — including the three game-winners — and after a goal drought of 24 games this season, McClure's late first-period goal in the Mavericks' 5-2 win over Lake Superior State on March 11 held up to be the game-winning goal. After the Mavericks dropped the second game of that series last weekend, McClure had the winning marker in Sunday's 3-0 win.
He nearly did it again Friday, scoring at 5:18 in the first period of a contest during which Minnesota State kept Bowling Green scoreless until 16:05 in the third.
"He's got a history of scoring, and he's got a history of scoring big goals," coach Mike Hastings said after the Mavericks' 2-1 win in the WCHA Final Five semifinals. "So we tried to stay with that as a staff, and Brad's done a great job in continuing his efforts to make sure he's prepared to be ready when he gets his name called, and he's done that all year."
With his playoff goals this season, McClure has five goals and seven assists. His helper on Jon Jutzi's goal to open the scoring of Minnesota State's 5-2 win over Lake Superior last week was his first point in 10 games. His goal in that contest was the first since Nov. 20, 2015.
Asked about the difference between the regular season and the playoffs, McClure said: "Obviously, it feels a lot better. I think you've just got to stick with it. Our team's right there with me, everyone pushing each other every day, and this time of year, you want to be that player, you want to make a move for your team. I like being that player."
Hastings said that the only difference between McClure's play in the regular season and the playoffs this year is the scoring. "He's consistent in how he prepares daily and whether he's scoring goals or not, he's very consistent about what his effort and his attitude is. He's a guy you want to see in the locker room. He's enjoyable to be around, but the most important piece of that is [that] his expectation for himself is going to be greater than anything I put on him or anybody else.
"He expects to play well every night and he's gone through a trying season, but when you look at the history that Brad has, I trust history."