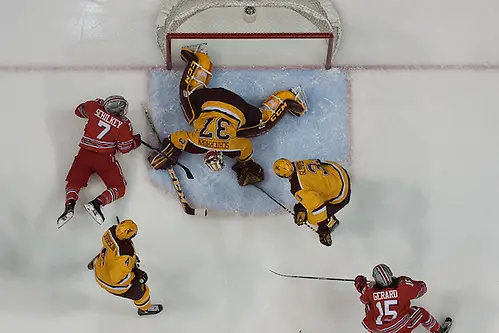 ST. PAUL, Minn. — Ohio State came up a goal short in its previous four games against Minnesota, losing 3-2 in overtime, 5-4 in OT, 5-4 in OT and 4-3.
After playing for nearly 80 minutes Thursday night, they got another opportunity. But all that quarterfinal mileage took a toll in a 4-2 loss to the Gophers on Friday in the Big Ten tournament semifinal.
Big Ten tournament
See the tournament bracket and get links to schedules and stories at Big Ten Playoff Central.
"I think our guys maybe emptied the tank and we ran out of gas a little early tonight," said Buckeyes coach Steve Rohlik.
Despite Kevin Miller's first-period goal, Ohio State never was able to take control of the game and Minnesota overcame some early jitters to score four consecutive third-period goals. Most of those goals came off forced turnovers by the Gophers and quick transitions.
"Their transition game killed us, obviously, tonight and killed us a couple times on line rushes," said Nick Schilkey. "All year I think that was a focus of us coming into tonight, but there were a couple times there — a couple pick-pockets. They were right down our throats just like that. We played 'em close all year; tough to lose to them five times in one-goal games, overtime games, but I guess that's how it happens sometimes."
Rohlik said he was proud of the way his team committed to putting in the work this season after starting 0-7, but noted Minnesota is good enough to convert if any team turns the puck over like Ohio State did in the third period.
"Minnesota has a very good hockey team; they're one game away and they've got a chance," said Rohlik. "They won the Big Ten league for a reason because they won a lot of these close games. We just fell a little short against them this year."
Ohio State says goodbye to three seniors — Anthony Greco, Tyler Lundey and Craig Dalrymple — but returns much of a team that carried an eight-game unbeaten streak into Friday's semifinal.
"I think for us the goal is to make the tournament, and we showed this second half that we can be a tournament team," Schilkey said. "If we start off the year a little better we're right there — we showed that we can play with anybody."
"We've got a good nucleus coming back. We've got an ability to score and score in bunches and score with depth. That was a key coming down the stretch here. To have that group coming back is definitely exciting."
Rohlik admits bias in fondness for Xcel
Being a St. Paul native and familiar with the hockey community means Ohio State's head coach knows he's a little biased when weighing the future of the Big Ten tournament.
The 5,423 announced attendance for the semifinals was better than the previous night's 4,283, but still leaves many pondering what's next.
"I'm a little biased, but I think it's an unbelievable venue," said Rohlik. "I think things take time. I think the Big Ten tournament can be a pretty big deal. Obviously, being here in St. Paul and this hockey community and growing up here, I know what this thing could be."
The coach noted it's exciting for his guys to come back to the rink we're they're treated right and said that it's just going to take more time to be the success hockey fans are longing for each March.