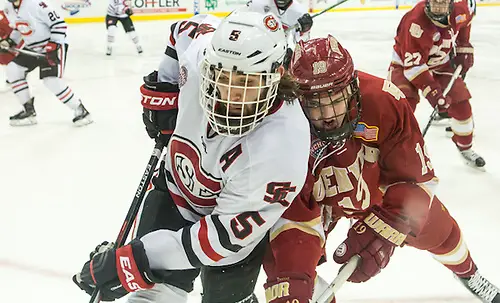 MINNEAPOLIS — Coming into Friday's game between St. Cloud State and Denver, many observers expected an up-tempo, offensive battle between two high-octane offenses.
St. Cloud's offense is ranked second in the country, and Denver's is 15th. Both teams are known for scoring in bunches. Denver, led by its Pacific Rim Line, was riding an 11-game win streak, and St. Cloud has been one of the NCHC's top teams all year, and defeated Denver twice in Denver 5-2 and 6-2.
NCHC playoffs
See the tournament bracket and get links to schedules and stories at NCHC Playoff Central.
Instead, it was a defensive battle from the drop of the puck, and St. Cloud finally iced a 4-2 win with an empty-net goal in the last minute from Jimmy Schuldt.
"I don't think anyone thought it was going to be a defensive battle, but that's sure what it turned out to be," said St. Cloud coach Bob Motzko. "It was a hard-fought, tough hockey game, playoff-game hockey."
One of St. Cloud's challenges was to stop the Pacific Rim Line, Denver's top line of Trevor Moore, Danton Heinen and Dylan Gambrell. The line was held without a goal, and only Heinen registered a single point, an assist on Denver's first goal.
Motzko credited the defensive efforts of his team, in particular shot-blocking.
"[Kalle] Kossila's line, we tried to get them out as much as possible. Kossila's an outstanding two-way player," said Motzko. "My first thing is we blocked two dozen shots tonight, and that was the critical thing. I thought they had some good looks and I'm on the bench thinking, uh oh, this doesn't look good, and someone is sprawling and diving and guys were blocking shots. That might be the critical thing."
The nature of the game was reflected in the shot totals: Denver had only 19 shots on net, while St. Cloud had even fewer, mustering only 16.
"It turned into a ground game, just a hard, heavy, get pucks deep, a lot of mucking up down low, and we got the goals from David Morley and Mikey, and we needed to do more of that," said Motzko. "I thought they had the advantage on that ground game. There just wasn't a lot of transition in the game tonight, and we are a team that likes transition, but if it's all taken away, you have to have special teams and a ground game."
Denver coach Jim Montgomery said his players didn't come with the right intensity and allowed St. Cloud to dictate too much.
"They bottled us up pretty good," said Montgomery. "We have to learn from this and be a little more desperate. I thought we were desperate in the third; I didn't think we were desperate in the first two periods. When you don't play desperate enough against a really good team, they're going to neutralize you and they're going to keep you to the outside."
Even when the Pacific Rim Line did play desperate and generate sustained pressure, things didn't seem to go their way. For instance, with an open net and an opportunity to tie the game, the puck jumped over Heinen's stick as he whacked at it from the crease.
"I thought we were coming and I thought we were going to get the equalizer, to be honest," said Montgomery. "You know, the puck bounces over his stick or it is tied. We were playing desperate, we were getting to the net front, and we were making life a lot more miserable. In the first two periods, life was pretty easy for [goaltender Charlie] Lindgren."
"They have great sticks, and they make it hard for guys to make plays behind the goal line," said Denver captain Grant Arnold. "To be honest, we didn't get the puck to the net enough tonight. A lot of credit to St. Cloud — they did a great job of bottling us up on the walls, a great job using their sticks."