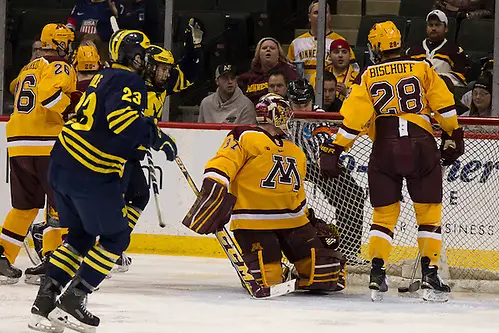 ST. PAUL, Minn. — Coaches scouting Michigan know that they'll have many challenges trying to contain the nation's highest-scoring team at 4.89 goals per game. The biggest might be stopping 18-7-14, or the CCM line of Kyle Connor, JT Compher and Tyler Motte.
Minnesota sent out captain Justin Kloos along with Tyler Sheehy, named to the all-tournament team, and Taylor Cammarata to try to neutralize the three Hobey Baker Award finalists.
Big Ten tournament
See the tournament bracket and get links to schedules and stories at Big Ten Playoff Central.
"You think you're kind of controlling the game, you're not giving them a sniff, and then all of a sudden Connor's got two assists, Compher's got a goal, Motte's got a goal," Kloos said after the Gophers' 5-3 loss in the Big Ten championship game.
"There's a reason they're all three still up for the Hobey — they're good players."
The trio combined for four goals and five assists Saturday night, and contributed to the Wolverines going 3-for-4 on the power play. Michigan's power play is the best in the country, starting the game at 30.6 percent (44-for-144) efficiency, and it didn't take it long to add to its success on the man advantage.
"They have the right mix of guys — if you take something away, they're experienced and they know where to go with the next pass," said Gophers coach Don Lucia. "When you have guys that can shoot, guys that can have that much hockey sense, that they're not going to panic with the puck, they know where it's going to go next. And that's why I think they're like 50 percent in the last month or so of the season."
Early season struggles cost Gophers in PairWise and NCAAs
Minnesota needed to win the Big Ten tournament for an automatic bid to the NCAA postseason as they finished 18th in the PairWise Rankings.
Lucia knew his team would be challenged early on this season as he started a freshman goaltender, with three new defensemen, six freshman forwards and new special teams units. Topping it off was a difficult schedule that included five NCAA tournament teams: St. Cloud State, Minnesota-Duluth, Northeastern, Notre Dame and Harvard.
"We had a difficult schedule, but that's the type of schedule we want to have," Lucia said. "We want to play good teams."
If the Gophers could have held on in their games with Minnesota State and Harvard, they would have made the tournament regardless of the championship game. However, Lucia said Minnesota became a better team because it grew and got better through the process.
"We played our hearts out, but I think we had some opportunities that we let go earlier in the season — especially for the PairWise," said Jake Bischoff.
Future of the Big Ten tournament and expansion
Attendance for the championship game was announced as 6,180 at Xcel Energy Center, and once again attendance relied on Gophers fans filling the building. Lucia said the discussions about the future are best for another time.
"It's always fun to play here, and it's a great venue," said Lucia. "But I think moving forward there's obviously been a lot of discussion how the tournament could be and hopefully there might be some expansion."
Michigan coach Red Berenson said that he likes playing in the big buildings, but noted he likes playing in them when they're full and feels the players do too.
"When you play in a building that's less than half full, it doesn't seem like it's that important, and yet these are important games," said Berenson. "I know the Xcel Center's done a great job here every time we play here, and the same thing with Joe Louis [Arena] in Detroit, but I still like campus sites as a start to the playoffs. Personally, I'd like to see the fans see the teams on campus. I mean that's where the real environment is."