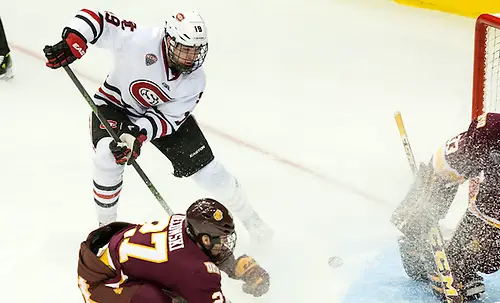 MINNEAPOLIS — A year ago, in their first go-round in the NCHC Frozen Faceoff title game, St. Cloud State came up short, falling in the final to Miami 3-2.
After beating Denver on Friday, the Huskies talked of "unfinished business" because of that loss.
NCHC playoffs
See the tournament bracket and get links to schedules and stories at NCHC Playoff Central.
This year, the Huskies squared off against Minnesota-Duluth. St. Cloud knew the Bulldogs would be desperate, possibly playing for their NCAA tournament lives. Duluth had swept the Huskies in St. Cloud just three weeks ago, winning 4-1 and 2-1.
So when St. Cloud finished the first period down 1-0, having been outshot 11-5, the Huskies knew they needed to regroup.
"They're a team on a roll, and they play very strong, and they're kind of methodical," Huskies coach Bob Motzko said of Duluth. "They have great speed, which makes it difficult because with great speed you can play great defense. That's what was limiting our chances early. They've got good size, and they roll all four lines, and they got up 1-0 and that was a scary situation, because that's what happened to us before. We needed to hunker down, and it took us a while, and I think that was the adjustment. We didn't let the game get away from us."
The turnaround was led by freshman Frozen Faceoff MVP Mikey Eyssimont, who scored St. Cloud's first two goals and had scored a goal Friday against Denver.
"Going against that top line with [Dominic] Toninato and [Alex] Iafallo, they are really good in both zones," said Eyssimont. "They're a team that's big and physical, so it just takes a lot more hard work down in the corners. [Kalle] Kossila was throwing pucks at the net from bad angles, and that's something we talked about doing. Me and [Patrick] Russell tried to get to the net as much as we could to get offense going."
From Motzko's perspective, one of the most important things was the forecheck, which helped jump-start the team after Duluth was dominating, at one point outshooting St. Cloud 18-9.
"We didn't get off to a great start — Duluth did — but then midway through the second period, that's when it changed," said Motzko. "It started with Ben Storm and that line. They got a real intense forecheck going, we followed it with another one, they iced the puck twice, we got our top line out there, we scored to tie it up, and I thought from that timeframe there, we got very consistent, very business-like."
St. Cloud's first goal came when defenseman Ethan Prow carried it down low and got a pass over to a wide-open Eyssimont on the back door, who had an open net to shoot at. Eyssimont scored the game-winner when he picked up a rebound of a shot that caromed off the boards and knocked it in as he was falling down.
"They're obviously a fast team and they move the puck well," said Bulldogs defenseman Andy Welinski. "We did a pretty good job of containing them but I think we at times gave them a little too much space. They do a good job of getting lost in the D zone. They do a lot of movement; offensively and defensively they're always moving around. I think at times we lost guys a little bit in the defensive zone and they capitalized on their chances."