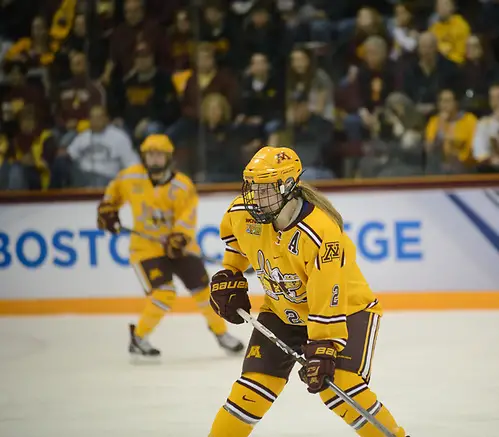 DURHAM, New Hampshire — It's not the storyline anyone expected heading to Sunday's women's national championship game, but in a game where four of the nation's five top scorers were on the ice for the two most prolific offenses in the country, defense may have won the day.
While the younger members of the Minnesota Golden Gophers shone on the offensive end of the ice, it was the veteran senior leadership of Minnesota that helped keep Boston College's prolific offense stymied until late in the third period.
Minnesota captain and junior defenseman Lee Stecklein said that the Gophers knew they were unlikely to completely contain the high-powered Boston College offense. Instead, the Gophers tried to use an aggressive forecheck, using their forwards to pressure the Eagles  in the neutral zone and at the points. Minnesota successfully used the larger ice sheet to force Boston College out along the boards.
"They have a lot of speed, so they can be a threat from out wide, as well, but I'd rather they were shooting from out there," said Stecklein.
Stecklein and linemate Megan Wolfe combined for seven of Minnesota's 19 blocked shots, but senior Hannah Brandt sacrificed herself in service of preserving the Gophers win. She led both teams with five blocks, three of which came in the third period.
"We gave it everything," said Brandt. "At the end of the game you saw people diving everywhere to block shots. We weren't going to give up that three-goal lead no matter what happened."
It was a successful formula, and one that Gophers goalie Amanda Leveille appreciated.
"(My defense) kept all the pucks to the outside, which makes any goaltender's job very easy," Leveille said. "When I did pop out rebounds, which I did a few times tonight, my defense and forwards were there to clear and help me out,"
The Gophers resisted the urge to change their approach too drastically when it came to facing the unfamiliar Eagles. Leveille said she takes every game the same way and only ever focuses on trying to stop the next puck that comes her way.
Coach Brad Frost didn't appear to be sarcastic when he said, "Our plan was to defend well. Not just with one player, or two players, but as a team."
Stecklein, who earned a silver medal with Team USA at the Sochi Olympics and who leaves immediately from the Frozen Four to join the national team at a pre-Women's World Championship camp in Seattle, has been the bedrock of a solid Gopher defense. At 5-feet-11, she's the tallest player on the ice and an imposing presence in front of Leveille.
"We really just wanted to focus of playing the solid D we've been playing all year," said Stecklein. "We knew that they had anyone on the ice that could really score, so we wanted our forwards closing in on the points. We just wanted to have really good active sticks and take away their time and space. They were still a huge threat — Lev still had to make some incredible saves, but things just went our way today."
In a game that was just 1-0 until midway through the final period, the Gophers, especially the forwards, had to find a way to strike a balance between focusing on defense and continuing to look for chances on the offensive end.
"Definitely the end of the game there, we were all defensive minded," said Brandt. "It's tough because you want to make sure you're still pushing to score goals. We had to end up killing a lot of penalties there. I thought our penalty kill was awesome tonight and that was probably the difference-maker for us tonight."
Even the best defense can only take a team so far. Leveille had maybe the best game of her career on the biggest stage and for her final appearance as a Gopher.
Sometimes overshadowed by her world-class teammates, coach Frost made a point to highlight how important Leveille was to the Gopher's success.
"There's no doubt, when you get to this point in the year, in order to win big games, you have to have incredible goaltending. Hopefully people now will give Amanda Leveille the credit she deserves because she's a ridiculously talented and good goaltender."