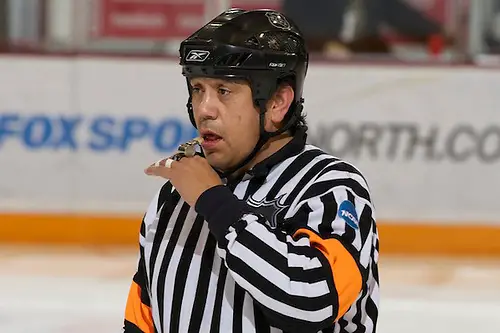 WCHA referee Oliver "Butch" Mousseau, who suffered a head injury when he fell during pregame warmups in a WCHA Final Five game last Friday, died Friday as a result of the injury, the league confirmed. He was 48.
Mousseau was taken from the ice by stretcher at Van Andel Arena in Grand Rapids, Mich., after hitting his head on the ice. He was not wearing a helmet.
Mousseau suffered brain swelling and was in a medically induced coma this week.
He is survived by his wife, Macaire, and three children.
Mousseau was a WCHA official since 2003 and also worked games in the NCHC.
With assignments in the NHL, ECHL, AHL and CHL, he was the first Native American to officiate a top-level hockey game. His NHL sweater and skates are in the Hockey Hall of Fame in Toronto.
League officials issued statements on Mousseau's passing Friday:
"We are saddened beyond belief by the tragic passing of Oliver 'Butch' Mousseau," WCHA commissioner Bill Robertson said. "Words cannot express the depth of sorrow we feel, or the sympathy the WCHA, our member institutions and fellow officials extend to Butch's wife, Macaire, their children, Sam (SJ), Abbie and Olivia, and the rest of the Mousseau family. At the end of the day, hockey is just a game. It is a special game because of the people involved, and Butch was one of the all-time greats who left an indelibly positive impact upon everyone whom he came in contact with. The WCHA is, and always will be, a better league because of Butch's involvement."

"It is fitting that one of the last things Butch said to me was, 'I'll do a great job for you today,' and said it with a smile," WCHA supervisor of officials Greg Shepherd said. "That was Butch in a nutshell — the consummate professional on the ice and a wonderful, positive human being. I have been involved with the WCHA for 39 years, and he was one of the best — not just at calling the game between the boards, but in his communication with players, coaches and administrators. Butch was universally respected for his work on the ice and beloved for his kind and generous spirit to all, along with his love for the great sport of hockey at all levels. He was truly a very special person, and I will miss him dearly. My heart goes out to his family."

"The NCHC family, including our membership, officials and conference staff, are saddened to learn that Oliver 'Butch' Mousseau has passed away," NCHC commissioner Josh Fenton said. "Butch impacted the game of hockey in so many positive ways. More importantly, he was our friend who will be remembered for his fun-loving spirit and passionate soul toward life. Our thoughts go out to Butch's wife, Macaire, his children, Sam, Abbie and Olivia, and his entire family during this difficult time."