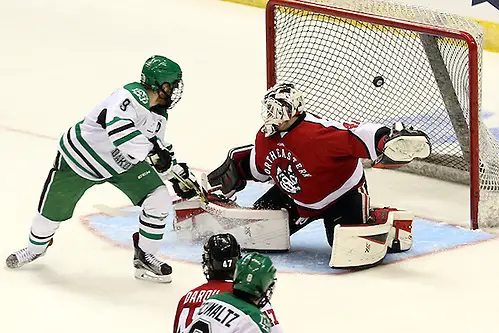 CINCINNATI — The NCAA Midwest Regional could easily have been billed a showcase of the top lines in college hockey entering the weekend.
Second-seeded Michigan brought the CCM line, with JT Compher, Kyle Connor and Tyler Motte all in the running for the Hobey Baker Award.
NCAA Midwest Regional
See complete coverage at Regional Central.
Fourth-seeded Northeastern had the line of brothers John Stevens and Nolan Stevens paired with Zach Aston-Reese, a trio that combined for more than 100 points together on the season.
And No. 1 seed North Dakota arrived with a line that just seems made for March, the CBS line of Drake Caggiula, Brock Boeser and Nick Schmaltz, a group as talented and productive as any in the nation.
No one has ever called the Fighting Hawks a one-line team, but that trio has stood above the rest all year in the box scores. But it's nearly impossible for a team to win a national title with just one line, and North Dakota showed it's much more than that in a 6-2 NCAA tournament-opening win over Northeastern on Friday.
Players from all four forward groupings on the Fighting Hawks' line chart scored goals in the victory, and the first four went in off of sticks that belonged to players other than Caggiula, Boeser and Schmaltz.
The party was kicked off by Johnny Simonson, a player who hadn't scored since October and had just three tallies on the year. Fellow Grand Forks-area natives Tucker Poolman, a defenseman, and Luke Johnson added first-period tallies before Bryn Chyzyk scored in the second.
Boeser and Caggiula added goals before the proceedings were all said and done, but this game — a tilt in which North Dakota held a 36-26 shot advantage and had a distinct edge territorially — was won with a team effort.
"We have tremendous depth on this team," Caggiula said. "All four lines can contribute whenever we need them. That's what makes our team so special. We don't have one line, two lines or three lines that roll. We have four lines that roll and everyone plays, and it's great when all four lines are contributing. It helps out the team in a big way."
That's exactly the kind of atmosphere first-year head coach Brad Berry is trying to foster. He knows how good Caggiula, Schmaltz and Boeser are — Boeser and Schmaltz are first-round draft picks, and the three entered the game having combined for 54 goals and 83 assists on the year — but getting contributions from up and down the lineup was no surprise for the coach.
"I think that's been our M.O. all year," Berry said. "Obviously, a couple of lines have got a lot of accolades throughout the year — deservedly so — but the team-first mentality in our culture, it's about nobody is bigger than the program. It's nice to see tonight other guys hit the score sheet.
"I know there are a lot of guys happy for guys like Johnny Simonson and Bryn Chyzyk when they did score tonight."
In many ways, it was fitting for Simonson to spark things for the Fighting Hawks when he found the rebound of a shot by Keaton Thompson sitting in the blue of the crease and shoved it into the net.
Simonson's last tally before the goal came Oct. 23, so his teammates were excited to see the center put the puck in the net to tie the game at 1 just 5:43 in after an early goal by Nolan Stevens. This from a player who was described as "what North Dakota culture is all about on and off the ice" by Berry.
"It was kind of a double whammy," Chyzyk said. "The situation was huge for us and we were pumped up for that, but we were also pumped up to see one go in for him. He's been a little snakebitten lately. It was a big goal for our team, and it really brought the momentum on our side."
Poolman was next to the party, as the puck bounded to the right point on a rush and he fired past goalie Ryan Ruck at 10:22 for his fifth goal. Johnson then made it 3-1 at 16:55 of the period on the power play, as a point shot deflected right to him to bang home for his 10th of the year.
It was the third consecutive NCAA regional game in which the junior has scored.
"Come playoff time, I like to thrive in those moments and be the guy to make plays, do whatever it takes for us to win. Last year, I thought I played pretty well throughout the tournament, and … I like being in those big moments and gaining momentum from it and playing my style of hockey."
Chyzyk made it 4-1 in the second before Boeser and Caggiula got on the board to close out the victory. Caggiula's goal in particular showed what can happen when the CBS line is on the ice, with Boeser firing cross-ice to Schmaltz, who quickly fed Caggiula in front for the tip-in that provided the exclamation point.
As much as it was nice for the Fighting Hawks to have the punctuation, the sentence had been written. North Dakota overwhelmed Northeastern with its team strength and speed, and as a result the Fighting Hawks are one win away from their third straight Frozen Four.