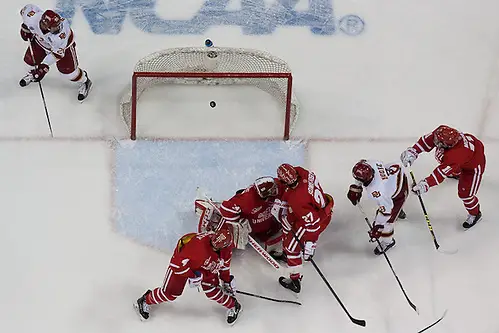 ST. PAUL, Minn. — Naming a line that provides a lot of offense has been a trend among the media and fans during this season, whether it's Michigan's "CCM" line or North Dakota's "CBS" line.
Denver has the Pacific Rim Line, but the Pioneers went old school and used a balanced offensive output from its whole lineup to trounce Boston University 7-2 on Saturday evening.
NCAA West Regional
See complete coverage at Regional Central.
"This team's commitment and focus is at an all-time high, and that's what you need at this time of year to be successful," senior captain Grant Arnold said after the Pioneers' victory. "It was awesome to see us execute on a couple odd-man rushes and play good defensively. It was a great game for us. I'm proud of our team."
The Pioneers got goals from defenseman Blake Hillman, first-line center Dylan Gambrell, defenseman Will Butcher, fourth-line center Matt Marcinew, second-line winger Evan Janssen and first-line winger Tyler Moore.
"The stats we have, I've been reading about where other teams have more 20-point scorers and this and that, but as a coach I'm really comfortable putting anybody in any situation," Denver coach Jim Montgomery said. "It's a luxury. It's the same thing with our six [defensemen]. That play Blake Hillman made, a lot of people say, 'well, that's your third pairing,' but what a great play. The kid plays with great poise.
"It's the evolvement of our team throughout the year and players relishing their roles," Montgomery added. "Whether you're on the so-called first line, they know they mean a lot to our success."
Butcher scored two power-play goals, the first making it 3-0 and the second making it 6-0.
"I can attribute a lot to my linemates," he said. "I had two great screens."
Both Montgomery and Boston University coach David Quinn pointed to Butcher's first goal, the one that made it 3-0, as a turning point in the game.
"It kind of put a knife in them for a little while and allowed us to keep our momentum and stay in their end for the next six to eight minutes," Montgomery said. "You could see them hang their head a little bit. We just talked a little about, let's go here, let's put the foot on the gas pedal while they're down."
The Pioneers' offense was efficient on Saturday, netting seven goals on 25 shots. Denver chased Boston University starting goaltender Sean Maguire early in the second period.
Denver will get another chance to advance to the NCAA Frozen Four after falling in the regional championship game to Providence last year.
"You can't wait for anything in this tournament; it's a one-game series," Arnold said. "It's a Game 7, in NHL terms, so you can't wait for anything. You've got to be ready right when that puck drops. That's one thing I learned [from last year], and another is just taking advantage of opportunities and enjoying the moment, but not letting the moment be bigger than you are."