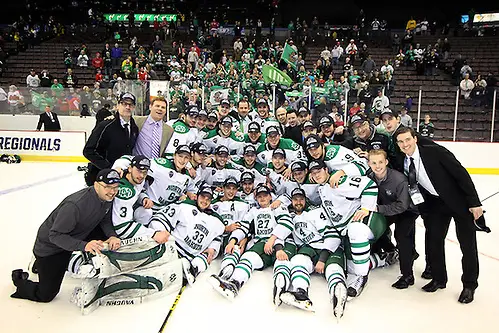 CINCINNATI — Paul LaDue, Tucker Poolman, Luke Johnson, Johnny Simonson and Gage Ausmus grew up playing hockey together. They also grew up watching North Dakota hockey.
It's a family affair for most of the five Grand Forks, N.D., area players who suited up for the Fighting Hawks this weekend as the team returned to the Frozen Four for the third time in a row. Johnson and LaDue are cousins while Poolman's dad, Mark, is the team's athletic trainer and strength coach. In addition, Simonson's parents are North Dakota alums.
NCAA Midwest Regional
See complete coverage at Regional Central.
Now, yet again, they'll each get to represent the Fighting Hawks on college hockey's biggest stage in the Frozen Four in two weeks in Tampa after capturing the NCAA's Midwest Regional crown.
"It's pretty cool," Poolman said after North Dakota's 5-2 win in the final over Michigan. "We were all pretty familiar with each other before we got here, whether we played with each other or against each other. Growing up there, we all want UND to do great, and we take a lot of pride in playing for North Dakota."
When the stage was biggest this weekend, the quintet of local players was at its best. Johnson scored against Michigan to run his streak of consecutive NCAA tournament games with a goal to five. Simonson scored UND's opening goal of the weekend against Northeastern in the regional semifinal, while Poolman had a tally against the Huskies and LaDue added the game-sealing empty-net goal vs. Michigan.
All were important players defensively as well, as LaDue and Poolman formed the team's top defenseman pairing tasked often with shutting down the explosive top lines of both Northeastern and Michigan. Ausmus, the team's captain, was also a stalwart in defense, and Johnson drew defensive duty against the opposing top pairs, including Michigan's noted "CCM" line.
Add it all up over the weekend and the five players had five goals, two assists and a combined plus-7 rating against the hottest team in college hockey in Northeastern and the highest-scoring in Michigan. They also did it in front of a hardy group of North Dakota fans that made the 1,000-mile trip from Grand Forks to Cincinnati.
"I have to give a shout out to the fans that traveled here," LaDue said. "It's a long way, and they put their hearts into this team. We can't thank them enough. Now it's just time to go and get those two wins in Tampa and bring it back home to Grand Forks."
The one thing missing from each player's legacy is a national championship. While the Fighting Hawks have made it to the Frozen Four each of the last two seasons, they returned to the banks of the Red River without college hockey's top prize. For someone like Johnson, whose father won the national title in 1987 with UND, the chance to make history and win the program's eighth title weighs heavily on his mind.
"It's hard to put into words what North Dakota hockey means," Johnson said. "I grew up idolizing the Sioux, and obviously my dad and my uncle [Chad] played here. It's a huge tradition in my family. I take a lot of pride in playing here, and hopefully I can do something special."
From growing up in the stands at North Dakota games to now enjoying the cheers of the faithful, the five Grand Forks-area Fighting Hawks players have helped the program continue as one of the most consistent in college hockey. The regional title was fun, but the unfinished business of a national championship is at hand.
"We don't really talk about it, but we know," LaDue said of the ties that bind the five. "It's pretty special to see. I grew up with all of these guys, playing against each other. I think this is the most local talent we've had around playing for UND.
"The only thing we can do now is bring a championship back. I know that would mean a whole lot to me and all the local guys and the whole team, too. Grand Forks is a special place, they way they come around for this team, and it's time for us to give something back."