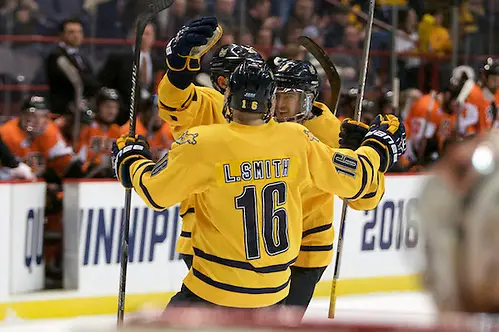 ALBANY, N.Y. — A battle of the No. 1 overall seed against the No. 16 seed left the mind to wander about a rout by an offensive juggernaut.
Quinnipiac played the majority of an East Regional semifinal against Rochester Institute of Technology up only by a goal, however.
2016 NCAA East Regional
See complete coverage at Regional Central.
"I was expecting a little bit more goal scoring, I guess, in general," RIT coach Wayne Wilson said after a 4-0 Quinnipiac victory on Saturday. "We needed to get a goal in there somewhere along the road and not at the very end of the game. We weren't able to do that. I thought the second goal might have been the difference."
The Bobcats have four players with 30 or more points on the year, and remained even keel with leading scorer Sam Anas facing limited minutes because of an injury. They still had the top power-play goal scorer Travis St. Denis.
"I don't think we were lacking energy," Wilson said. "We want to, as a 16 seed playing a 1 seed, put more pressure on them and see if they can handle the pressure or if they would get frustrated. We weren't able to get that goal to get them maybe into a little bit of a frustration level for them, so very composed on their part."
As Quinnipiac played through almost 40 minutes with a one-goal lead, RIT held down a Bobcats team that averages 3.88 goals per game. The Bobcats' Michael Garteig worked overtime, stopping 27 shots to keep his team ahead while RIT pounced in the first and second periods. He was rewarded with his eighth shutout of the year.
Junior Devon Toews said the impact of the defense, starting with Garteig, was the catalyst in holding on to the lead provided by St. Denis' first-period, power-play goal.
"I think it's huge for us," Toews said. "We create offense, at the same time we play solid defense and Gartsy's always big behind us as part of our D corps. I think we like to get pucks out of our zone, and we do that by communicating well, and our forwards help us out in the D zone as well. They've got to get a lot of credit as well."
In a season of commanding wins and late-game comebacks, Quinnipiac coach Rand Pecknold saw a consistency in the confidence of his team that has held strong through ECAC Hockey regular season and conference championships.
"Our guys are a confident bunch; we deal with adversity well," Pecknold said. "That's one of our strengths. It's a mentally tough group. We knew it wasn't our best effort through two periods, Gartsy was bailing us out a lot.
"We had a lot of confidence going into the third period. We get that early one and we just kept coming. We had a good third. It's a resilient group, it's a great group of guys, great character. Even though they weren't playing well, they felt like they were going to win. It was never in doubt, from a confidence standpoint."