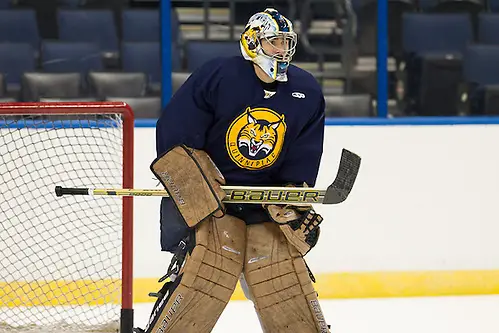 TAMPA, Fla. — Having enjoyed success in Atlantic Hockey and ECAC Hockey, Quinnipiac coach Rand Pecknold was satisfied for a few seasons, but eventually realized he and his team wanted more.
"In 2009 we dramatically changed a lot of the things that we did," he said. "I made that decision. The previous five or six years to that, we were always like [ranked] 18 through 25 in the country, which was great. It was great. Everybody was happy at Quinnipiac to be where we were, coming from Atlantic Hockey and moving to the ECAC."
But it wasn't enough.
"I just felt what we did, we were never getting over that hump to be a top-15 team," said Pecknold. "So I stepped back and asked myself a lot of questions: How can we change? What do we need to do to be better?
"And we did make a lot of changes that summer of 2009, and we're reaping the rewards now."
Pecknold, his coaches and players made a list of areas for improvement and worked it, establishing a relentless focus on everything from the way practices were conducted to the role of the upperclassmen.
"I think a lot of that obviously has come from the coaches," said junior forward Sam Anas. "But it's come from past players, and whether it's been three years ago or four years ago, I think a lot of that has just been driven into us. Mainly off the ice. Incorporating guys into everything.
"When we do something, we do it as a team."
And Pecknold continues to make changes in his approach. He said he has changed over time by being more open to suggestions by his coaching staff.
"There's no question I've evolved as a coach," he said. "I think in my early years I had a very fixed mindset. It was very stubborn, didn't use my assistants enough, and then gradually over time got more of an open mindset or growth mindset."
The Bobcats' recipe for success at a higher level has come down to the simplicity of not getting ahead of themselves. And they're finally here in Tampa.
"I think we've had a belief in [ourselves] the whole year," said Anas. "And the thing that I think was most important for us, we didn't focus on the big picture. We just focused on what was right ahead of us.
"We took every game one by one, and we didn't really look at if we were ranked No. 1 or stuff like that. We just focused on playing the best we can play and playing Quinnipiac hockey. We knew if we did that each game, that good results would come our way."