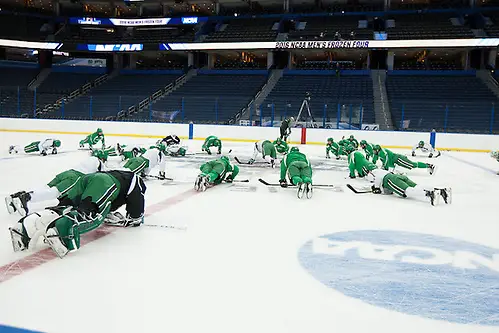 TAMPA, Fla. — Tampa is a lovely spot for the Frozen Four. There are many reasons that the NCAA chose to award the city another championship tournament soon after it hosted its first in 2012. The hospitality here is outstanding, and who among the college hockey faithful would question the weather? Or the gulf breezes?
On top of that, Amalie Arena is great venue, one that holds 20,500 people but feels nearly as intimate as a field house.
"It's a first-class, world facility," said North Dakota coach Brad Berry. "It's state-of-the-art. It's a perfect arena to have a Frozen Four in."
The players, too, seem to be enjoying the setting. "We got a warm welcome from the folks in Tampa with a band and stuff," said senior forward Bryn Chyzyk. "It was nice of them to do that and it was great to see.
"We checked into our hotel and had a nice meal, went for a little team walk on I think it's called the river walk there and it was cool. We got a little stretch in.
"But for the most part, we're not trying to be tourists here. I think we'll come back and be tourists one day, but I think it's a business trip for us and we're trying to dial in for that game."
In their third straight Frozen Four appearance, the Fighting Hawks have a greater sense of purpose born of consecutive, close NCAA tournament semifinal losses. In Boston last year, the Fighting Hawks lost to Boston University 5-3 after scoring two goals late in the third period to make it a one-goal game; BU's final tally was an empty-netter in the last minute of regulation.
In Philadelphia in 2014, North Dakota lost 2-1 to Minnesota, with the Golden Gophers' game-winning goal scored short-handed with 0.6 seconds remaining in regulation.
They're a hungry team, said Berry, and Chyzyk said that the Fighting Hawks have been eager to get to work since winning the Midwest Regional.
"We've been excited to get down here," said Chyzyk. "That week off, you just want to fly down … but we got a good week of preparation, did a lot of things that we needed to improve on to be successful, so it was a good week of preparation. I know all the guys were happy to fly down here yesterday and we're ready to get at it."