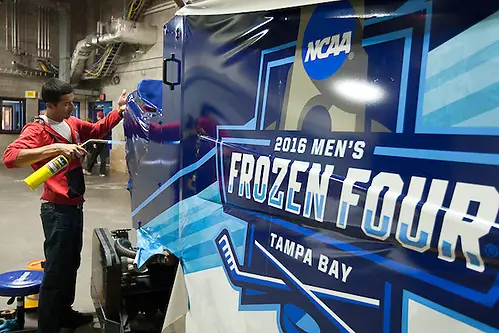 TAMPA, Fla. — The most-often-used phrase by Quinnipiac coach Rand Pecknold and his players during the postseason has been "focus."
Pecknold has preached the importance of staying the course as his team racked up a school-record 31 wins, the ECAC Hockey regular season and playoff titles, and an NCAA East Regional crown.
"For us [it's about] continuing to play to our identity," said Pecknold. "We've had success all year long because we've done that, and if we continue I think we'll be rewarded for that."
It's especially true for the seven seniors, who made it to the national title game in Pittsburgh in 2013.
"Playing in the Frozen Four my freshman year was an unbelievable experience," said senior captain Soren Jonzzon, who had a pair of goals and an assist in the East Regional in Albany, N.Y.
"We definitely learned a lot," he said. "I think the biggest role our seniors have is to really make sure that all the other players are focused on the game rather than all the excitement, whether it be coming off the plane and there's music playing and people greeting us and things like that."
There's that word again. And again:
"In the end we're here to play a hockey game, said Jonzzon. "Hopefully two hockey games, and we just got to make sure that everyone's got their focus on that."
What was that word again?
"One of the things I try to do as a coach with my players, and I believe in it, is we stay in the moment and we focus at the task at hand," said Pecknold. "When you walk in our locker room, you see on the door it says: 'Attack the day.' We're going to attack the day."