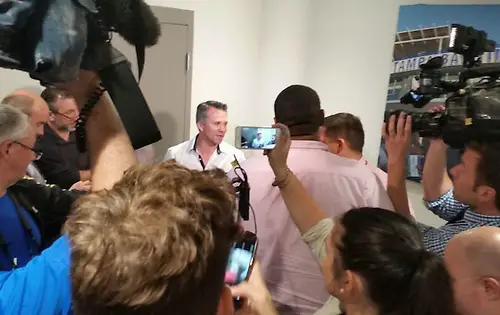 TAMPA, Fla. — In between the first and second periods of the first semifinal game, the focus shifted from this year's Frozen Four to a former collegian with Frozen Four experience himself, one who was instrumental in bringing the tournament to Tampa in 2012.
Retired forward Martin St. Louis, who spent 13 years with the Tampa Bay Lightning before being traded to the New York Rangers in 2013-14, was mobbed by reporters in his first appearance in Amalie Arena since he left professional hockey at the end of the 2014-15 season.
Since leaving the NHL, St. Louis has shifted gears. Wednesday, he said, he talked to all four tournament teams. Thursday, he got in another round of golf.
"I'm just really happy to come and enjoy and watch some hockey," said St. Louis, who played for Vermont from 1993 to 1997 and played in the 1996 Frozen Four. "It's fun to be back in the building, under such different circumstances — no more stress, pressure or anything, just come in and enjoy. It's nice."
St. Louis hasn't completely left the world of hockey behind him. He's vocal about bringing another Frozen Four to Tampa. He stays in touch with many former teammates. He watches NHL games on television.
And he coaches — at a much different level. St. Louis is the coach for the Mid Fairfield Junior Rangers, and all three of his sons play hockey.
"The three boys — my 8-year-old, 11-year-old, [and] going to be 13 — I think I'm at the rink more now than I used to be," said St. Louis. "I coach all of them and I travel quite a bit on weekends. I bought a new truck at the end of November and I think I've got 13,000 miles on it already.
"There's nothing better than going to the rink with all three boys and all their hockey bags. Sometimes they have practice one right after the other. It's been a lot of fun."
Quinnipiac coach Rand Pecknold's son, Tate, plays with St. Louis' middle son, Lucas. St. Louis joked that sometimes Pecknold "comes on the bench and holds the door for me" at the rink.
St. Louis is so immersed in his post-NHL life that when he was asked how he'd been received, he said, "I think the parents are happy that I'm involved."
Then the reporter who asked the original question clarified: How had St. Louis been received here, in Tampa, in Amalie Arena.
St. Louis laughed. Everyone laughed.
"Oh, sorry," he said. "I'm really focused on my coaching career. The kids really like me."