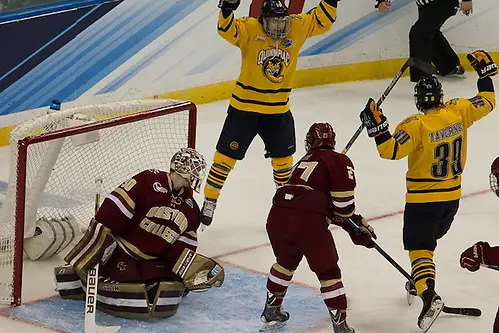 TAMPA, Fla. — It wasn't supposed to end this way.
It was like going into the boss' office to ask for a raise and getting fired. Like planning to propose marriage to the love of your life and getting dumped. Or closer to home, getting a five-minute, five-on-three power play and giving up a couple short-handed goals.
2016 Frozen Four
Follow all of USCHO's coverage at Frozen Four Central.
Going into the opening Frozen Four contest between Boston College and Quinnipiac, the conventional wisdom was that BC could certainly lose to the top-ranked Bobcats and arguably would be favored to do so. But that wouldn't happen because the Eagles were blinded by the bright lights. The Eagles' propensity for penalties — they led Hockey East in penalty minutes — might doom them, but Boston College had been to Frozen Fours more than any other program in the country, and coach Jerry York had brought BC teams to 12 of the last 19 Frozen Fours.
By contrast, top-ranked Quinnipiac was in only its second NCAA semifinal. Its only other appearance had been just three years ago, but the experience factor was so firmly in BC's favor as to be beyond dispute.
"I'm more prepared now as we go into these Frozen Fours," York said one day earlier. "[You get better] the more you're into high-pressure situations, similar to a golfer with a one-stroke lead going into 17 and 18 at Augusta. Can you withstand the pressure and just get par in and win the game?
"The more you're involved in those type of situations, you get a little calmer, you handle the stress better."
The Eagles might not be good enough, but they wouldn't lose because of early-game jitters and stress. They might even use the calm of York's experienced hand to seize an early lead against its higher-ranked foe.
Instead, in the early going the Eagles looked like the hockey equivalent of a country hayseed staring gap-mouthed at New York City skyscrapers for the first time. Just two and a half minutes into the game, a turnover behind their net resulted in a 1-0 deficit. Less than five minutes later, three BC defenders down low somehow left Andrew Taverner uncovered on the doorstep, where he scored Quinnipiac's second goal.
And it wasn't just the two BC mistakes in an otherwise well-played period. More than halfway into the period, the Eagles had gotten only two official shots on goal and both were on dump-ins. The period ended without a single grade A chance. Even worse, BC was getting its lunch handed to it while enjoying the only two power plays of the period.
"They just came out faster than us," senior captain Teddy Doherty said. "There's no other way to explain it. Two goals in the first 10 minutes — unacceptable.
"And [it] ultimately cost the game. There's no other rhyme or reason about it."
The Eagles crawled out of their coffin in Bela Lugosi-like fashion, and in the end narrowed the margin to 3-2 with 4:16 remaining. They then had multiple outstanding opportunities after pulling goaltender Thatcher Demko, but the poor start couldn't be erased.
"We just took a little too long to get our feet under us, and by the time we started playing as a team and playing BC hockey, it was a little too late," Ryan Fitzgerald said.
In truth, for all of BC's institutional and coaching experience in the Frozen Four, its lineup was still populated with eight freshmen and sophomores experiencing their first trip to the national semifinals.
"We were a little nervous in the first period," said one such player, sophomore Alex Tuch. "We are a pretty young team. Half our team has been here and half our team hasn't."
Arguably, the better team won. Quinnipiac didn't come into the contest with a 32-3-7 record and as the No. 1 overall seed by accident. And the Bobcats also played eight freshmen and sophomores.
"I just think we're looking too much at what did BC do wrong," York said. "Quinnipiac played very, very well through the 60 minutes, but especially the early parts of the game. So let's give them credit.
"Sure, we would have liked to have had a better start. It is a big stage [with] the bright lights. So it's hard for young guys.
"But Quinnipiac responded very well. They made some good plays and we turned the puck over."
As a result, BC's season is now over and Quinnipiac is poised one win away from a national championship.