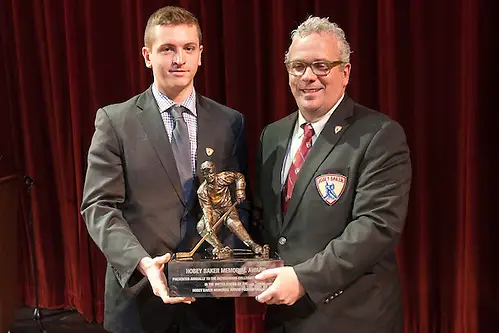 TAMPA, Fla. — In a ceremony at the historic Tampa Theatre, built in 1906 and located just a mile away from Amalie Arena, Jimmy Vesey of Harvard was named the winner of the 2016 Hobey Baker Award.
"I'd like to take a moment to thank the Hobey Baker committee for selecting me as this year's winner," Vesey said in his acceptance speech. "It's definitely a huge honor. Definitely joining elite company as well."
2016 Frozen Four
Follow all of USCHO's coverage at Frozen Four Central.
Unlike last year, when Boston University's Jack Eichel was all but assured of winning, Vesey was an underdog winner, and won a wide-open contest over two finalists who had equal claims to the award.
"I didn't know what to expect. Obviously, Kyle Connor had such a great year, and Thatcher [Demko] had 10 shutouts; that's pretty amazing," said Vesey. "I wasn't really expecting much. I was just happy to be a finalist again. I'm lucky enough that they chose me, and like I said, it's a huge honor."
Vesey, who also was named a first-team All-American on Friday, was a Hobey Hat Trick finalist for the second straight season. Over the last two seasons, he leads the country in goals scored with 56, including 24 this season.
He repeated this year as the Ivy League player of the year, ECAC Hockey player of the year, a ECAC first-team all-conference selection and as the Walter Brown Award winner as top American-born player in New England.
Vesey notched 46 points in 33 games this year. He also helps with community service, including as a fundraiser for the Travis Roy Foundation.
"As a parent, I'm proud to see my son win that award," said Vesey's father, Jim, who played in the NHL. "He was close last year, and I know how it feels when you go last year and don't win and the candidates this year are just as good. Kyle Connor and Thatcher Demko are great hockey players. Everybody won tonight."
In introducing Vesey as the winner, 2016 Hobey Baker Award chair Chris Bonnell said Vesey was joining a "fraternity of past recipients, from Neal Broten of Minnesota to Jack Eichel of Boston University, that has continued to set the bar high."
Vesey became the fourth Harvard skater to win the award, and the first since Lane MacDonald in 1989, who coincidentally played with Vesey's coach, Ted Donato, on Harvard's only NCAA championship-winning team.
Vesey said the desire to play for a national championship was one of the factors that brought him back to Harvard for his senior season.
"I definitely knew it was a possibility, because I was a finalist last year, but ultimately I came back not for an individual award, but to hopefully go for the national championship with my teammates," said Vesey. "Unfortunately, we fell short of our goal. We would have liked to have been playing this weekend, but this is definitely a huge honor for me."
After finishing as a Hobey Hat Trick finalist last year, Vesey, a third-round draft choice of the Nashville Predators, thought about signing with the Predators but returned for his senior year.
"It shows that he was in it for the right reasons, that he wanted to get his degree," said Jim Vesey Sr. "It meant a lot to him at Harvard University. That's why he went there, to get his degree. He realized hockey can end at any time, after a year, whatever it is, but after that you have a lot of life left. … I know he wanted to do it for his mother, too."
Vesey recently said he'd become a free agent later this summer and not sign with Nashville, and he has not decided what he will do immediately after college.
"At the end of the day, in my heart I wasn't really ready to sign a contract," said Vesey. "At this point, I'm just going to try to enjoy my last month or so as a college kid and have some fun with my classmates and make sure I'm at graduation to receive my diploma. And then this summer I'm going to train as hard as I ever have and get myself in great shape so I can pick a team in August and go into training camp."
Vesey beat out goaltender Demko of Boston College, who was named an second-team All-American before the Hobey ceremony, and forward Connor of Michigan, who won the Tim Taylor Award as the nation's top rookie and was named a first-team All-American.
An interview during the ceremony with Connor's dad, Joe, seemed to indicate Connor might be leaving school after this year, as he talked about Connor playing at Yost Arena in the past tense.