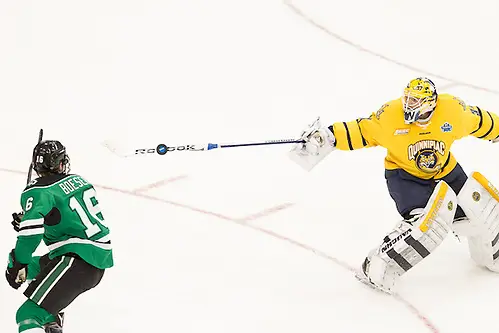 TAMPA, Fla. — As the saying goes, actions speak louder than words.
There was no lack of action on the ice in Saturday's national championship game, and one of the key plays that jumpstarted North Dakota's momentum came at 14:56 in the first when Quinnipiac goaltender Michael Garteig came out of the crease to clear the puck — or so he thought — which resulted in the second North Dakota goal of the night.
After Fighting Hawks junior Paul LaDue was sent to the box for tripping at 13:19, Quinnipiac went on the power play, but the tables turned quickly. North Dakota freshman Brock Boeser came barreling through the neutral zone as Quinnipiac struggled to take the puck down by the boards to the other end of the rink.
Boeser got his stick on the puck, sending it toward Quinnipiac's net, dodging defenseman Devon Toews in the process. Garteig came out to the top of circles to clear the puck, but Boeser had other ideas and blocked it, eventually scoring the short-handed, game-winning goal and his 27th of the season.
Brock Boeser puts UND up 2-0 by blocking a clearing attempt with his…hip pic.twitter.com/rXSbews2pk

— CJ Fogler (@cjzero) April 10, 2016
"I saw the goalie come out so I kind of read what way he was going to go — he kind of gave it away a little bit," Boeser said. "Then it hit my shin pad, I knocked it down with my stick and I took it to the net which was wide open."
When asked about the play during the postgame news conference, a somber Garteig summed it up by virtually not saying anything at all.
"I'd actually rather I prefer not to talk about it," he said bluntly.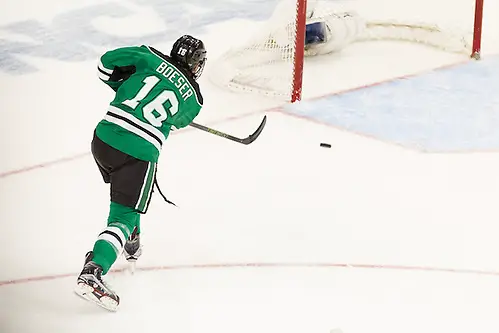 Boeser didn't care about his individual key contribution and said he was just happy his team won.
"I don't really think about it in that way," he said. "I just think about winning in national championships — it's an unreal feeling and I couldn't have done this with a greater group of guys."