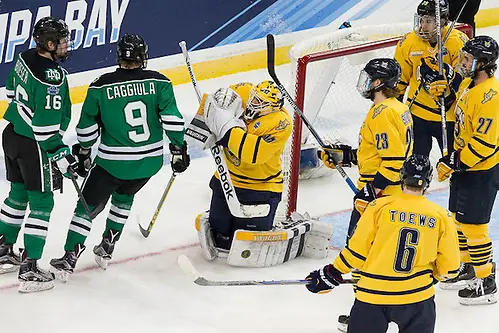 TAMPA, Fla. — Despite some similarities to 2013, it wasn't a case of déjà vu for the Quinnipiac Bobcats, which fell to North Dakota 5-1 in Saturday's national title game.
Yes, the game ended with a four-goal deficit, including three goals allowed in the third period, the same as in a 4-0 loss to Yale in Pittsburgh in 2013.
2016 Frozen Four
Follow all of USCHO's coverage at Frozen Four Central.
And in both cases, the Bobcats came into the tournament as the top seed.
But Quinnipiac coach Rand Pecknold said that, unlike 2013 when the Bobcats outshot and outplayed Yale for much of the game, this time there was no question that the better team on this night came out with a victory.
"It's different," he said. "Different circumstances. I think that year we had beaten Yale three times and beaten them three times easily. So, to me, I really felt we were the better team that year. I still do. I think we were. One and done, anybody can win."
Not this time.
"I think what North Dakota showed tonight is they were the better team," said Pecknold. "It doesn't mean we couldn't beat them. But that's the best team in college hockey. They are just loaded with talent, they backcheck, the goalie was great, [Cam] Johnson was excellent."
The Bobcats were able to gain some momentum after giving up a pair of goals midway through the first period but couldn't manage the tying goal after Tim Clifton pulled Quinnipiac to within one late in the first.
"We hit a couple of bars, had a couple of great chances," said Pecknold. "We certainly had our [shot], but we just didn't defend well enough tonight. We didn't play good enough defense. We struggled a little bit at times, and you've got to credit North Dakota for how well they played."
And unlike 2013, Quinnipiac was hampered by injuries, especially leading scorer Sam Anas, who saw limited action. He was still feeling the effects of a shoulder injury suffered in the ECAC Hockey championship game on March 19.
Anas managed to hit two posts but was obviously hurting.
"Sam wanted to play but he was struggling," said Pecknold. "He's worse these two games than [he was] against [UMass-]Lowell and RIT.
"He was 50 percent and still made some plays tonight."
And it wasn't just Anas that was injured.
"Derek Smith was banged up and played hurt," said Pecknold. "K.J. [Tiefenwerth] played hurt.
"We had three kids take elbows to the head. There was a one point we were down to nine guys [at forward] four players on [defense]. That's hockey. You've got to battle through. We were kind of a M*A*S*H. unit."
But Pecknold wasn't making excuses.
"I think it was a combination of us not playing well and a combination of North Dakota being really good," he said. "They really came after us."