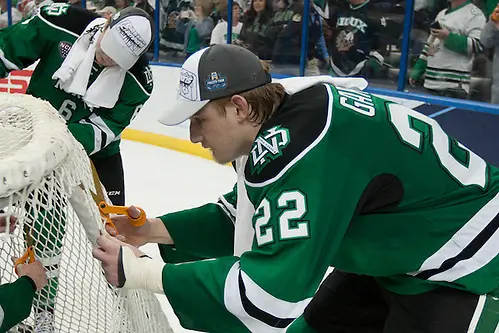 TAMPA, Fla. — Although North Dakota led 2-0 late in the first period of Saturday's national championship game, a five-on-three power play goal in the last two minutes gave Quinnipiac some momentum. At the end of the first, both teams had reason to be happy about the score.
Entering Saturday's game, Quinnipiac was undefeated when it ended the first period trailing, going 6-0-2 on the season, defeating Rensselaer, Dartmouth, Princeton, Connecticut, Cornell and St. Cloud State. Quinnipiac was also 2-2-3 when trailing after two, having beaten Rensselaer Feb. 19 and Dartmouth on Jan. 29
North Dakota also had a strong record, going 17-1-3 when leading after one. North Dakota's lone loss after leading in the first period came in the NCHC Frozen Faceoff, when the Fighting Hawks lost to Minnesota-Duluth.
North Dakota carried its 2-1 lead into the third. Entering Saturday's contest, the Fighting Hawks were 26-0-2 when leading after two periods. North Dakota also had a streak of 75 straight games without a loss when leading after two, going 70-0-5. Their last loss when leading after two was in November 2013.
First rookie win
North Dakota's win marked the first time a rookie head coach has ever won the national championship.
"It's not about me," said North Dakota coach Brad Berry. "I feel blessed and fortunate to be in this position. I've been here for 10 years, and now I'm the head coach. Nothing changes for me."
Jeff Sauer was the only head coach to win an NCAA title in his first year with a team when Wisconsin won in 1983, but he had coached at Colorado College for 11 years before that. Other rookie head coaches to make the NCAA championship game were John Mariucci (Minnesota, 1953), Gino Gasparini (North Dakota, 1979) and Dave Hakstol (North Dakota, 2005). Tim Whitehead reached the championship in his first year coaching at Maine in 2002 but had previously coached at Massachusetts-Lowell.
Special teams a wash
Quinnipiac had six power-play chances in the game, including the first four. North Dakota had only two power-play chances, one midway through the second and one in the third. Quinnipiac's lone goal was a quick strike on a five-on-three power play at 18:53 of the first.
North Dakota didn't score a power-play goal, but Brock Boeser's singular effort for a short-handed strike at 14:16 of the first period, which proved to be the game-winner, meant special teams were a net zero.
Game-winning rarity
In the first 68 NCAA championship games, only two game-winning goals had been short-handed.
Boeser made it three with his first-period goal Saturday.
Cornell's Dan Lodboa in 1970 and Rensselaer's George Servinis in 1985 had short-handed goals that ended up as the championship game-winner.
Boeser's goal also was the 10th short-handed goal in a national championship game:
1963 Ernie Dyda, North Dakota
1970 Dan Lodboa, Cornell (GWG)
1978 Tony Meagher, Boston University
1983 John Johannson, Wisconsin
1985 George Servinis, Rensselaer (GWG)
1986 Jeff Parker, Michigan State
1990 John Byce, Wisconsin
1995 Bob Lachance, Boston University
1997 Matt Henderson, North Dakota
2016 Brock Boeser, North Dakota (GWG)
Successful finalists
Quinnipiac and North Dakota entered the championship game with a combined 65 victories, the most for finalists since 1996.
Michigan was 32-7-2 and Colorado College was 33-4-4 entering the game 20 years ago, which the Wolverines won.
The last time a title game matched teams with more victories was 1993, when Maine was 41-1-2 and Lake Superior State was 32-7-5.
CBS Line
North Dakota's vaunted CBS line came up big for the Fighting Hawks. Leading 1-0 in the first but playing short-handed, Boeser intercepted an attempted pass from Michael Garteig, settled the puck behind the goaltender and fired it into the open net.
Boeser also got assists on North Dakota's first goal, third goal and fourth goal. Drake Caggiula had two goals, and Nick Schmaltz had one assist, a critical one on the early strike in the third that put North Dakota up by two.
"He's been a special player for us all season long, and big players come through in big games, and he definitely stepped up today," Caggiula said of Boeser. "He's a helluva player, helluva kid. It was an honor to play on his line all season long."
Boeser and Caggiula were both named to the all-tournament team, and Caggiula was named Most Outstanding Player. Other players on the all-tournament team included Quinnipiac forward Travis St. Denis, North Dakota defenseman Troy Stecher, Quinnipiac defenseman Connor Clifton and North Dakota goaltender Cam Johnson.
Caggiula became the eighth North Dakota player named Most Outstanding Player. Others included Lee Goren (2000), Matt Henderson (1997), Tony Hrkac (1987), Phil Sykes (1982), Doug Smail (1980), Al McLean (1963) and Reg Morelli (1959).
"It's a special feeling; it may be an individual award, but you don't win it by yourself," Caggiula said of the MOP. "My teammates have been there all four years, not just this year. They've helped me grow as a person and as a player. To win that award, it's a special thing for me, but I couldn't be there without my teammates and my coaches and family and all my friends who support me."
Martin St. Louis makes an appearance
Former Vermont and Tampa Bay Lightning star Martin St. Louis was a big presence at this Frozen Four. He was interviewed by ESPN's arena emcee during the first period and talked about enjoying the game and getting his kids in to see it.
With about 3:19 left in the game, St. Louis carried the NCAA championship trophy down around the lower bowl and was shown carrying it on the video screen.
High marks for Tampa
Tampa got high marks for its performance as host for the second time in four years. Many fans at the Frozen Fest outside the venue talked about how nice it was to walk around in sunny, 80-degree weather.
The championship game drew fans in force, with an announced attendance of 19,358, the third-highest attendance ever for an NCAA hockey championship. The 2010 game at Ford Field in Detroit holds the record (37,592), and the 2007 championship in St. Louis (19,432) is second.
"I'd also like to thank the city of Tampa," said Quinnipiac coach Rand Pecknold. "I think they did a phenomenal job here with hosting the Frozen Four again. Hopefully they'll get the opportunity to get it back here again."
Berry agreed: "Great hosts, professionally done, and they treated us great here."
North Dakota pulls up
Leading by four goals with under five minutes to play, it seemed North Dakota pulled up a little bit. Caggiula had a chance for the hat trick all lined up off a great pass from Schmaltz, but held his shot, and with more pressure on the shift, North Dakota's vaunted line seemed content to move the puck around the zone, rather than push for a sixth goal.
"My linemates gave me some crap for that one," said Caggiula. "They said to make sure you score for the hat trick, and I just saw Boeser there and I wanted to get him a goal, but I probably should have shot that one. I think that was just a bonehead play by me."
The curse of 'Shipping Up to Boston'
During Thursday's semifinal, the Boston College band played "Shipping Up to Boston" seemingly every break in the action. It wasn't enough to help the Eagles overcome Quinnipiac.
During the break between the second and third periods, Quinnipiac's band busted out its own version of that tune. It didn't help, either, as North Dakota struck for two goals in the first 3:41 of the third en route to its 5-1 win.