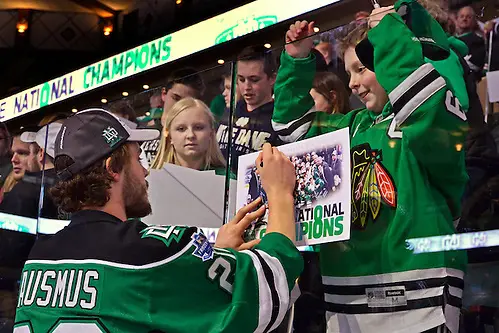 GRAND FORKS, N.D. — As thousands of North Dakota hockey fans gathered in Ralph Engelstad Arena on Monday evening to celebrate the school's eighth NCAA championship, coach Brad Berry noted that leaving UND for a time was one of the keys to his coaching success.
During the past week during the NCAA Frozen Four in Tampa, much was made of Berry's long association with UND's hockey program. He started as a player at UND from 1983 to 1986 and became an assistant coach from 2000 to 2006 and from 2012 to 2015. He was named UND's head coach last year after Dave Hakstol left to coach the Philadelphia Flyers.
2016 Frozen Four
Follow all of USCHO's coverage at Frozen Four Central.
Berry became the first rookie head coach to win a national championship when the Fighting Hawks defeated Quinnipiac 5-1 on Saturday in Tampa.
"Don't get me wrong," he said. "At North Dakota, in six years I learned a lot and it got me into the coaching ranks. But I firmly believe that you have to have other experiences in your life to make you a more well-rounded coach."
Berry spent time in assistant coaching roles with the Manitoba Moose of the American Hockey League and the NHL's Columbus Blue Jackets. He also did some NHL scouting.
Getting away from a program with which he had a long history helped Berry learn how to better communicate, understand how other hockey organizations operate, learn what motivates different players from different parts of the world and — most importantly — it exposed him to other coaching styles.
"It helped me in a lot of different ways," he said. "I went to the AHL and I went to the NHL. I was very grateful for those opportunities, but when Dave Hakstol called me when he needed an assistant coach in 2012, I wanted to come back."
Fans filled Engelstad Arena to hear speeches from UND dignitaries that included acting university president Ed Schafer. A UND alum, he reminded attendees that he was North Dakota's governor when the team won a national championship in 2000 and is now its president for the latest title. He declared himself UND's official good luck charm.
[photoshelter-gallery g_id="G0000N3pXFfPM.SQ" g_name="20160411-NorthDakota-celebration" f_show_caption="t" f_show_slidenum="t" img_title="casc" pho_credit="iptc" f_link="t" f_bbar="t" fsvis="f" width="500″ height="375″ bgcolor="#AAAAAA" bgtrans="t" btype="old" bcolor="#CCCCCC" crop="f" trans="xfade" tbs="4000″ f_ap="t" linkdest="c" f_fullscreen="f" f_constrain="f" twoup="f" f_topbar="f" f_bbarbig="" f_htmllinks="f" f_enable_embed_btn="f" f_show_watermark="f" f_send_to_friend_btn="f" f_smooth="f" f_mtrx="f" f_up="f" target="_self" wmds="llQ6QNgpeC.p1Ucz7U.f31cssLoFs9T_bU23TUh68sgE9xd3MRcIM5HqYUUrpGHxrhVhfA–" ]
Fans also heard from UND athletic director Brian Faison, Berry and Fighting Hawks captain Gage Ausmus, who delivered the newest NCAA trophy to UND's national championship collection. Ausmus, an East Grand Forks, Minn., native, is one of five players on UND's roster with connections to the greater Grand Forks area.
"It's pretty cool when you think about five of us coming from Grand Forks," he said. "It's where we wanted to be when we were kids, and look at us now. We're national champions. It's something you dream of and it's just unbelievable that it happened to us."
UND senior forward Drake Caggiula, who was named the Frozen Four's most outstanding player, couldn't have scripted a more perfect ending to his college career. He passed up an opportunity to turn pro after his junior season to return to the university.
"I wanted to leave UND as a champion," he said. "To be able to come back and close my career out with a national championship is the best ending I could ever imagine."
One thing Caggiula said he'll miss most about playing for UND is the community and support from the fans.
"We have about 15,000 students who go here, but we have 12,000 fans who show up for every single game," he said. "Everywhere we go, they travel and support us. You walk into a restaurant and people recognize who you are. It's a special community, and I can't imagine a better place to play college hockey."