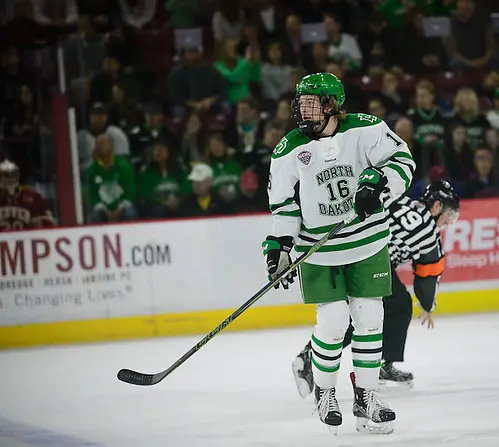 After helping lead North Dakota to its first national championship in 16 years, UND freshman forward Brock Boeser capped a stellar freshman campaign by being selected both Hockey Commissioners' Association (HCA) National Division I Player of the Month and Rookie of the Month for March/April, which are the final HCA monthly awards for the 2015-16 season.
Boeser closed the final month and a half of the season on a tear as he led all NCAA skaters in March and April with 23 points in 10 games, six more points than any other player, while helping North Dakota post an 8-1-1 record.
His 18 assists, 1.80 assists per game, 2.30 points per game and plus-19 rating were also tops nationally during that time, while his five goals tied for fifth nationally and second among NCAA freshmen in March and April. The NCHC Rookie of the Year and runner-up for the Tim Taylor Award as National Rookie of the Year tallied points in nine of those 10 games, including multiple points in eight games.
Boeser was named to the NCAA Frozen Four All-Tournament Team after racking up six points and a plus-7 at the Frozen Four to lead UND to its first national title since 2000.
In the 4-2 national semifinal win against Denver April 7, the Vancouver Canucks first-round draft pick dished out two assists, including on the game-winning goal in the final minute of regulation to break a 2-2 tie. Two nights later in the national championship game against Quinnipiac, Boeser tied a career high with both three assists and four points in the 5-1 victory, while scoring the game-winning goal short-handed, which was his first short-handed goal this season.
He also garnered AHCA/CCM First-Team West All-America honors while in Tampa.
Boeser opened March with a six-point weekend in a sweep of Western Michigan March 4-5 to close the regular season and help UND clinch its second straight Penrose Cup outright as NCHC regular-season champions. He again tied a career high with four points (two goals, two assists) in the series-opening 8-1 win while adding a goal and an assist in the regular-season finale as he was named the game's First Star both nights. Boeser was named NCHC Offensive Player of the Week for his performance to close the regular season, as well.
The First-Team All-NCHC selection continued his scoring streak into the postseason, racking up five assists in an NCHC quarterfinal series sweep of Colorado College, assisting on the game-winner March 11 while tying a career high with three helpers the following night.
At the NCHC Frozen Faceoff March 18-19, Boeser compiled three assists as he had a hand in all three UND goals at the conference championship.
At the NCAA Midwest Regional in Cincinnati, Boeser began the NCAA tournament with a three-point outing in a 6-2 win over Northeastern March 25 as he scored a goal and added two assists. He saw his 10-game point streak snapped the following day in the Midwest Regional final against Michigan as he was held pointless for the only time in March or April despite UND locking up its third straight Frozen Four berth.
Boeser finished his freshman season with 60 points in 42 games on 27 goals and 33 assists with his 60 points ranking third nationally (second among freshmen). His 27 goals ranked fourth nationally, while his plus-45 rating for the season was second in the country behind only his linemate, Drake Caggiula.
More importantly, Boeser announced last week he will return to North Dakota for his sophomore season.