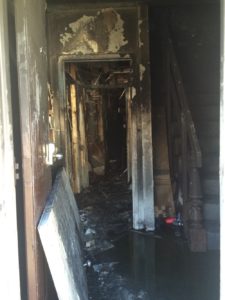 A house fire last week displaced several Brown hockey players and sent one person to the hospital.
According to a GoFundMe account set up, eight members of the Bears lived in the house located at 185 Angell Street in Providence, R.I. — Mark Naclerio, Joe Prescott, Brandon Pfeil, Peter Lappin, Kyle Kramer and "three other returning athletes who cannot be named."
"Many of us lost all of our possessions in the fire and were left with little to nothing," according to the GoFundMe page. "As the fire grew within our house, many of us were forced to make quick escapes, even to the point of jumping out of our second floor windows into the arms of our teammates. One of our teammates was hospitalized due to smoke inhalation and is currently fully recovered."
The Brown communications office released a statement to USCHO.com on the matter.
"Once the immediate health and safety of the students at 185 Angell Street was addressed by those responding on site last Thursday, our immediate priority in the aftermath turned to offering these students essentially any support required," said a Brown spokesman in an email to USCHO.com. "That has ranged from basic needs like clothing, housing and food to providing other important items like laptops, cell phones and textbooks. That also meant providing counseling support to students given that they are confronting a situation that can clearly be very challenging from an emotional standpoint."

To offer a few specifics, the university on Thursday and Friday of last week:

* arranged for housing and meals for the remainder of this semester
* purchased clothing for the students
* offered personal effects (towels, sheets, pillows, toiletries, etc.)
* ordered replacement textbooks
* equipped those students who needed them with cell phones and laptops for temporary use
* produced new Brown identification cards
* arranged for parking spaces near campus
* alerted the students' families and faculty members

All at no cost to the students, obviously.

All of this started on site on Thursday morning as the students gathered at the Brown University Bookstore in the immediate aftermath. And it has continued with a major operation coordinated by our staff in Campus Life and Student Services that will address whatever needs these students may have now and in the months ahead.