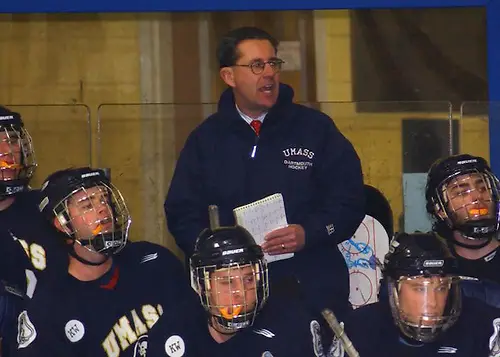 John Rolli, one of the winningest coaches in NCAA history, announced his retirement as the Massachusetts-Dartmouth head coach on Wednesday.
Rolli's retirement is effective July 1, 2016.
"On behalf of our staff, I would like to thank John for his tremendous efforts and the contributions to UMass Dartmouth Athletics throughout his storied career," UMass Dartmouth director of athletics Amanda Van Voorhis said in a statement. "John worked to create a highly competitive, first-class Division III ice hockey program over the last three decades. There are thirty-two years of alumni that benefited from his commitment to providing a quality experience on and off the ice. A winning tradition and teaching young men life lessons through sport were just the start. His teams excelled in the classroom year after year and were actively engaged in the community. He poured his heart and soul into the task at hand while advocating tirelessly for the program. John was a great supporter of his coaching peers and our teams, demonstrating a sincere interest in all."
"I have had the privilege to work with eight supportive athletics directors, tremendous athletics staff, and fabulous players during my tenure at Southeastern Massachusetts University and UMass Dartmouth," Rolli added. "It was always a pleasure to work with the student-athletes at UMass Dartmouth and my students as an educator for 34 years in the New Bedford school system. I've been fortune to work with several great coaches in my career, most notably my mentor, Bruce MacPherson. None of my coaching success could have been possible without the support of my wife, Nancy, and my daughter, Elizabeth, my two best friends in the world."
In 32 seasons behind the Corsairs' bench, Rolli went 577-224-43, boasting the seventh highest winning percentage (.709) among all NCAA hockey coaches. His 577 victories are the fourth most in NCAA Division III history and 14th on the all-time collegiate coaching list.
Rolli's tenure as head coach at UMass Dartmouth produced 31 postseason appearances, 27 winning seasons, nine ECAC titles, the 2013 MASCAC championship and four NCAA Division III tournament berths. The Corsairs won at least 20 games in a single season 14 times, including a school-record 25 on three separate occasions (1996, 2006, 2007).
He was named one of 12 finalists for the Edward Jeremiah Award/NCAA Division III Coach of the Year Award five times, including earning runner-up honors in 2006. Rolli was selected as the New England Hockey Writers' Coach of the Year six times, ECAC Coach of the Year four times and the MASCAC Coach of the Year in 2011.
The 1973 graduate of Salem State retired from the New Bedford school system in 2008 after teaching for 34 years.