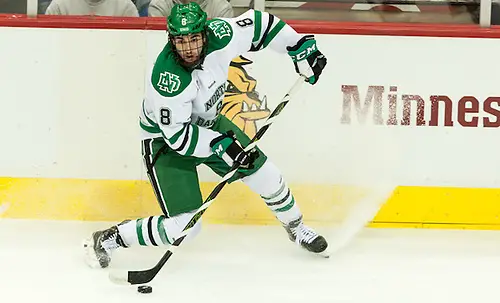 North Dakota forward Nick Schmaltz signed with the Chicago Blackhawks on Sunday, giving up his final two seasons of eligibility.
Schmaltz was the Blackhawks' first-round pick, 20th overall, in the 2014 NHL Draft.
He had 11 goals and 46 points in 37 games last season for the Fighting Hawks, scoring in the Frozen Four semifinal victory over Denver and adding an assist in the championship game victory over Quinnipiac.
Schmaltz is the fifth player from North Dakota's championship team to sign a pro contract with eligibility remaining. The others: junior defensemen Troy Stecher, Keaton Thompson and Paul LaDue and junior forward Luke Johnson.
Schmaltz's brother Jordan, a defenseman, played three seasons at North Dakota before signing with the NHL's St. Louis Blues last offseason.