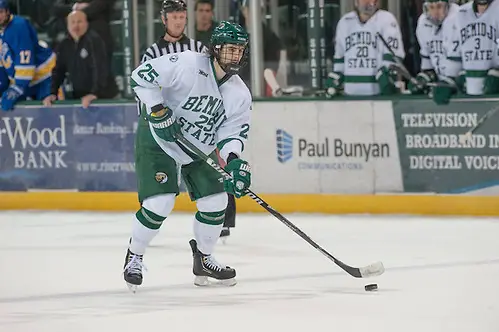 Bemidji State defenseman Ruslan Pedan has signed a two-year contract with HC Sochi of the Kontinental Hockey League, forgoing his final year of collegiate eligibility, to stay home and begin his professional hockey career in Russia.
"Ruslan made an big impact on our team as a freshman and has been a consistent defensman for us since," said BSU coach Tom Serratore in a news release. "He is a big, physical player who logged a lot of minutes for us the past three seasons. He will leave a hole on our blueline, but that also provides an opportunity for another player to step in, gain experience and play a more significant role for us in 2016-17."
Pedan appeared in all 39 games for the Beavers in 2015-16, marking the third consecutive season he has seen action in every one of BSU's games. He registered nine points (three goals, six assists) and led the team in plus/minus rating for the second straight season (plus-12).
Pedan accumulated 32 career points (nine goals, 23 assists) in 115 games with the Beavers.
In addition, Pedan was a two-time member of the WCHA All-Academic Team and earned honors as a WCHA Scholar-Athlete in 2015-16.