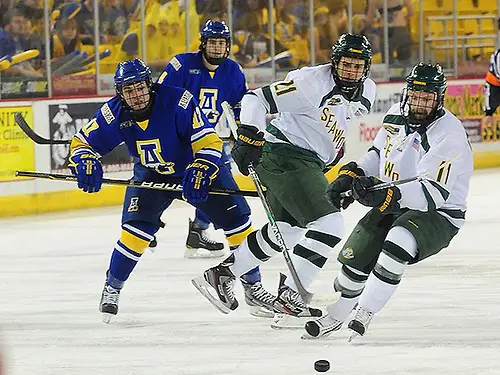 The elimination of men's hockey programs at Alaska and Alaska-Anchorage were among options presented by the state's university system to address a budget crisis.
Alaska-Anchorage athletic director Keith Hackett emphasized at a news conference Thursday that no decisions have yet been made about program changes.
But Hackett also said the schools are in "very, very trying times" and face "significant challenges" in all campus financing matters.
In Anchorage, the athletic department is facing a budget cut of $1.7 million in general funding from the state in the 2017-18 fiscal year. That's nearly one-third of the money the department gets from the state, and 16 percent of the overall $10.5 million athletics budget.
The budget for the Seawolves' hockey program last season was $1.9 million, Hackett said.
Variations on three options were released Thursday as part of the University of Alaska System's Strategic Pathways reports on finding more cost-efficient approaches to higher education.
They are:
• Elimination of one or both Alaska athletics programs.
• Combining the athletics programs from the two campuses, which are separated by more than 350 road miles, in a so-called consortium model.
• Replacing programs that compete at the Division I level with Division II sports.
The last option could mean both UAA and UAF lose their hockey programs, or UAF keeps hockey while UAA drops it.
Hackett said it isn't certain that the system's Board of Regents will select one of those options or pick another direction.
See the full report with explanations of all options here.
Hackett said that in Anchorage, 3 percent of the total university budget goes to athletics. It's 2 percent in Fairbanks. That's compared to a national average of 6 percent, he said.
"We're not nearly as costly as other institutions, but nobody else is in the situation that Alaska is in," Hackett said. "It's a very, very troubling and challenging thing we have to talk about. But I know this is what the new Alaska looks like until we figure out our budget circumstances."
The state of Alaska has been hit hard by falling oil prices, resulting in a $3.2 billion budget hole.
Athletics is going to feel the pinch, but both campuses as a whole will as well.
"I think there's going to be significant change on our campus," Hackett said. "All programs are going to be affected."
Fairbanks has sponsored hockey continuously since 1980 and has been a Division I program since 1985. When the CCHA dissolved after the 2012-13 season, the Nanooks joined the WCHA.
Anchorage joined the Division I ranks in 1979 and has played in the WCHA since 1993.
A Board of Regents decision on the future of hockey and athletics isn't expected until the fall, Hackett said.