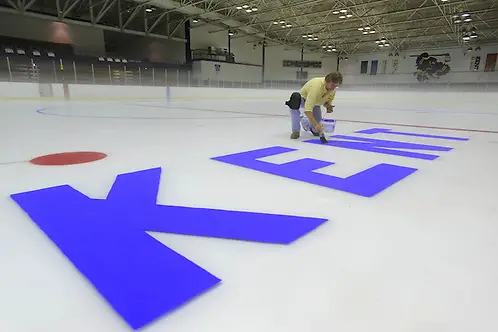 Several years ago, the college hockey world was upended by the news that longtime club level powerhouse Penn State would finally be making the jump to NCAA Division I. Last season, Arizona State became the latest and 60th school overall to join the same race.
The emergence of ice hockey at traditional football/basketball schools, such as with the Nittany Lions and Sun Devils, also recalls a time of other schools that once boasted NCAA Division I men's ice hockey. Once, that is, but no longer — including a mid-sized school situated in northeast Ohio.
Kent State, now more commonly known as Kent, got its start in ice hockey in the 1970s when the Kent Ice Arena was built. The school joined the NCAA Division I ledger in 1985 and then transitioned from the independent ranks to the CCHA in 1992. In their Division I tenure, the Golden Flashes recorded victories over Michigan State and Boston College, won the Nissan Jeep Classic hosted by Alaska-Anchorage, and seemed to be settling in for a regular run as part of a solid Midwestern league — and then they were no more.
Kent discontinued ice hockey at the varsity level following the 1993-94 campaign, although the on-campus Kent Ice Arena now gets as much use as ever. The man running the rink these days has a somewhat unique perspective on the situation — mainly because he was at the helm when everything changed.
Bill Switaj, who starred in goal at Boston College before getting into coaching, was head coach of the Golden Flashes when Kent chose not to continue with the sport at the NCAA level.
Switaj took over the Kent hockey program in 1989-90 and led the Golden Flashes in three seasons as a Division I independent, the last one a 15-14-2 campaign in 1992-93 before the university joined the CCHA. Kent then sported a better-than-.500 overall record (10-8-1) in its second full season of CCHA competition, 1993-94, before the new calendar year began.
"It was a pretty good start," Switaj said. "We just kept doing well, and had a good following."
He also recalled how his team was battling injuries at the time, and ultimately finished with an 11-26-2 record, according to hockeydb.com, after posting a 13-22-3 mark the year before.
There was optimism for 1994-95, especially since Kent was returning players such as forward Dean Sylvester, a Massachusetts native and supplemental draft choice of the San Jose Sharks who had scored 33 goals as a sophomore before adding 22 goals as a junior.
That optimism quickly eroded, however.
"The season ended, and then word spread that [Kent would] drop hockey," Switaj said.
That happened several weeks before the hammer actually fell. When it finally did, via a vote of the board of trustees in support of a recommendation made by then-president Carol Cartwright in early April 1994, it was more of a formality then actual imposition of a death sentence — even if the result was the same.
And just like that, the Golden Flashes were gone.
"It was kind of wild," said Switaj.
Calls made by the CCHA's commissioner at the time, Bill Beagan, to Cartwright following Kent's announcement that it was dropping ice hockey were not returned, according to published reports. Kent was also supposed to have given the CCHA no less than 12 months notice of voluntary termination of its membership, but that didn't occur, either.
"It is common knowledge that KSU's athletic department has been in a state of turmoil since athletic director Paul Amodio was reassigned to a teaching position at KSU in January," Beagan said in an article that was reprinted in The Michigan Daily in April 1994. "It would be accurate to say that I was upset upon hearing about … Cartwright's recommendation to terminate the hockey program from the media."
In situations where a program is eliminated, players are free to transfer to another NCAA Division I school without having to endure the usual stricture of sitting out one full academic year, and Sylvester was one skater who did so. He went to Michigan State, where he scored 15 goals and helped the Spartans to the CCHA championship game and the NCAA tournament as a senior. He then embarked upon a six-year professional career that included nearly 100 NHL outings with the Buffalo Sabres and Atlanta Thrashers.
It was a little different for the former Kent coaching staff. Switaj said he needed some time to figure things out after spending five seasons as a Division I head coach, as he would have had to have packed up and gone elsewhere to continue in that capacity.
The university, however, came to him with a proposition.
"Kent wanted me to manage the rink, and [now] I've done it for 21 years," said Switaj, who had a young family back then he didn't want to uproot. That family eventually included a daughter, Gabri, who grew up in Kent and is now a junior netminder at her father's alma mater, Boston College.
Switaj decided he'd give running Kent's rink, which boasts two ice sheets, a year's try, and that try has now turned into two decades of steady work.
"I've kind of enjoyed managing the rink, and I've also gotten involved with USA Hockey and have been doing it ever since," he said. "I'm still involved in hockey and in running hockey camps, just not at the college level."
Golden Flash hockey as a whole has also again transitioned itself. Where there was once an independent joining one of the more prestigious conferences in NCAA Division I, now there is a club team competing at the top level of the American Collegiate Hockey Association. The club squad indirectly reports to Switaj, although the head coach is his assistant rink manager, Jim Underwood.
"The kids work hard and try to create involvement," Switaj said of the club program. "There's no scholarships, and four to five practices a week. We get 600 to 700 [fans] at a [home] game. It's a great atmosphere, and it's pretty exciting."
The players are also paying to play for the privilege.
"For our team, it's $2,500 per player per season," Underwood said of surviving at the ACHA Division I club level these days. "We're not the most expensive."
Although the program does get some funding from the university, Underwood added that players and coaches do some fundraising work in their spare time. The team also sells advertising in its home rink, takes buses to road games in Ohio, Michigan, New York, Pennsylvania and elsewhere against ACHA Division I competition, and provides study halls for its players like NCAA-sponsored teams.
"It's a good level of hockey," said Switaj. "There's a lot of passion, and you don't have to be [NCAA] Division I to be passionate. They really take it serious, and you see how they love the game."
Underwood explained that Kent draws its current player stock from leagues like the NA3HL, the Western States Hockey League and the U.S. Premier Hockey League.
"We look at the potential empire divisions of those leagues," he said. "It's sometimes hard to find guys to come here. A lot of these kids are looking to go NCAA Division I or Division III, and [club is] a tough sell to them."
Yet come they do — enough to help Kent to a 14-12-0-2 overall mark last regular season. A number of players hail from the Midwest, particularly Ohio, Michigan and Indiana — but Arizona, California, Canada, Connecticut, Missouri, New York, Pennsylvania and Tennessee also were represented last season.
Switaj admitted that he's probably gained a greater appreciation of hockey himself by not coaching and obtaining a different perspective of the game from the grassroots and volunteer level, along with seeing the many adult players who all use Kent's rink.
"I don't think I appreciated it [all] as much as before," he said
He also noted the giving nature provided by hockey volunteers, whose dedication he said spurs him to want to do more in turn.
Kent wasn't the last CCHA school to drop NCAA Division I men's ice hockey. Illinois-Chicago, which had iced a varsity hockey squad since 1967, joined the CCHA in 1982 and then called it quits after the 1995-96 campaign. The CCHA itself breathed its last in 2013, after 42 seasons and eight NCAA national championships. The Big Ten and the NCHC emerged in the wake of Penn State upgrading to NCAA Division I, and the WCHA then siphoned off the rest of the CCHA's remaining schools.
As to if Kent might ever return to playing hockey under the NCAA banner, Switaj said it would have to first overcome the stipulation facing most schools that might wish to add the sport at the varsity level: Title IX, which guarantees equal intercollegiate opportunities to both male and female NCAA student-athletes.
Underwood admitted that from time to time he gets asked about the chances of the Golden Flashes going back to the college varsity level, but he said he has enough to keep him occupied in the present instead of dwelling on a possible future.
"Right now, we're very pleased with the ACHA program," Underwood said of the attendance and atmosphere enjoyed at Kent's home games. "We do well in terms of the excitement we draw on campus."
Pursuing NCAA readmission above all else would also simply take the fun out of what Kent has and could accomplish now, added Switaj.
"There's 25 kids getting an education and playing hockey," he said. "They chose the school, and it's great. I feel great for them, and it's perspective and how you look at it."