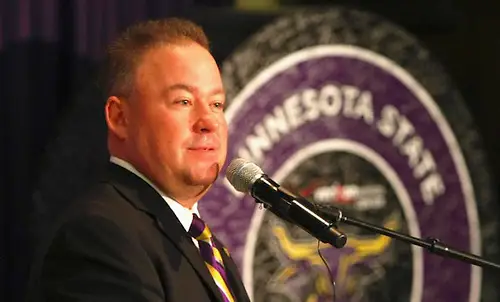 The NCHC, home of defending NCAA national champion North Dakota, won't be adding to its ranks in the upcoming campaign, or any other time soon.
In August, the conference turned down applications for admission from independent Arizona State, which is starting its second season of NCAA Division I competition, and Minnesota State, which is currently a member of the WCHA.
According to NCHC commissioner Josh Fenton, turning down ASU and MSU was more a case of what was good for the league at this time, as opposed to it not wanting either school.
"We felt it was in our best interest as a conference not to expand at this time," he said in early September.
He added the league had pored over all the information it had compiled in its first three years of operation, and had also looked at a number of external factors, along with the national college hockey landscape. He elaborated that expansion was examined as a function of membership.
"We will continue to look at it this way," said Fenton.
He also said that a variety of factors were looked at regarding expansion, including academics, geography, financial consideration and the impact on existing membership. No one of those factors was deemed more important than the others. Also taken into account were visibility and exposure, and enhancement of the NCHC brand.
"There's really a variety of things we looked at as value factors as we went through the analysis process," said Fenton.
He added there was no defined timetable for the conference to possibly add to its roster, and that the topic could be re-addressed in the future. For 2016-17, the league will stick with its original lineup of Colorado College, Denver, Miami, Minnesota-Duluth, Nebraska-Omaha, North Dakota, St. Cloud State and Western Michigan.
Arizona State played its first NCAA Division I season in 2015-16, going 5-22-2 overall, with all the losses coming to Division I opponents. The Sun Devils were an ACHA power previously, highlighted by a national club championship in 2014. For now, they'll continue functioning without a league home, as Alabama-Huntsville and other now-affiliated schools did before them.
"We are focused only on what we can control as a program and are incredibly excited about not only the groundwork we have already laid, but most importantly what lies ahead," said ASU coach Greg Powers in an email message. "College hockey has accepted us with open arms as evidenced by, what we think for a few years out, is easily one of the most diverse and challenging schedules in all of college hockey."
This year's Sun Devil slate will include contests against Boston College, Denver, Harvard, Michigan, Notre Dame and Penn State, and a rematch with Quinnipiac. ASU has just one series scheduled with an NCAA Division III school this season, against visiting Southern New Hampshire in January. Games against Canadian club program Simon Fraser and the U.S. Under-18 Team in February will wrap up the schedule with no league playoffs on the horizon.
"We are continuing to evaluate conference affiliation as we grow as a program, and will continue to positively grow our program independent from conference affiliation until we determine what the best possible fit may be," added Powers.
Last year, ASU split a pair of games with the two Alaska schools, swept Lake Superior State, and bowed to Bemidji State, Clarkson, St. Cloud State, Massachusetts-Lowell and Wisconsin. It also recorded wins over former club opponents Arizona, Liberty, and Ohio, plus two ties with Canadian college Alberta.
Minnesota State athletic officials did not respond to USCHO.com requests for comment for this story. The school made the following announcement, which appeared in the Mankato Free Press, soon after the NCHC had announced its decision.
"Officials at Minnesota State acknowledge information released earlier this afternoon by the (NCHC) regarding membership expansion," read the statement. "At this time Minnesota State declines any comment regarding the NCHC's statement."
The Mavericks began life as an NCAA Division II independent in 1969-70, and won a national championship ten years later. They dropped down to Division III in 1994-95, and then rose up to enter the Division I ranks in 1997-98. The program joined the WCHA in 1999-2000 and has since claimed four NCAA tournament berths, including three straight from 2013 to 2015, along with WCHA regular-season and playoff titles during the 2014-15 season.