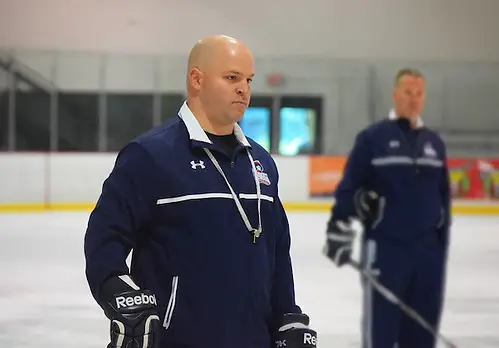 The Robert Morris University men's team announced Tuesday he promotion of Michael Gershon to assistant coach and the addition of Kyle Pettit to the staff as the team's hockey operations coordinator.
Gershon served as coordinator of hockey operations during the 2015-16 season after spending three years as head coach, president and general manager of teams in the North American Hockey League.
"I'm really looking forward to having more responsibility, being behind the bench, going out and recruiting the next group of players to come in," Gershon said in a statement.
"Michael Gershon is a very smart hockey coach," added RMU head coach Derek Schooley. "His energy, enthusiasm and passion have been a breath of fresh air since he arrived at Robert Morris last year. Our players have an excellent relationship with Michael, which will lead to a seamless transition in his his new position."
A former Division III defenseman, Gershon graduated from Brockport with a degree in communcations in 2009. Gershon was named second-team All-SUNYAC in the 2008-09 season and served as an assistant captain during his senior campaign. Gershon played professionally in the ECHL on the Wheeling Nailers' defense in 2010-2011 and for the IHL's Port Huron Icehawks in 2009-10.
Pettit joins the Colonials in a hockey operations role after working in a similar position for the Manchester Monarchs, the ECHL affiliate of the NHL's Los Angeles Kings. Pettit was the Monarchs' video coordinator last year and worked as a hockey operations assistant with the Manchester organization from 2014-15 in the AHL. Pettit also has experience working in as interim director of hockey operations with the Northeastern men's hockey team early in the 2015 season.
Pettit is a graduate of Southern New Hampshire with a Bachelor of Science degree in sport management.
"Kyle Pettit comes very highly recommended from numerous people in professional hockey," Schooley said. "His experience with video at the AHL and ECHL levels will be a very big plus for our program. We are excited to see the development of our players with his video expertise."