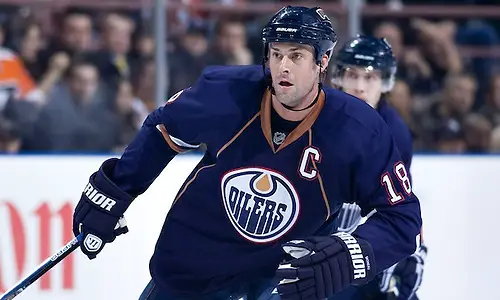 Niagara announced on Wednesday the hiring of Ethan Moreau as the team's new assistant coach.
A 15-year veteran of the NHL, Moreau joins the Purple Eagles for the 2016-17 season.
"Ethan's decorated professional career on the ice will help him transition quickly to coaching," Niagara head coach Dave Burkholder said in a statement. "We want our players at Niagara to develop a professional attitude and mindset, and there is no one better for them to learn those skills from than a former NHL player. Ethan's experience is a huge gain for us in the hockey department. Beyond that, he is a tremendous person with a track record of helping out in the community. I know Ethan as someone who is dedicated to living all aspects of his life with class and character. He is a family man first and brings so much to our campus. I welcome his wife, Ornella, and children, Trey and Mia, to the Niagara University family."
Moreau's NHL career spanned 15 seasons, in which he collected 147 goals and 140 assists in 928 games with the Chicago Blackhawks (1995-99), Edmonton Oilers (1999-2010), Columbus Blue Jackets (2010-11) and Los Angeles Kings (2011-12).
Among current NCAA Division I hockey coaches, only three played more games at the NHL level than Moreau: Boston University assistant coach Scott Young, Michigan State assistant coach Kelly Miller and Michigan head coach Red Berenson.
Prior to his time in the NHL, Moreau played in the Ontario Hockey League, spending the vast majority of that time with the Niagara Falls Thunder. In 248 OHL games, Moreau tallied 322 points on 134 goals and 188 assists. In 1994, Moreau was awarded the Bobby Smith Award, given annually to the OHL player who best embodies excellence on the ice and in the classroom.
The connection between Moreau and Burkholder spans over 20 years. Burkholder began his coaching career with Niagara Falls during the 1993-94 season under head coach Chris Johnstone. Following that season, Moreau was taken in the first round (14th overall) by the Blackhawks.
After retiring from the NHL in 2012, Moreau joined the scouting staff of the NHL's Montreal Canadiens as a pro scout for three seasons. Moreau joins the Purple Eagles after serving as a development coach at the HarborCenter Academy of Hockey in Buffalo, N.Y., for the past year.
"My family and I are extremely excited to be a part of the long-standing history at Niagara University," Moreau added. "Joining the athletic department and hockey staff will be a new challenge and I intend to help get Niagara hockey back to the NCAA tournament. I am honored to serve as Coach Burkholder's assistant and I look forward to learning from his extensive knowledge. I would like to thank the university and athletic director Simon Gray for this opportunity."