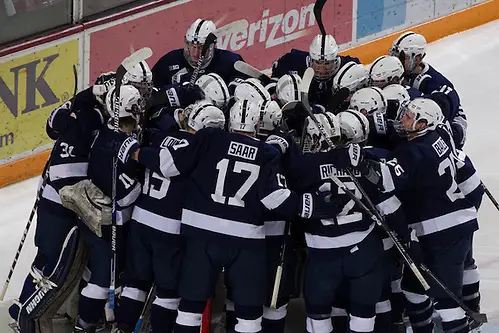 Arizona State became the 60th current school to ice an NCAA Division I men's hockey program last season.
Others could possibly be on the way, but there's a lot to be done before that can happen.
Simon Fraser University in Burnaby, British Columbia, became the first Canadian/international school to gain membership in the NCAA five years ago. It offers 14 varsity sports in all, but surprisingly, hockey is not one of them, although that could change.
Another potential Division I hockey tryout for a new school could come this fall, as Simon Fraser is scheduled to play exhibition games against northwest "neighbors" Alaska-Anchorage and Alaska (Fairbanks), plus two games at Arizona State.
The Clan has also played against other NCAA opponents in the past besides the Alaska schools, such as Holy Cross, Miami, Northeastern and Princeton. SFU even stretched visiting North Dakota to the limit before falling 4-3 in Jan. 2014.
In April of this year, SFU revealed that it had hired an independent consulting firm for the purposes of researching a potential business model that would support both NCAA hockey and sand (beach) volleyball programs at the school. The report was expected to reach completion in six months.
"The consultant is helping us determine the expenses and revenue opportunities associated with hockey and sand volleyball for our market," Simon Fraser senior director of athletics and recreation Theresa Hanson said in a statement. "At the same time, we are reviewing our current organizational structure and budget model and developing a business plan that will address the gaps and help us move forward in a positive and sustainable way".
In almost all its other intercollegiate sports, SFU competes in NCAA Division II as a member of the Great Northwest Athletic Conference (GNAC), which does not sponsor hockey.
No matter.
"Canada versus the United States has worked at all levels of international hockey, and we want to understand what that would look like from a business perspective at the collegiate hockey level," added Hanson. "If these programs work from a business perspective, then I believe these two initiatives have the potential to strengthen Simon Fraser's reputation and add prestige to the university, enable us to continue to recruit the best student-athletes and the best faculty, and will immeasurably strengthen campus life."
SFU director of hockey operations Chris Munshaw could not comment officially on behalf of the athletics department when asked this summer about the possibility of the club team moving up to NCAA Division I. As one could guess, however, hockey would be a natural candidate to become a varsity sport in Western Canada.
"BC is such a hockey-crazed market and with SFU being Canada's only NCAA member, it's been a popular debate from day one in and around the school," he said in July.
The Clan would likely continue to play in Bill Copeland Arena in Burnaby, at least for the first few years of varsity status, if not beyond.
"It has been a first-class facility for us for the past six years," said Munshaw.
It's not like the possibility of college hockey programs upgrading from the club level to NCAA Division I hasn't been accomplished before. The overriding factor, of course, is money—and obviously not everyone has a Terry Pegula who can donate $102 million of his own money to not only fund hockey scholarships at Penn State, but also house NCAA programs in a new, state-of-the-art, on-campus rink.
Not everyone is Arizona State, either, which got $32 million out of the blue to upgrade from club status to the big time, even with permanent home rink questions still dogging the Sun Devils.
Minot State University in North Dakota could be another candidate to one day go Division I.
Operative term — could be.
"We really haven't had any major discussions on the move," said outgoing Minot State athletic director Rick Hedberg, who is transitioning to the position of VP for advancement, earlier this summer. "A local sports reporter ran an article this spring on the possibility of adding ice hockey that got a lot of people talking, but we haven't had any discussions on campus.
"There are no plans to add ice hockey."
Compounding the possibility of adding Division I hockey would be that all varsity athletic programs at Minot State would also need to be elevated to the NCAA Division I level.
"From what the NCAA has told us, we would need to move all programs to Division I," explained Hedberg. "As you know, there is no Division II ice hockey championship. The D-II schools that had ice hockey prior to 2010 are grandfathered. We obviously wouldn't qualify there, thus the need to move all teams to D-I."
The NCAA Division II men's hockey championship ended in the late 1990s, forcing schools like Alabama-Huntsville and Bemidji State to go up to Division I.
Money, of course, would also be a factor, and is seemingly in short supply in higher education today. That includes in Alaska, where either the Alaska Nanooks or UAA Seawolves, or even both teams, could potentially cease to exist if budget cuts there run deeply enough to warrant eliminating college hockey in the 49th State altogether.
"Our state is currently looking at cutting budgets, and this will definitely affect higher ed," said Hedberg, who wouldn't speculate on if the 3,900-seat All Seasons Arena would remain the home of Minot State hockey if the program(s) went varsity.
There have been stops and starts in the past, elsewhere, before Penn State and Arizona State joined the NCAA Division I roster in the last few years.
Minnesota State-Moorhead considering upgrading its hockey program to Division I in 2012, but couldn't meet a self-imposed deadline for obtaining a $37 million endowment from private sources.
Kennesaw State, about 20 miles north of Atlanta, toyed with the idea of joining Alabama-Huntsville as the second NCAA Division I hockey program in the Deep South just over a decade ago, but that idea apparently didn't go anywhere.
Other Division I men's hockey programs have gotten started and given it a go for a while over the last 50 years, only to ultimately turn out the lights. That list includes Fairfield, Findlay, Illinois-Chicago, Iona, Kent, Northern Arizona, U.S. International and Wayne State.
There are other, larger schools that could potentially one day go Division I on ice, such as Big Ten members Nebraska and Iowa, which have built or are building new ice-centric facilities. The possibility hasn't been publicly discussed at Nebraska, which opened the John Breslow Ice Hockey Center in December, although the $11 million rink only seats 700 spectators.
Iowa officials have stated that the school is trying to keep its current athletic lineup healthy, despite the fact that a new 6,000-seat arena is scheduled to be built in Coralville, just a few miles from the Iowa City campus, in a state already well-known for junior hockey.
"I grew up in Minnesota," said Iowa athletics director Gary Barta to The Gazette in Cedar Rapids in June. "I played hockey, I love hockey. I really do. We had a terrific year, things are getting better. But until all of our sports are at a level where I want them, it would dilute if we added sports. If we add men's hockey, we're going to add women's hockey, so really you're talking about adding two sports, so there's a lot involved."