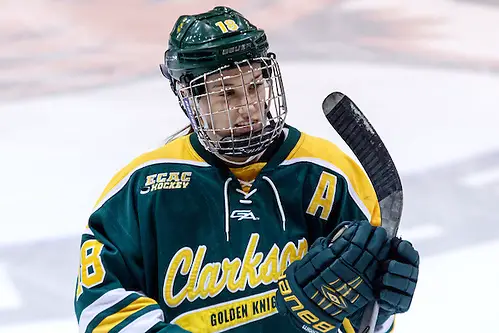 Last year saw a transition in the ECAC, as the league which had often been dominated by Ivy League teams like Harvard and Cornell saw two non-Ivies, Quinnipiac and Clarkson, finish 1-2 in the league and then advance to the NCAA tournament. Colgate also seemed to come out of nowhere and make a challenge, defeating Harvard in the ECAC tournament before falling to Clarkson in the ECAC semifinals. The ECAC placed the most teams of any conference in the NCAA tournament, as Quinnipiac, Clarkson, and Princeton all qualified, and Clarkson beat Quinnipiac and then gave top seed Boston College all it could handle in the Frozen Four, falling in overtime.
It looks to be a rebuilding year for former powerhouses Harvard and Cornell, while Clarkson and Quinnipiac are well-positioned to make fight to the end for the ECAC crown and then advance to the NCAA tournament.
Brown
Last season
3-23-3, 1-18-3, (11th); did not qualify for the ECAC Tournament.
Names to know
Senior Maddie Woo: The team captain led the team in points (15) and was tied for the lead in assists (9).
Junior Cynthia Kyin: Voted most improved by her teammates at the end of last season, the defender had 35 blocks.
Three questions
1. Who starts in goal? Junior Julianne Landry and Senior Monica Elvin split time last season, but the Bears were the worst team in the nation in scoring defense. They need stability starting from the goal line out and getting a solid presence comfortable in net may go a long way to getting it.
2. Can they stay out of the box and improve the penalty kill? Brown gave up 80 power-play goals last season in 107 tries.
3. Can they find "wins" in small successes? Programs don't grow or turn around in a day. Working toward a few more conference wins and better scoring would be big strides for the Bears.
Crystal ball
The Bears finish 11th.
Clarkson
Last season
30-5-5, 14-3-5, (second). Lost to Quinnipiac in the ECAC tournament championship game; lost to Boston College in the NCAA Frozen Four.
Names to know
Senior Cayley Mercer: Was 12th in the nation in scoring with 25 goals and 25 assists in 40 games played and was named first-team All-ECAC.
Junior Shea Tiley: One of the top goalies in the country, she posted nine shutouts and finished with a 1.32 goals-against average.
Senior Genevieve Bannon is crucial on faceoffs.
Three questions
1. Who will step up on defense? Erin Ambrose and Renata Fast combined for more than 100 blocks on the blue line. Tiley is a top-tier goalie, but only having to make 600 saves helps. They also added 12 goals and 33 assists. There aren't a lot of places for Clarkson to improve, so excelling at the details is what will make a difference. Savannah Harmon and Josiane Pozzebon are the obvious choices, but some underclassmen will need to step up and fill the roles they had.
2. Can they beat Quinnipiac? The Bobcats have been succeeding with a young team the past few seasons. Now they have those players and experience. The two teams basically split the season series last year. If Clarkson is going to remain in the national conversation, it needs an answer for Quinnipiac.
3. Can they finish strong? Coach Matt Derosiers said he thought the Golden Knights played their best hockey of the season over the final two games. They'll need to do that again as they face the other top five teams in the conference to close out the regular season schedule.
"The ending to last season, having lost in the national semifinal game, was definitely a little bittersweet. Although we were disappointed with the outcome of the game, we were extremely happy and proud of the way our team performed. Going into this season we want to make sure that we take what we learned from those NCAA games and build upon it. Each year we continue to focus on what has made our players, team, and program successful while also looking for new ways to push each other to ensure we are getting better each day. I think if we are able to continue to create an environment where this is possible, the outlook for this season looks bright." – coach Matt Derosiers.
Crystal ball
The end to Quinnipiac's schedule is more friendly. Clarkson finishes second, but gets an at-large bid.
Colgate
Last season
22-9-7, 12-5-5, (fourth). Lost to Clarkson in the ECAC tournament semifinals.
Names to know
Sophomore Bailey Larson: Finished tops on the team with 32 points from 10 goals and 22 assists as a freshman.
Junior Annika Zalewski: Was named captain as a sophomore. Won the team's Coaches Award and was Colgate's Student Athlete of the Year.
Freshman Anonda Hopper is 5-feet-11 and brings a big presence to the front for the Raiders. In addition to tying for second on the team with 27 points as a freshman, sophomore Jessie Eldridge tallied 29 blocks.
Three questions
1. What will it take for the Raiders to make the jump to the top of the conference? The Raiders beat and tied league-leader Quinnipiac and split the season series with Clarkson. They're clearly capable of playing with them and need to find a way to pull off a few more upsets this season. They've never been ranked in the preseason top 10, so they need to not let that go to their head and stay focused on what they can accomplish this season.
2. Can Colgate make its first ever NCAA tournament? At-large bids might be at a premium and we'd be surprised to see three head to the ECAC. Not only do they need to do well head-to-head with Princeton after dropping both games to the Tigers last season, but they can't afford any bobbles like the loss to Merrimack. They return their top-10 scorers from last season and eight of them tallied 21 or more points. The opportunity is there for the Raiders, but they'll need to be near perfect.
3. Can they continue to be so prolific on the man advantage? Colgate was seventh in the country on the power-play and scored on five of nine power plays in their exhibition game last weekend. That special teams prowess could be the difference-maker for them.
"We like the group we have both incoming and returning. I think we have a good mix of people and players and everyone is going to play a part in what we do. For a the first time in a few years, we are an experienced group and that experience can serve us well. Overall, we're just looking to maximize the potential of the team as a whole. I think naturally there are some things we will do well right from the start, but there is also a lot of room for growth. We are looking to take another step forward with this group." – coach Greg Fargo
Crystal ball
No idea why, but I believe in the youth of this Colgate team and I pick the Raiders for third in the ECAC and an at-large bid.
Cornell
Last season
13-4-4, 9-9-4, (seventh). Lost to Clarkson in the first round of the ECAC tournament.
Names to know
Sophomore Micah Hart: The defenseman was named to the preseason All-ECAC team. Led all Cornell defensemen last season with 18 points and earned a spot on the ECAC Hockey All-Rookie Team as well as an All-Ivy honorable mention.
Senior Hanna Bunton: The 2014 Ivy League Rookie of the Year led the Big Red with 27 points.
Three questions
1. Can they find stability in net? Senior goalie Paula Voorhies saved just 91.5 percent of the shots she faced and the Big Red will miss defender Cassandra Poudrier, whose 84 blocks led the team by a wide margin.
2. Can they start moving up? The middle of the ECAC is close, but the gap between the top four and the rest feels like it's widening. It would be a win for Cornell to finish above Harvard, but the Big Red also need to look toward what it would take to reach Colgate or Princeton.
3. Can they fix their goal disparity? The Big Red averaged 2.81 goals allowed while scoring just 2.32 goals a game. They've got the firepower, they just need it to show up at the right times.
Crystal ball
The Big Red finish fifth in the ECAC.
Dartmouth
Last season
6-19-3, 6-13-3, (10th). Did not qualify for the ECAC tournament.
Names to know
Senior Robyn Chemago: The goalie gives Dartmouth confidence starting from its own end.
Senior Eleni Tabano: Was named team Defensive MVP two seasons in a row.
Senior Kennedy Ottenbreit is the team's leading returning scorer.
Three questions
1. What will be the impact of new coach Laura Schuler? Schuler brings with her an impressive resume as both a coach and player and was extended as the coach of Canada's National Women's team. In addition to bringing a culture of winning, Schuler's pedigree will undoubtedly have an impact on Big Green recruiting.
2. In what is clearly a rebuilding year, what constitutes improvement? All of Schuler's preseason comments have tactfully centered on using this season to change culture and instill new habits. While Schuler's qualifications are sure to draw attention, it's difficult to sell a school that isn't winning. What can the Big Green do this season to show that things are turning around in Hanover?
3. Can they continue to excel on special teams? One of just a handful of schools to get less than 100 power play opportunities, Dartmouth scored 19 of its 51 goals on the man advantage and was also seventh in the country on the penalty kill. An oftentimes difficult prospect for teams, this is a part of the game the Big Green can build from.
"We are extremely excited about getting the upcoming season underway. It is going to be very important that we continue to cultivate a foundation that reflects the core values that are critical for success in the classroom, within our community, and on the ice. This year is also going to be about establishing the critical on- and off-ice habits of play that will allow our team to play to be able to compete and play the game at speed." – coach Laura Schuler.
Crystal ball
The Big Green finish 10th.
Harvard
Last season
17-12-3, 12-7-3, (fifth). Lost to Colgate in the first round of the ECAC tournament.
Names to know
Senior Sydney Daniels: Harvard's top returning scorer was an All-Ivy League first team and All-ECAC Hockey second team selection.
Junior Lexie Laing: The only other Crimson player with a double-digit plus/minus rating, she'll she increased ice time, and increased pressure from opposing defenses.
Freshman goalie Beth Larcom won gold with Team USA at the U-18 IIHF Women's World Championships. Sophomore Kaitlin Tse was part of Hockey Canada's team for the recent U-22 series against the US.
Three questions
1. Who's going to replace Emerance Maschmeyer? Seniors Brianna Laing and Molly Tischbaum both saw limited ice time last season. The Crimson lost quite a bit to graduation and will need to be able to rely on a solid presence back-stopping them. Larcom could be a surprise contender.
2. Can they keep Harvard a part of the national conversation? After graduating a third of their points and some of the biggest names to play for the program, the Crimson don't want to lose out on the recruiting and attention that comes from national prominence.
3. Could they sneak up in the rankings? A very friendly final few weeks of the schedule and a late Ivy League start to the season give the Crimson more time to get their young players up to speed. Finishing strong could give them a better tournament seed and a chance to sneak up on someone.
"We are excited to lace'em up for another season and see what our young group is capable of. Should be fun!" said coach Katey Stone.
Crystal ball
It's a rebuilding year for Harvard; the Crimson finish sixth.
Princeton
Last season
22-9-2, 14-6-2, (third). Lost to St. Lawrence in the first round of the ECAC tournament; lost to Minnesota in the first round of the NCAA tournament.
Names to know
Senior Kelsey Koelzer: Patty Kazmaier Top 10 Finalist, ECAC Defender of the Year, first-Team All-American and named to Team USA's Under-22 team, Koelzer was the Tigers' second leading scorer as a defenseman. She added 61 blocks and anchors both Princeton's special teams.
Sophomore Karlie Lund: The ECAC Rookie of the Year led the Tigers in scoring as a freshman. In addition, she's been spectacular for Princeton in the faceoff circle.
Freshman goalie Steph Neatby and sophomore Stephanie Sucharda were named to Team Canada's U-22 team.
Three questions
1. Can they keep getting better? The Tigers set a program record in wins, had a 16-game win streak, and reached the NCAA tournament for the first time in 10 years, but they were still third in the conference, didn't beat either of the two teams ahead of them, and had a quick exit out of the ECAC tournament. There's room to improve for this team that reached so many new heights last season. The question may well be whether last season was satisfactory or if it motivates them to do better.
2. Can they be as effective without Kimberly Newell in net? It's not just about who takes over, but if the Tigers can handle the adjustment period. They allowed just 1.85 goals a game last season and Newell had a .937 save percentage.
3. Can they win when they should? If Princeton wants to be a part of the top tier, it needs to win games against lower-ranked opponents and at the end of the season. Many were surprised by the Tigers' inclusion in the NCAA field last season, and they don't need to give anyone a reason to exclude them this season.
Crystal ball
I've picked Colgate to make a run this season, which puts Princeton fourth.
Quinnipiac
Last season
30-3-5, 16-2-4, (first). Won the ECAC tournament; lost to Clarkson in the first round of the NCAA tournament.
Names to know
Junior Taylar (TT) Cianfarano: The ECAC Player of the year finished tied for 10th in the country in scoring. Her 28 goals are tied for the second most in a season in program history. She had just the third 50-point season in program history.
Senior Sydney Rossman: Team MVP and ECAC Goalkeeper of the Year, she finished the season ranked second in the country with a .950 save percentage, a 0.87 goals-against average, and 17 shutouts.
Sophomore Melissa Samoskevich was the ECAC Rookie of the Year. Freshman Kenzie Prater was a member of the gold-medal winning Team USA at the U-18 Women's World Championships
Three questions
1. Can they put it all together? The Bobcats were near the top of practically every statistical category. They won the ECAC tournament, but experience carried Clarkson when it counted. It's nigh impossible for them to improve, so they'll have to focus on winning the small battles or hope for better NCAA seeding.
2. What did they learn? Special teams were spectacular, as was goaltending. They lost just three games all season (though two were to teams they should have beaten). They've made the postseason run, so what can they do this season to make it more successful?
3. Trophies are always the goal, but what else can the Bobcats try to achieve this season? With such high expectations and so few obvious places to improve, the Bobcats have the opportunity to focus on small things and really refine their skills.
"We're impressed with the commitment our team put into training over the summer and like the confidence it's bringing to their on-ice sessions this fall. Graduating six strong seniors, we'll be looking for capable individuals to take on bigger roles within our team and for our incoming freshmen to integrate themselves quickly into key positions. We're working to create a competitive culture every day in practice, to value and enjoy the process of getting better, and of course to continue to strive to play our best hockey. We have high expectations for the season and can't wait to get started!" – coach Cassie Turner.
Crystal ball
With a friendly end to the schedule and loads of returning talent, Quinnipiac wins the ECAC and makes it to the Frozen Four.
Rensselaer
Last season
10-17-7, 8-9-5, (eighth). Lost to Quinnipiac in the first round of the ECAC tournament.
Names to know
Sophomore Lovisa Selander: The goalie was seventh in the nation with a .939 save percentage despite being one of just four goalies to make more than 1,000 saves. At 5-feet-11, she doesn't leave a lot of open net for opponents to shoot at.
Senior Laura Horwood: One of the team captains, through a career 90 games at RPI, Horwood is the active points leader with 38 on 19 goals and 19 assists.
Three questions
1. Can they score? The Engineers scored just 62 goals for an average of 1.82 per game and 20 of those were scored by graduated seniors.
2. Can the defense support Selander? The sophomore goalie made a huge difference for RPI last season, but she can't do it alone.
3. Who's going to step up? Senior Alexa Gruschow carried a lot of the offensive weight. Katie Rooney is primed to see most of the defensive pressure as the highest returning scorer, so the Engineers have to find some other options up front.
Crystal ball
RPI finishes ninth.
St. Lawrence
Last season
17-15-6, 9-8-5, (sixth). Lost to Quinnipiac in the semifinals of the ECAC tournament.
Names to know
Senior Kirsten Padalis: This season's team captain anchors the defense. She's played in all 109 of the Saints' games in the last three years, scoring 12 goals and adding 22 assists from the blue line. She tallied an impressive 90 blocks last season.
Senior Brooke Webster: Led the team in goals and assists.
Sophomore goalie Grace Harrison is from New Zealand and competes for her country in both ice and inline hockey.
Three questions
1. Can they put together a complete season? The Saints have struggled early on the past few years before finishing strong. Last season they lost just six games after the winter break and upset Princeton in the first round of the ECAC tournament. They start this year with four games against Northeastern and Clarkson, so they'll need to find another gear or face starting the season in a big hole.
2. Can they get the underclassmen up to speed? With 15 freshmen and sophomores, the Saints will be counting on their three seniors to lead the way. In order to answer the first question, they'll need to have contributions from the younger players.
3. Who gets the net? With four goalies on the roster and three who shared time in the net last year, it's unclear who gets the starting job moving forward, but it would help the team and the goalies' confidence if one woman gets the job and can settle in.
Crystal ball
St. Lawrence finishes seventh.
Union
Last season
0-28-6, 0-19-3, (12th). Did not qualify for the ECAC tournament.
Names to know
Senior Alli Devins: Played both ways for Union last season. A two-year captain, she was on the search committee that selected new coach Josh Sciba.
Sophomore Jacyn Reeves: Also played both ways and led rookies with five goals and four assists.
Three questions
1. How do they help their first-year goalies get settled in net? It's less about who gets the job and more about not letting the new players get overwhelmed or discouraged. Melissa Black transferred out after her freshman season and they need to make sure that doesn't happen with these new players.
2. Can they keep morale and find small victories along the way? No one takes on the sacrifices of collegiate athletics thinking about not winning a game. Union needs to build a program with Sciba and they need to find a way to keep the players engaged and not dejected.
3. Can Sciba help Union turn around? They need to find a way to build a foundation and create a culture change they can grow on.
Crystal ball
It's another year at the bottom, I'm afraid.
Yale
Last season
10-17-2, 9-11-2, (ninth). Did not qualify for the ECAC tournament.
Names to know
Junior Krista Yip-Chuck: This season's captain, she's never missed a game for the Bulldogs and serves as the anchor while centering the top line.
Senior Phoebe Staenz: A former national Rookie of the Year, she was second on the team with nine goals.
Junior Mallory Souliotis: Led the Bulldogs in scoring as a defenseman. Scored 16 more points last season than she had the previous year.
Three questions
1. Can they step up on defense? The Bulldogs ranked near the bottom in team defense, allowing 3.24 goals per game and struggled especially on the penalty kill. If they can tighten up the defense and find a way to improve special teams, they'll give themselves a much better chance.
2. What do they need to do to make the playoffs? Yale finished just one point out of eighth place and a spot in the postseason tournament. That should motivate the Bulldogs for this season.
3. Can their experience pay off? They're returning five of the team's top seven scorers along with the starting goalie and all but one defenseman.
"We have a senior class that we are expecting a lot out of, starting with our captain Krista Yip-Chuck. She's very much a vocal leader who knows what to say and to say it in the right situations. We also have a large junior class, with eight kids in it. We are hoping they can take another step. Our sophomores have put in the work over the summer, and our returning kids in general did a great job preparing. In our freshman class, Saroya Tinker of the Canadian Under-18 team is someone we have very high expectations for. Goaltender Tera Hofmann is someone we feel can come in right away and compete for the starting job." – coach Joakim Flygh
Crystal ball
Yale finishes eighth.