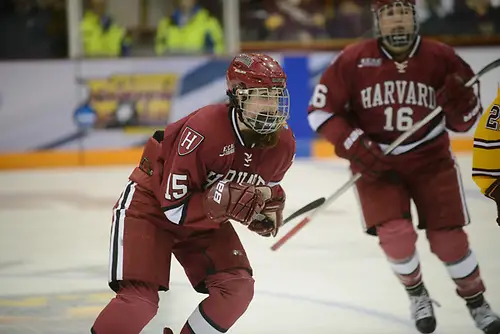 For the last several years, Hockey East has been about the Boston teams. With Boston College being led by two of the most prolific scorers in the game in Alex Carpenter and Haley Skarupa, and Northeastern matching with Kendall Coyne, and Boston University having strong players like Marie-Philip Poulin, the Boston teams have dominated the conference. Boston College captured the last three regular season titles, as well as the tournament last year. Boston University was the last team to make that double, back in 2012-13, though the Terriers did capture the tournament in 2014 and 2015.
Many of those players that have enabled the Boston teams to dominate have since graduated, but those three are still powerhouse programs with a lot of depth. While it is unlikely Boston College will go undefeated in the regular season and then win the Hockey East tournament again, USCHO columnist Nicole Haase picks the Eagles to win the conference again, though she expects Boston University to put up a strong fight, especially with the addition of Harvard transfer Mary Parker.
Boston College
Last season
40-1, 24-0, (first). Won the Hockey East regular season and tournament crowns; lost to Minnesota in the national championship game.
Names to know
Sophomore Makenna Newkirk: She stepped up big in the Frozen Four and was the lone goal-scorer for the Eagles against Minnesota in the title game. Hockey East Rookie of the Year and runner-up for AHCA Freshman of the Year. She showed up in a big spot as a freshman and they'll need that kind of confidence and leadership this season.
Senior Andie Anastos: She's BC's top career returning scorer and a returning captain. Her leadership, on and off the ice, will be crucial for the Eagles this season.
Junior Katie Burt provides stability in net and junior Megan Keller, a Patty Kazmaier top 10 finalist last season, gives the Eagles height and power, as well as a scoring threat, from the blue line. Freshman Caitlin Lonergan won silver and gold with Team USA's U-18 team in 2014 and 2015 and is a threat in the face-off circle.
Three questions
1. Can the Eagles avoid a let down after last season? A single loss in the national championship game followed by the graduation of the best player and class the school has ever seen, leaves BC ripe for a hangover. They're still picked to win Hockey East, but this is program that should be conditioned to want more than that every season. They can prove a lot about the program if they can be successful even without the likes of Alex Carpenter.
2. Who steps up? Though it's impossible to ignore what the Eagles lost to graduation, they still have a roster full of players with the experience of heading to the Frozen Four two years in a row. They were lucky to be led by Carpenter and Skarupa up front, but now is the time for someone else to step up and lead.
3. Can they parlay recent success into future success? Boston College is certainly one of the elite programs of the past few years, but at this point the goal for the Eagles has to be to become an elite program. Period. That means recruiting top talent, but it also means getting people to pay attention. It's a flooded market in Boston, but even still, the Eagles average fewer than 600 spectators a game.
"Our goal is let's get better tomorrow. Every day we're fighting to continue to get better and to put together a championship team. I'm excited for our younger players to step up and take the reins and take control; to keep the same culture going, but develop this year's team and make it their own team. We're not going to dwell on last year. We're just going to us that to build and to continue to make our team better." – coach Katie King Crowley
Crystal ball
The Eagles will win Hockey East, but with a weaker Hockey East as a whole, may find themselves with a tough first round NCAA opponent due to seeding.
Boston University
Last season
23-14-2, 17-5-2 (third). Lost to Boston College in the finals of the Hockey East tournament.
Names to know
Junior Victoria Bach: Led the Terriers in goals last season with 22 and was second with 48 points.
Senior Mary Parker transferred from Harvard and after sitting out last season gets to take the ice for the Terriers. Junior Rebecca Leslie was quietly BU's leading scorer with 15 goals and 34 assists, including five short-handed tallies.
Three questions
1. Who gets the net? Erin O'Neill was solid for BU down the stretch and was named to the Hockey East All-Tournament team. In order for the Terriers to figure out their defensive woes, they've got to start with a solid presence in net.
2. Can the Terriers return to the top? BU has won two of the last three Hockey East tournaments over the Eagles, though that gets a little forgotten in the face of BC's almost undefeated season.
3. Can they plug the defensive holes? The Terriers struggled on the blue line last season, giving up 119 goals. That averaged more than three a game, ranking them 27th out of 37 Division I teams.
"Each season, one of my consistent goals is to play well and hard each game. This year's Boston University squad will have eight new skaters. The learning curve will be bigger than the past few years and the coaches will have to be better teachers. Thankfully, two of our new faces are not strangers to college hockey or big games. Graduate student Mary Parker (Harvard) and rising junior transfer Nina Rodgers (Minnesota) have been through the college hockey wars. Our blue line will be younger, but possess a solid skill level and intelligence at the toughest position. The last line of defense will find us with the most experience having two juniors and a senior guarding the net. I expect Victoria Hanson and Erin O'Neil to use the past two seasons as building blocks for what should be their best seasons in college hockey. They have the talent, confidence, and experience to take another step. I will be interested to see how quickly we come together as a team and what our identity is." – coach Brian Durocher.
Crystal ball
I've still got BU second in Hockey East, but if they can figure out their defensive woes, I wouldn't be surprised to see them return to the top.
Connecticut
Last season
17-15-5, 11-10-3, (fourth). Lost to Boston College in the semifinals of the Hockey East tournament.
Names to know
Junior Theresa Knutson: Her 19 goals led the team. She's the Huskies' main scoring threat and they need her to be even more potent this season.
Senior Jessica Stott: Did her part on defense last season, contributing 60 blocked shots. As one of this season's captains, that's the kind of leadership and example the Huskies will need.
Junior Justine Fredette is great at dishing the puck and finding open teammates. Junior Leah Lum provides a scoring threat from the blue line.
Three questions
1. Can they continue their upward trend? UConn finished with its first ever winning record last season. It's been gradual, but continued, growth under coach Chris MacKenzie.
2. Can they shore up the defensive end? Junior Annie Belanger has big skates to fill following Elaine Chuli, but the Huskies have to give her some help, as well. Chuli was one of just four goalies to make more than 1,000 saves last season. A big goal for them this season has to be allowing less shots to get to net.
3. How do they stay out of the box? One thing that will help with the previous question is staying out of the penalty box. They've got a difficult enough hill to climb in Hockey East and need to find the discipline to not make things even harder for themselves.
Crystal ball
Connecticut finishes fourth in Hockey East.
Maine
Last season
10-23-2, 6-19-1, (eighth). Lost to Boston College in the first round of the Hockey East tournament.
Names to know
Sophomore defenseman Alyson Matteau: Was named to the Hockey East All-Rookie team. Had six goals and six assists in her freshman campaign.
Senior Emilie Brigham will offer experience and leadership on a young team.
Freshman Carly Jackson will push senior Mariah Fujimagari for time in goal.
Three questions
1. With such a young team, can the Black Bears find a way to make waves in Hockey East?
2. How will the freshmen handle the quick start to the schedule with Quinnipiac and Boston College in the first few weeks of the season?
3. Can they improve as the season moves on? The final few weekends are friendly, as far as Hockey East schedules go. If the Black Bears can get their freshmen integrated and up to speed by February, they've got a chance to finish strong.
"We will be very young this year with 11 freshmen. Having 11 new players in the lineup will create an exciting atmosphere with lots of learning. Early on, we will be looking to teach them how important every shift and every game is in the college hockey game and how to play with consistency. Our upperclassmen will be working hard to get this next generation of Black Bears playing Black Bear hockey." – coach Richard Reichenbach.
Crystal ball
It'll be difficult to climb the standings with such a young team, but they may have a chance to sneak in front of Providence. They'll end up seventh.
Merrimack
Last season
5-26-3, 3-18-3, (ninth). Did not qualify for the Hockey East Tournament.
Names to know
Sophomore Samantha Ridgewell: The goalie was thrown in the deep end last season, but a year of experience should help her feel more comfortable between the pipes.
Sophomore Paige Voight: Named to the Hockey East All-Rookie Team and led the Warriors in goals and points.
Sophomore Katelyn Rae scored the first goal and power-play goal in program NCAA history and already tallied a hat trick in preseason.
Three questions
1. Will a year of experience show on the score and stat sheets? The Warriors averaged less than two goals per game while allowing almost four. A year to get up to the speed of the game should help their offense feel a bit more comfortable.
2. Who will step up and lead? There are just two upperclassmen on the roster, so Merrimack has to find leadership among the younger players.
3. What constitutes improvement? Rather than focusing on wins and losses, the Warriors need to find small victories in their second year as a D-I program.
Crystal ball
Just their second year in a tough conference means it's probably another last place finish for them.
New Hampshire
Last season
11-24-1, 8-16-2, (fifth). Lost to Connecticut in the first round of the Hockey East tournament.
Names to know
Senior Joana Curtis: Last year's leading scorer, she led the team in points (33), goals (16), assists (17) and shots (171). She will be one of the captains.
Sophomore goalie Kyra Smith: She split time in the net last season, but is the likely starter going forward. That year of experience and some job security should help her be more confident.
Junior Julia Fedeski will anchor the defense. Freshman Tori Howran brings some height to the blue line. Sophomore Mary-Jo Pelletier, who's just 4-feet-11, blocked 67 shots last season.
Three questions
1. Can they plug the holes in the defense? The Wildcats finished 30th out of 37 teams in team defense. Most of their defenders this season are upperclassmen, which should help.
2. Can they beat conference foes? With just eight wins in Hockey East last season, New Hampshire has room to grow. The middle of the conference is wide open and the Wildcats need to beat those teams to start working their way back to the top.
3. Can the Wildcats give Smith the chance to succeed? For Smith to settle in and be successful, she needs to be able to trust the defense.
"We are excited to continue to build on the successes we had last season and to improve on the parts of the season where we did not have success. This year's team will be very young and exciting to watch. Our goal is to get better every day. The players have worked really hard and are ready to get the season underway. I am looking forward to seeing our growth and success throughout the year." – coach Hilary Witt
Crystal ball
It might be another year before the Wildcats are able to make a move. They finish sixth.
Northeastern
Last season
28-9-1, 20-4-0 (second). Lost to Boston University in semifinals of Hockey East tournament; lost to Boston College in first round of the NCAA tournament.
Names to know
Junior Denisa Krížová: The Huskies' best returning scorer was also the highest-scoring sophomore in the nation. She'll be the focus of opposing teams' defenses.
Junior Hayley Scamurra: Will see an increased role and the chance to be the focus of the offense.
Sophomore Brittany Bugalski should be much more comfortable in the crease this season. Freshman Bailey Coyne will be under a lot of scrutiny to live up to the family name.
Three questions
1. How do they avoid a letdown? The Huskies reached their first NCAA tournament last season and Kendall Coyne won the Patty Kazmaier Award. It was the peak of Northeastern's program and now they need to keep that momentum going.
2. Can they adjust their game to be successful without Kendall Coyne? Northeastern focused on Coyne's speed, and despite Krížová and Scamurra returning, Coyne accounted for 50 goals last season. They won't be replacing those points with one player; the whole roster will have to step up.
3. Can they stay out of the penalty box? The Huskies are unlikely to have as potent an offense as they did last season; that gave their goalie and defense a cushion. They gave opponents way too many chances to score on the power play. Staying out of the box will go a long way towards figuring out the defense.
"I am very excited about the upcoming season. I think we have a good mix of veteran talent along with an exciting crop of newcomers. We will be looking to build off our 28-win season and hopefully make the next jump to the Frozen Four. It will take a consistent team effort throughout the long season along with contributions from every player." – coach Dave Flint.
Crystal ball
Northeastern will finish third in Hockey East and might be able to sneak into its second NCAA tournament. The final few games of the season will be crucial to their at-large chances.
Providence
Last season
10-26-2, 6-16-2, (seventh). Lost to Northeastern in the first round of the Hockey East tournament.
Names to know
Senior Cassidy Carels: Led the Friars in scoring last season and will anchor the offense.
Sophomore Christina Putigna: Was second on the team with 11 goals and 17 assists and was tied for fourth in the nation with eight power-play goals. Was named to the Hockey East All-Rookie Team.
Sophomore Madison Myers will be in goal for the Friars. Seven returning skaters tallied double-digit points last season. Freshman Meaghan Rickard had two goals and an assist in the Friars preseason game.
Three questions
1.Can they shore up the defense? A year of experience for Myers should help, but the Friars were 36th out of 37 teams in scoring defense, allowing just under four goals a game.
2. Can they improve special teams and stay out of the penalty box? Providence was second in the country in penalty minutes and gave up a subsequent 139 power-play goals.
3. Can they put the puck in the net? Even if the first two questions get answered, the Friars averaged less than two goals a game.
Crystal ball
Based more on what I think the other teams will do than what I think the Friars won't, I've got them finishing eighth.
Vermont
Last season
9-25-3, 6-15-3, (sixth). Lost to Boston University in the first round of the Hockey East tournament.
Names to know
Junior Taylor Willard: Recorded nine assists and finished second on the team with 10 goals and 19 points and was named to second-team All-Hockey East.
Freshman Eve-Audrey Picard won gold with Team Canada at the 2014 U-18 Women's World Championships and was at their Development Team camp in early August.
Freshman Allie Granato comes from one of the most famous families in U.S. hockey.
Three questions
1. Can they translate experience into offense? The Catamounts return 81 percent of their scoring from last season. They'll need the experience of those players; they averaged just 1.73 goals per game last year.
2. Why aren't they winning the close games? They lost two games by two goals or less and tied newcomer Merrimack twice. The Catamounts need to figure out how to win games they should be winning and close out close matchups.
3. Can they start strong? Last season, Vermont lost nine of its first 10 games. It seemed to set the tenor for the season and it was a difficult hole to climb out of.
Crystal ball
I've got good feelings about the Catamounts and I think they're primed to make a move. I've got them finishing fifth.