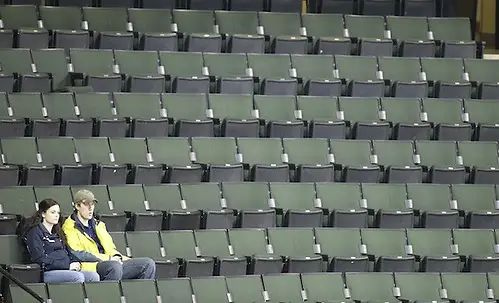 According to the Wisconsin State Journal, the Big Ten is moving its postseason to campus sites and extending the length from one weekend to three starting with the 2017-18 season.
The article states that the change was approved at joint group meetings at the league's Chicago-area headquarters this week.
The 2017 tournament at Joe Louis Arena in Detroit will be the last in a four-year agreement that started with the conference's inception prior to the 2013-14 season.
Announced attendance was more than 8,500 per game in 2014, but tumbled to an average of 5,300 in each of the past two years when actual attendance numbers appeared to be well short of those figures at both Joe Louis Arena and the Xcel Energy Center in St. Paul, Minn.
Starting in 2017-18, when Notre Dame becomes the seventh team in the Big Ten, all conference postseason games will move to team home arenas.
• The regular season champion gets a first-round bye, while the second, third and fourth seeds host best-of-three series.
• The top seed and the next-highest remaining seed host a single-game semifinal the following weekend.
• And on the third weekend, the highest remaining seed hosts a single championship game.
A source told the Journal that the Big Ten's single-game semifinal format was decided in part because of potential arena conflicts at Wisconsin and Ohio State, which share their venues with other sports and events.