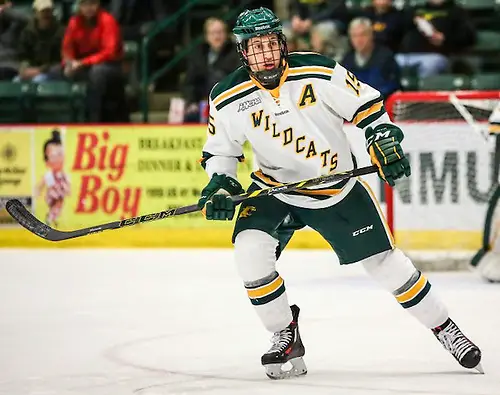 Even with all the offseason changes, the WCHA still looks to be a talented 10-team conference in 2016-17.
Here is a team-by-team look at what to expect this season in the WCHA:
Alabama-Huntsville
Last season
7-21-1 overall, 5-17-6  WCHA (10th in conference). Missed playoffs
Names to know
Junior Max McHugh led the Chargers with 15 assists and 22 points last season and should be one of the offensive catalysts this season. Fellow junior Brennan Saulnier had 17 points in just 28 games last season, while freshman forward Connor James and defenseman Austin Beaulieu both picked up votes in the WCHA preseason newcomer of the year balloting.
Three questions
1. Can the Chargers continue to improve and climb into the WCHA playoff picture after missing out by four points last season?
2. Can the Chargers limit the number of shots fired at senior goalies Carmine Guerrio and Matt Larose? The duo combined for a .911 save percentage last season, but faced constant pressure and the Chargers allowed an average of 33 shots per game.
3. Can improved special teams help the Chargers move up the standings? Alabama-Huntsville didn't take advantage of opportunities last season and only converted on 10.7 percent of power plays while opponents scored 17.9 percent of power plays against the Chargers.
Crystal ball
Alabama Huntsville continues to its step-by-step improvement and reaches the playoffs as the eighth seed in the WCHA. It's a short trip to the playoffs, but a step in the right direction with a young core of sophomores.
Alaska
Last season
10-22-4 overall, 8-16-4 WCHA, (8th in conference). Lost to Michigan Tech in the first round of the conference playoffs.
Names to know
The Nanooks lost most of their offensive output to graduation, but bring back a veteran group on defense. Zach Frye, Justin Woods, and Nick Hintz all played big roles as sophomores and will be part of Alaska's leadership group. Both goalies come back from last season, including Davis Jones and Jesse Janks.
Three questions
1. How will ongoing rumors about the possible program's demise impact play on the ice? Back in August university officials laid out cost-saving plans that could eliminate the hockey program.
2. Who steps up and puts the puck in the net for the Nanooks? Tyler Morley had a team-high 18 goals last season before graduating, while three of the top four goal scorers were seniors.
3. Can young blood inject energy for the Nanooks? Alaska brought in 12 freshmen this season and only have four seniors on the roster.
Crystal ball
The Nanooks will win the Governor's Cup against Anchorage, but won't make the playoffs in the WCHA. Off-ice distractions combined with a young team give the Alaska a tough hill to climb in an improving league.
Alaska-Anchorage
Last season
11-20-3 overall, 8-18-2 WCHA, (ninth in conference). Missed playoffs.
Names to know
Junior forward Tad Kozun was the team's top goalscorer last season with 13 finished with 20 points overall. Junior forward Matt Anholt is the Seawolves top returning scorer (7g-15a-22g) after the graduation of Blake Tatchell. Finnish freshman Aleksi Ainali scored 67 points for Jokerit U20 last season. And No. 1 junior goaltender Olivier Mantha had a 2.88 goals against average in 32 games last season, but he should have some healthy competition with St. Cloud State transfer Rasmus Reijola.
Three questions
1. Will the looming threat of the program being cut motivate the Seawolves or not? The state of Alaska's finances are not what they once were, and one proposed solution was cutting into the athletics programs at both Alaska schools. Many of the suggestions involved axing the Seawolf hockey program. UAA head coach Matt Thomas said thinks the news has been mostly positive, but it's still a touch-and-go situation.
2. Can the Seawolves have a full year of consistency and health? UAA was around .500 before Christmas break, going 8-7-3. After that — thanks to some injuries that ravaged the squad — they won just three games the rest of the season.
3. Can Mantha carry a young defense? UAA lost three bluelines to graduation and another transferred out. Over half (five) of the Seawolves' defensemen are freshmen.
Crystal ball
The Seawolves will be competing for one of the final league playoff spots along with their rivals from Fairbanks, but ultimately both will miss out and stay home.
Bemidji State
Last season
17-16-6 overall, 11-12-5 (6th in WCHA). Lost to Bowling Green, 2-1, in the first round of the WCHA playoffs.
Names to know
Senior Brendan Harms and junior Gerry Fitzgerald tied for the team's scoring lead last season. Junior goaltender Michael Bitzer will anchor a young defense with just one senior and one junior.
Newcomers might find it hard to break into the Beavers' deep top six or even nine forward group, but freshman defensmen Zach Whitecloud and Tommy Muck have both impressed head coach Tom Serratore early.
Three questions
1. Can youngsters fill in on defense again? Last year, the Beavers were thin on veteran defensemen. This season, the graduation of Graeme McCormack, coupled with the surprise departure of Ruslan Pedan to HK Sochi of the KHL, leaves the Beavers thin on experienced defensemen again. Junior Brett Beauvais is the most experienced blueliner, while senior Carter Struthers hasn't played in a regular season game in two years. The rest are sophomore (four) and freshmen (two).
2. Where will secondary scoring come from? The Beavers lost 36 percent of their scoring despite losing just five players. The Gerry, Myles and Leo Fitzgerald "Triplet Line" is still a threat every time they set foot on the ice, while Harms, Charlie O'Connor and Kyle Bauman also pack some scoring punch. Who else steps up? Only six players on the roster reached double digits in scoring last season.
3. Can the Beavers take the next step as a program? BSU hasn't made a deep run to the postseason since its last NCAA tournament berth in 2010. That, perhaps not coincidentally, was also its last season in College Hockey America. Ever since a program-nadir nine-win season in 2012-13, the Beavers have continued to make the climb back to being a contender. Last season was their first winning one since that 2010 campaign. They have the pieces to be competitive in what is always a tough and tight WCHA, so a top-four finish and home ice isn't out of the question.
Crystal ball
The Beavers finished sixth in the conference last season. Both the WCHA coaches and media picked them to do that again this year. It's a fair place to put them, but the Beavers have the ability to maybe crack the top four and earn a home ice playoff berth. Top three might be a little out of reach but expect the Beavers to be in the mix and competitive for the entire season.
Bowling Green
Last season
20-14-6 overall, 16-7-5 WCHA, (3rd in WCHA). Lost to Minnesota State 2-1 in WCHA Final Five semifinals.
Names to know
Bowling Green's junior class is going to take centerstage this season. Goalie Chris Nell appeared in 37 games last season and had a .930 save percentage and 1.91 goals against average. Defenseman Mark Friedman was a preseason All-WCHA selection and leads an experienced group.
Three questions
1. Can Chris Nell jump into the Hobey Baker Conversation? Nell was 10th in the nation last season for save percentage and could be the rock behind a WCHA title for the Falcons.
2. Can Bowling Green win its first conference championship since 1987? It's been a long time since the Falcons were on the national radar, and after back-to-back 20 win seasons things are trending in the right direction.
3. How good can the Falcon defense be? In addition to Nell, the Falcons bring back five blue liners from last season and should be an overly stingy group.
Crystal ball
Bowling Green wins its first conference championship since 1987 and reaches the NCAA tournament for the first time since 1990.
Ferris State
Last season
20-15-6 overall, 13-11-4 WCHA, (4th in WCHA). Lost to Denver in the second round of the NCAA tournament.
Names to know
Gerald Mayhew was named the WCHA Preseason Player of the year and he earned it after leading Ferris State with 41 points (25 goals, 26 assists) in 41 games. Sophomore goalie Darren Smith won 17 games last season and had .919 save percentage as a freshman.
Three questions
1. Can Ferris State turn postseason success into a regular season title? The Bulldogs effectively turned the WCHA into a one-bid league last season with their march through the Final Five.
2. How does a young defense adjust? Ferris State graduated four of its top six defensemen from last season, which leaves senior Ryan Lowner and junior Tyler Dorantes to lead a group that consists of six underclassmen.
3. Will Ferris State be the most exciting team in the WCHA? The Bulldogs are going to score quite a bit this season and the young defense group is going to be tested. Bob Daniels expects his defense to push the play, so there should be lots of back-and-forth rushes at Ferris State.
Crystal ball
Ferris State is always going to be playoff threat, but the defense isn't there to compete for a regular season title. The Bulldogs will grab a top-three spot in the regular season standings and make some noise in the WCHA semifinals.
Lake Superior State
Last season
14-22-5 overall, 10-13-5 WCHA (7th in conference). Lost to Minnesota State in first round of conference playoffs.
Names to know
Junior goaltender Gordon Defiel made the All-WCHA third team last season with a .926 save percentage and 2.47 GAA in 29 games. Up front, junior J.T. Henke (10g-12a-22pts) led the team in scoring while sophomores Mitch Hults (9g-11a-20pts) and Gage Torrel (8g-11a-19pts) were second and third, respectively. Incoming freshmen Kris Bindulis and Collin Saccoman should be able to step in and contribute early according to head coach Damon Whitten.
Three questions
1. Will the Lakers be able to score consistently? LSSU had the worst scoring offense of any team in the league, averaging just 1.80 goals in 41 games.
2. Can goaltending carry the Lakers if the offense doesn't come through? Defiel is one of the top goaltenders in the conference and his backup, sophomore Nick Kossoff, is also solid. The Lakers gave up a league-average 2.56 goals against last season, but will that be enough to win more games.
3. How long until the Lakers' program is "back"? This year is the 50th anniversary of the Lake Superior State hockey program. The program hasn't made an NCAA tournament appearance since 1996. Head coach Damon Whitten said he hopes celebrating the anniversary this year will light a spark toward reaching that goal again in the near future.
Crystal ball
The Lakers show steady improvement and once again make the playoffs. Defiel again carries them to a decisive game three against one of the top three seeds, but it's not enough to break into the semifinals.
Michigan Tech
Last season
23-9-5 overall, 18-7-3 WCHA (tied for 1st in conference). Lost to Ferris State in the WCHA Final Five semifinals.
Names to know
Senior forwards Tyler Heinonen (15g-12a-27pts) and Joel L'Esperance (16g-10a-26pts) will make the offense tick, but it's the defense that is the deepest, most talented group. Senior Cliff Watson, junior Matt Roy and sophomore Dane Birks are all NHL draft picks, while senior Shane Hanna has appeared in 118 career games for the Huskies. Junior Matt Roy was an All-WCHA second teamer. Freshmen Thomas Baretta, Chris Gerrie, and Alex Smith should see action up front while defenders Mitch Reinke and Erik Pedersen will get some time on the blue line.
Three questions
1. Can the Huskies overcome some big losses? There's plenty of depth of talent on the roster this season, but the team lost All-American, WCHA Player of the Year and Hobey Baker finalist Alex Petan as well as All-WCHA goaltender Jamie Phillips, who started all but one game last season and had a 1.97 GAA.
2. Who gets the nod in the nets? Tech has two returners, and only senior Matt Wintjes has regular-season game action (eight games and just one start). Sophomore Devin Kero hasn't seen any collegiate action while freshman Angus Redmond is the team's other goaltender.
3. Can the Huskies win the big games? Tech went 5-2-2 in nonconference play last season — one of the better records in the league, actually — but suffered some puzzling conference losses which ultimately hurt their NCAA tournament chances (for example, being swept by Alaska Anchorage at home). This year, series with Minnesota Duluth, Michigan and Notre Dame — all NCAA tournament teams last season — will be key to deciding their fate.
Crystal ball
The Huskies have the talent to make it back to the NCAA tournament. How well they do in the nonconference will determine if they will be able to get in as an at-large or if they'll need to win the conference tournament.
Minnesota State
Last season
21-13-7 overall, 21-13-7 WCHA (tied for 1st in conference). Lost to Ferris State in the WCHA Final Five championship game.
Names to know
Senior goaltender Cole Huggins has 38 career wins and 10 career shutouts and will be the team's de facto No. 1 goaltender. Forwards C.J. Franklin (14g-11a-25pts) and Michael Huntebrinker (7g-12a-19pts) are the Mavericks' top two returning scorers. Incoming freshman Parker Tuomie scored 54 points for Sioux Falls of the USHL last season and was the coaches' pick to win the WCHA's preseason newcomer of the year award.
Three questions
1. Can senior leaders carry the load? The Mavs lost some big names either to graduation or to the NHL (forwards Teddy Blueger and Bryce Gervais graduated while Casey Nelson signed with Buffalo after the MSU season ended). MSU has six seniors (and five more juniors) who will be asked to step into the void filled by those departures.
2. Which freshmen get playing time? The Mavs have a big incoming freshmen class of eight players. Some of them will have to play right away, especially up front.
3. Can Huggins give the Mavs a boost? The senior goalie allowed the fewest goals in the WCHA in 28 games last season and head coach Mike Hastings expects him to carry the Mavs early.
Crystal ball
Minnesota State has ruled the roost in the WCHA since realignment. They're going to be a top three team again this season, and will fight for an NCAA tournament berth but ultimately miss out as the WCHA will be at most a two-bid league.
Northern Michigan
Last season
15-16-7 overall, 12-11-5 WCHA, (5th in conference). Lost to Ferris State in first round of conference playoffs.
Names to know
Dominik Shine was named to the Preseason All-WCHA Team after a 30-point (15 goals, 15 assists) season as a junior. Robbie Payne is back after scoring 12 goals as a sophomore, while sophomore goalie Atte Tolvanen had a .929 save percentage as a freshman.
Three questions
1. What did Northern Michigan learn about close games? The Wildcats had seven ties last season and played in 12 games that were decided by a single goal.
2. Can that experience help the Wildcats gain home-ice advantage in the WCHA playoffs? Last year Northern Michigan missed fourth place by one spot, and it cost them in a first-round playoff loss to Ferris State.
3. Can Atte Tovanen take the next step as a sophomore? The Finnish goalie was named to the WCHA All-Rookie team last season and is expected to be key cog for the Wildcats.
Crystal ball
The Wildcats are in the hunt for most of the season, but still can't get over the hump and grab home-ice advantage in the WCHA playoffs.