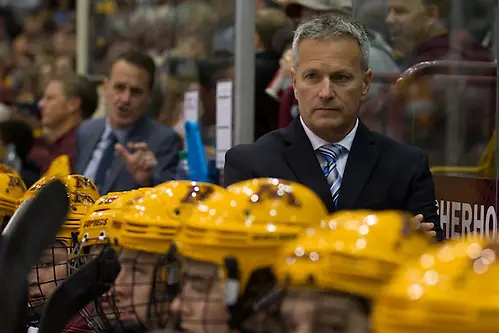 Minnesota and head coach Don Lucia have agreed to a two-year extension that will keep the two-time national champion coach under contract through the 2018-19 season, which will be Lucia's 20th season as head coach at the school.
"It's truly an honor to coach this program, and I am incredibly proud of what we have accomplished here at the University of Minnesota," Lucia said in a statement. "We have high expectations for ourselves just like we know people have high expectations for us, and our program is proud of the bar we have set. We require dedication and excellence in everything we do, and everybody in our locker room buys into that. We've had that mindset since we got here, and our goals aren't going to change."
The 2016-17 season stands as Lucia's 18th at Minnesota and 30th overall season as a Division I head coach. A native of Grand Rapids, Minn., Lucia holds the Gophers record for coaching victories at 415 (415-219-68, .640), while his 694 career wins rank eighth all-time in NCAA history regardless of division (694-374-97, .638).
A four-time conference coach of the year and the 1994 Spencer Penrose National Coach of the Year, Lucia led the Gophers to back-to-back national championships in 2002 and 2003.
"I promise our recruits and student-athletes that we'll help them get their degree from Minnesota and compete for championships," said Minnesota athletics director Mark Coyle in a news release. "Coach Lucia has been honoring that promise to Gopher student-athletes for the past 17 seasons. Our men's hockey program continues to raise banners at Mariucci Arena while also performing at a high level academically and graduating student-athletes. I'm excited to watch Coach Lucia and his team defend their Big Ten title and pursue deep runs into the NCAA tournament in upcoming seasons."
Under the leadership of Lucia, the Gophers return to action this year as the three-time defending Big Ten regular-season champions and have won five-straight regular-season conference titles – a feat that matches the NCAA record.