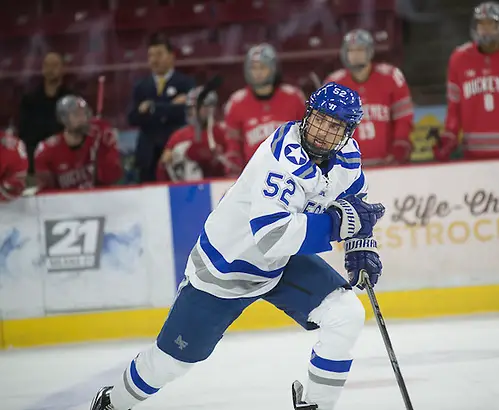 Each week during the season, we look at the big events and big games around Division I men's college hockey in Tuesday Morning Quarterback.
Jim: Well, Paula, seeing as we are through the first full college hockey slate of games, it seems like a good time to play Tuesday Morning Quarterback.
Where to start?
There certainly were some eye-opening games, starting with the Ice Breaker tournament in Denver. I think if you were handicapping those games, you'd have placed Boston College and Denver in the title game. I would go as far to say that I thought Denver would be the champion. Instead, all of the results were opposite of expectations. Air Force beat the Eagles and Ohio State knocked off the Pioneers. Then the Falcons needed overtime and a shootout, but took home the championship by beating the Buckeyes. For good measure, my pick of Denver went winless, losing to BC in the consolation game.
Not a bad start to the season if you're a fan of the underdog.
Paula: Not a bad start to the season at all if you're a fan of the underdog – or a fan of the Big Ten.
Yes, straight off the bat, I'm going to point out that B1G hockey went 6-3-1 on the weekend and is currently sporting the top nonconference win percentage in Division I. I know that one weekend at the start of the season defines nothing and that there isn't enough available data – so to speak – to extrapolate about the state of college hockey, but given the mediocre to awful early seasons that the Big Ten has had since its inception, it's nice to savor the moment.
B1G hockey showed some good signs this weekend, too, with Michigan and Wisconsin earning splits after dropping their first games of the season, Minnesota netting 12 goals against the two Alaska teams, and the Buckeyes beating Denver and finding a way to come from behind to tie Air Force. For the first time ever, I liked what I saw from the young league that I cover, right out of the gate.
Back to the underdogs. Air Force was picked second in the Atlantic Hockey coaches preseason poll, so maybe we shouldn't be so surprised at the Falcons' performance in the IceBreaker. As you and I discussed last season, Atlantic Hockey isn't a weakling as a conference overall, even if there's a starker contrast between top-tier and bottom teams in Atlantic Hockey compared to some other leagues. The Falcons may only have three seniors, but they also only have three rookies. They're experienced and well coached.
Jim: The point you make about Air Force can be made for a good portion of Atlantic Hockey. As much as I want to credit the Big Ten for a good start, no league has made the gains that the AHC has in the past couple of seasons.
First, you can start with scholarships. The league is finally offering the full complement of 18 scholarships, which immediately helps level the playing field versus the five other conferences. Add to that the fact that RIT and Canisius are both playing in relatively new arenas, Bentley is building a new arena and the schools that played at the two worst arenas in the league – AIC and Sacred Heart – have moved to buildings that house professional teams in Springfield and Bridgeport, respectively.
On the ice, besides Air Force, you had Bentley trouncing New Hampshire 5-1 and Sacred Heart beating Merrimack 2-1, with both of those games played on the road.
Like you said, one weekend can't tell us everything, but for Atlantic Hockey, the off-ice story combined with those two victories on the ice paints a wonderful picture.
Paula: I agree, 100 percent. Looking through the first weekend's results, I was tempted to throw votes Bentley's way, especially.
Another thing that struck me about the weekend was the number of shutouts we saw. Connecticut senior Rob Nichols had back-to-back shutouts as the Huskies defeated Alabama-Huntsville 6-0 and 4-0. In total, there were eight shutout games on the weekend and there have been nine total for this young season.
And three goalies made their collegiate debuts with shutout victories: Minnesota-Duluth's Hunter Miska (Oct. 1 vs. Michigan Tech); Massachusetts' Ryan Wischow (Oct. 7 vs. Colorado College); and Michigan's Hayden Lavigne (Oct. 8 vs. Union). Talk about announcing your presence with authority.
Jim: I think any shutouts this weekend should be considered impressive given the number of power plays that teams had across college hockey. The re-emphasis of calling fouls on plays where players are slowed down by hooks, holds, etc., I thought made the number of individual penalty calls – and thus power plays – obnoxious at times.
Power plays certainly do create excitement, but when the average game has 16 or so power plays (and some has in excess of 25), there simply is no flow. If we place the median number of power plays around 16 (and I think that's conservative) more than half of the average game is specialty teams. To me, that's just too much. I understand the concept of "reclaiming the rule book" as I have heard mentioned a number of times by administrators in recent weeks, but I also think that hockey was meant to be played 5-on-5.
Paula: Jim, I was able to attend just one game this weekend, the Friday night Union-Michigan game, and while I'm relatively certain that Michigan earned every one of its seven minor penalties to Union's well-deserved four, I was struck by how the penalties interrupted the game and I was disappointed that I wasn't able to get a good sense of either team 5-on-5. I saw all of that who thought the officiating in that game was fine. So you and I are definitely in agreement about how disruptive the penalty calling can be.
Thumbs Up/Thumbs Down
Thumbs up to Robert Morris.
There are comebacks. And then there are comebacks. Robert Morris had the latter on Saturday, erasing a 5-1 deficit at RIT with four second-period power-play goals in a span of 1:48 before netting the game winner with less than 15 minutes remaining. The Pioneers were 4-for-8 on the power play in the game.
Thumbs down to Arizona State.
Yes, they're the relatively new kids on the block and it's not fair to pick on the new kid. But the Sun Devils, in two games, have already been whistled for 148 penalty minutes. On night one against Notre Dame, ASU gave the Irish 19 power-play opportunities, surrendering six power-play goals. Things were a little better on Saturday, but there is no way to be competitive when an opponent has the man advantage that often.