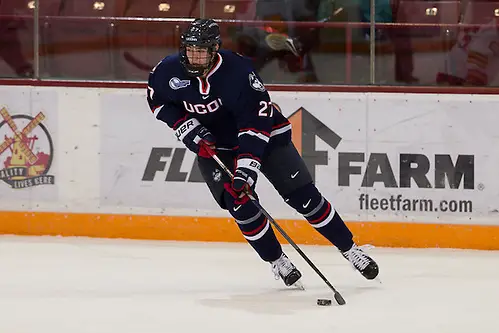 There are positive signs a plenty in Storrs, Conn.
In their third season in the league, the Connecticut Huskies are poised to have their best season since joining Hockey East. Following back-to-back shutout victories at home over Alabama-Huntsville to open the season, UConn earned two road ties last weekend at Colgate and RIT.
The second of those ties might have been the best sign this team is strong.
According to coach Mike Cavanaugh, his Huskies were severely outplayed by RIT, but thanks to great goaltending from freshman Adam Huska, UConn was actually in position to win the game before Chase Norrish scored for the Tigers with 8:29 remaining.
Huska then saved all five shots he faced in overtime to escape with a 1-1 tie.
"You're going to have those nights," said Cavanaugh. "We're able to get a tie out of the game because we still have the skill level to score and our goaltender was very solid."
Cavanaugh admitted that in years past, this is a game his team likely would have lost and could have done so handily. But he recognizes the fact that his team's depth and timely goaltending earned the tie.
Depth, in fact, is something Cavanaugh believes his team can count on throughout this season, particularly on offense.
UConn still will look to their blue-chip players like Max Letunov and Tage Thompson to score, but also believes that he has a number of additional players ready to contribute.
"Letunov and Thomson, those guys are going to be focal players," Cavanaugh said. "We're going to have to have secondary scoring. All three lines have chipped in offensively [thus far]."
The one area where the Huskies still need to improve is the power play. In a season where penalties, and thus power play opportunities, are increased throughout college hockey, UConn needs to find a way to execute.
Through four games, the UConn power play has scored just three goals in 23 opportunities, a 13 percent efficiency rating. That's down about seven percent from the 19.7 percent rate of a season ago when the UConn power play was often a difference-maker.
"Power plays are funny – you can't get caught up in percentages," said Cavanaugh, who noted generating quality opportunities is the key. "It's just like a streaky hitter. You have to keep creating chances.
"You really have to get a goal a game [on the power play]. Somebody studied it and if you're getting a power-play goal a game, your chance of winning is around 65-to-70 percent."
Still, Cavanaugh likes a lot of what he's seeing and hopes this can continue throughout the season.
"The first half of the year, it's hard to tell a lot about teams," said Cavanaugh. "The thing with the first half is it is hard to win anything. You just don't want to play yourself out of contention in the first half."
Are teams adjusting to penalty emphasis?
We're two weeks into the season for Hockey East teams, which means we're also two weeks into the renewed emphasis on calling penalties that slow down players.
My colleague Dave Hendrickson wrote extensively on the subject last week, so I won't get too deep into whether or not the renewed emphasis is good for the game or not. But with two weeks of data, it does seem that it is working.
In the first week, officials whistled 175 penalties on Hockey East teams in 21 games, or an average of 8.33 per game. Last weekend, there were 134 penalties called in 19 games, or 7.05 per game, more than one penalty less.
Do we learn anything from that? Probably not. But looking at the following chart, you can see that most teams that were called for 10 or more penalties in their opening game have not repeated the double-digit violations since.
The most dramatically improved is Notre Dame, which played a penalty-filled opener against Arizona State, but has averaged just five penalties per game since. UMass Lowell was tagged with 11 penalties in its opener against Minnesota-Duluth, but hasn't committed more than seven in the three games since.
Does this mean teams are learning? Quite possibly.
Though there are all other possibilities. Crew-to-crew and league-to-league variances in officials could also explain the penalty reductions, which in some cases is dramatic.
But I'd like to believe that players are beginning to learn what is a penalty and what they can do legally.
And let's hope this is the case because anyone who was in an arena on the opening weekend saw an on-ice product that looked very little like hockey.
Remembering Bruce Marshall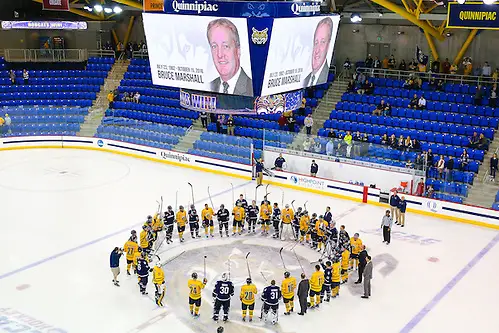 If you're a casual fan of Hockey East, you might not even recognize the name Bruce Marshall. But his impact on bringing Hockey East its most recently-added member, UConn, was monumental.
Marshall served as coach at his alma mater, UConn, for 25 years. When he took over the program, it was a Division III sport at the school, possibly even an afterthought for the athletic department.
But Marshall was a game-changer. He oversaw the program's rise to Division I and its membership first in the Metro Atlantic Athletic Conference and then Atlantic Hockey. Marshall coached the Huskies to the school's only championship, the 2000 MAAC title.
Marshall passed away on Saturday night at the young age of 54.
"He had a tremendous impact on this program," said current UConn coach Mike Cavanaugh. "I remember sitting with him at a game at St. Sebastian's last year and we talked for about an hour on different aspects of the program. He had so much history here. I picked his brain. He had a genuine interest in the UConn program."
Personally, Marshall was a tremendous help when I began writing back in the late 90s. Working for USCHO in its infancy, I was one of the few writers to cover the MAAC as a beat.
If I called his office, likely he would answer (or always returned my call quickly). And he would talk. As a writer covering a league where I didn't get to see a lot of teams play, I depended on people like Bruce to provide me honest assessments not just of their own team and players, but others around the league.
Bruce was a true gentleman and had such a love of the game of hockey. He always saw potential for UConn, something that is coming to fruition each and every day as this program grows as a member of Hockey East.
So the next time you're at an arena watching the UConn Huskies, remember Bruce Marshall. I know I will.